Not the time to let nerves snap
Cases begin to rise in country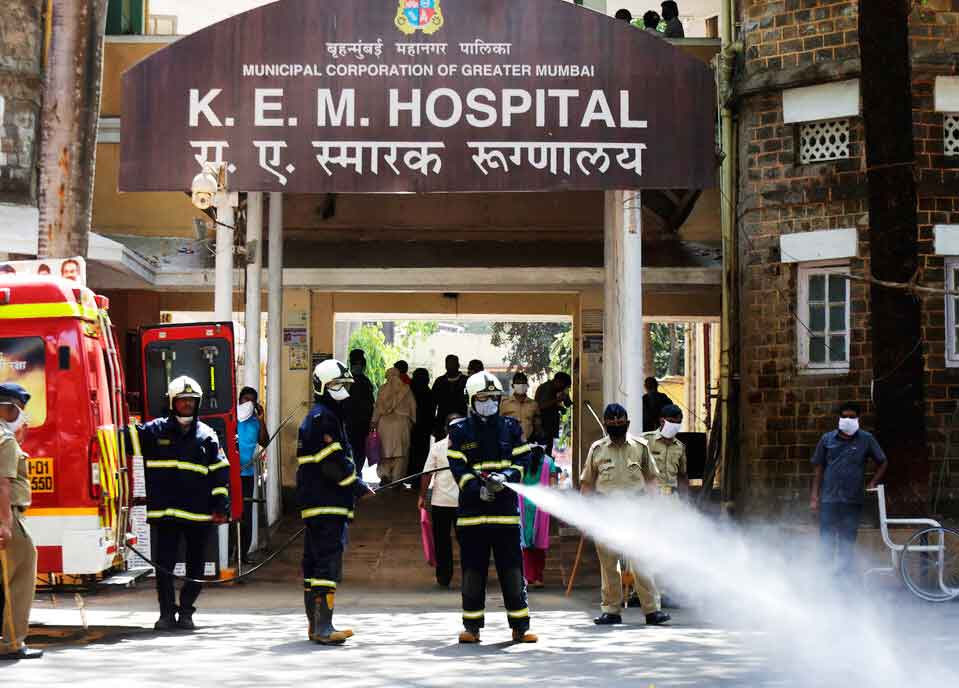 ---
---
India's count of coronavirus patients grew by 227 — the highest so far in 24 hours — on Monday but the health ministry stonewalled queries on the locations of the outbreak's "hotspots" and contradicted suggestions by government researchers that the virus is spreading within the community.
Public health experts and virologists tracking the country's response to the pandemic said the decision not to immediately disclose the hotspot locations could be justified, but the health ministry's denial of community transmission reflected a self-imposed, needless trap.
"It is not in any way an indictment of the government if community transmission has taken place, nor is it a feather in its cap if it hasn't," said a senior virologist.
The health ministry had until 9.30pm on Monday recorded 227 fresh cases, raising the total number of Covid-19 patients to 1,251. One hundred and two patients have been discharged and 32 have died, seven over the past 24 hours. Kerala and Maharashtra have the highest patient counts, around 200 each.
Delhi, Gujarat, Telangana, Rajasthan and Tamil Nadu have more than 50 patients each.
A senior health ministry official said India's counts had grown at a slower pace compared with many other countries.
"It took 12 days for our numbers to go from 100 to 1,000," said Lav Agarwal, a joint secretary in the ministry. "In the same time, in other countries, the numbers went to 3,500 or 6,000 or 7,000."
He attributed India's slower rise to "collective pre-emptive action and public cooperation" in social-distancing measures. But Agarwal declined to name the infection's hotspots where the ministry had initiated or planned cluster containment strategies.
Hotspots are areas where large case loads have been reported or areas with high population density where a large number of cases may be reported, Agarwal said.
"These become our focus areas so that cases do not spread from there."
Agarwal said the government has standard protocols for hotspots. These include a house-to-house search for people with acute respiratory symptoms or influenza-like illnesses, the tracing of their contacts, and home quarantine or hospital isolation for those who need these measures.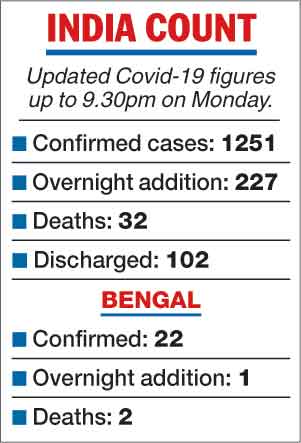 Two public health experts who were not associated with the government told The Telegraph that the silence about the hotspots was likely driven by concerns about how people might react.
"They are probably trying to avoid panic in hotspots and buffer zones," said Oommen John, a public health specialist at The George Institute for Global Health, New Delhi.
"We don't want an exodus of people from the buffer zones -– that could make things worse. We hope they've identified the hotspots and are aggressively testing and taking all the measures for containment in those areas."
Public health experts and virologists were also surprised by Agarwal's assertion that there has been no community transmission of the virus -- a condition in which a patient's source of infection, or the chain of contacts, cannot be traced.
"Technically, we are still in local transmission…. It is only local transmission in this country," Agarwal said in a briefing to reporters.
"We will be the first to get back to you to explain that there is community transmission in the country -– if need be."
Indian Council of Medical Research officials had on Saturday said that "early signals" of community transmission were visible and should not surprise anyone.
The officials had said the sources of infection in at least three coronavirus patients remained undetermined, despite efforts at contact tracing.
Agarwal on Monday said the numbers of such patients was "minuscule".
But multiple public health experts said the distinction between local transmission and community transmission was artificial and avoidable.
"Health officials have put themselves in a needless trap," said Thiagarajan Sundararaman, a community medicine specialist.
"Misleading impressions have been created that as long as we are in local transmission phase, things are under control and that if community transmission starts, things will be out of control. Both are wrong."
Some experts suspect that the distinction gained prominence after a news conference by the ICMR where its director-general Balram Bhargava drew it between local and community transmission. He had said that India was in Stage II, that of local transmission, and that if Stage III --- community transmission -- happened it would be "worrisome".
But Sundararman said what really counts is the rise in numbers, the speed at which they are rising, and how the numbers move across the country.
Senior ICMR officials were not immediately available to comment on these views.
Virologists say India's early counter-measures against the coronavirus -– such as screening people at airports and initiating surveillance to isolate positive cases in hospitals -– may have helped slow the rise in numbers in the early weeks, but community transmission was bound to occur given how easily the virus has spread in other countries.