90 per cent of COVID-19 cases confined to four countries
India suspends visas till April 15, patient count 73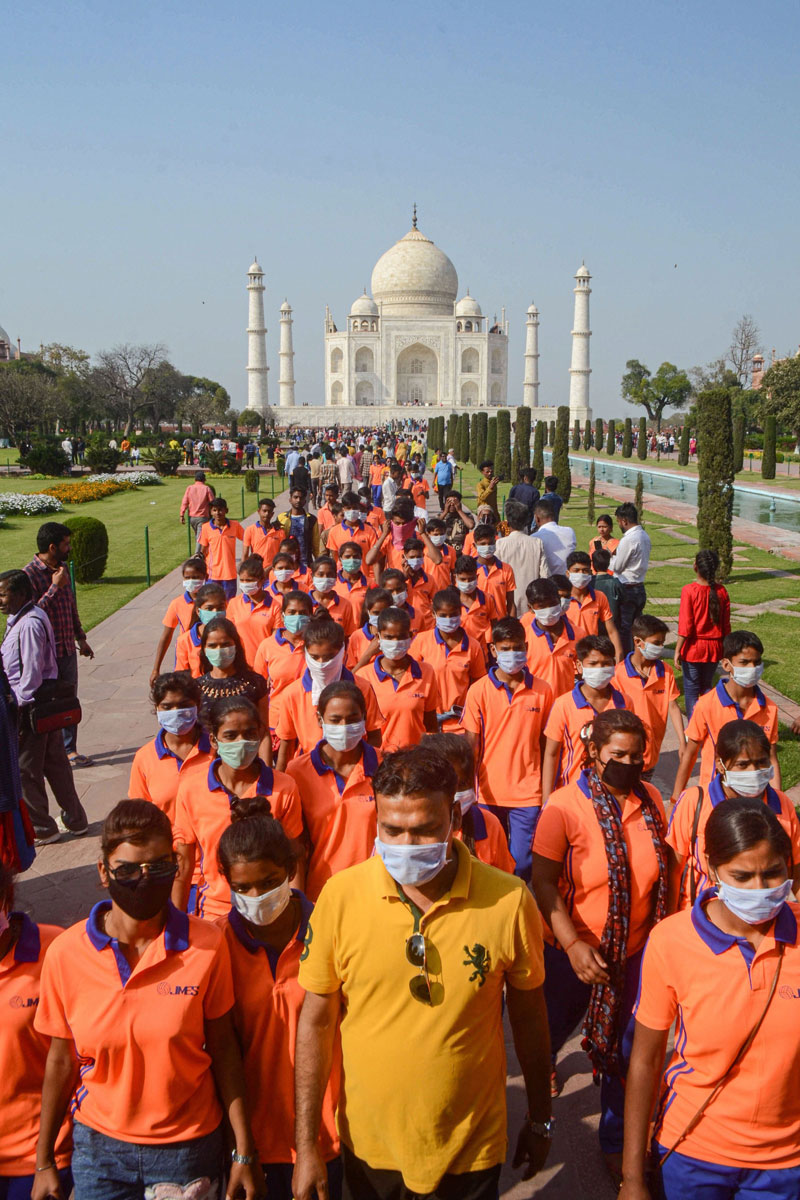 Tourists wear masks as a preventive measure against coronavirus during their visit to the Taj Mahal in Agra on Wednesday
PTI
---
New Delhi
|
Published 12.03.20, 07:32 AM
|
---
India has decided to suspend all visas, except diplomatic, official and work visas, from March 13 to April 15, effectively shutting doors on foreign tourists on a day WHO declared the coronavirus as a pandemic.
A group of ministers decided that the visa-free travel facility granted to Overseas Citizens of India card-holders would be kept in abeyance till April 15. Any foreign national who intends to travel to India for a compelling reason may contact the nearest Indian mission.
All incoming travellers, including Indian nationals from China, Italy, Iran, South Korea, France, Spain and Germany will be quarantined for at least 14 days. All incoming travellers, including Indians, have been advised to avoid non-essential travel and they could be quarantined for at least 14 days after their arrival in India, the health ministry said.
On Wednesday, World Health Organisation (WHO) characterised Coronavirus as a global pandemic while saying that it was deeply concerned by "the alarming levels of spread and severity, and by the alarming levels of inaction".
"Pandemic is not a word to use lightly or carelessly. It is a word that, if misused, can cause unreasonable fear, or unjustified acceptance that the fight is over, leading to unnecessary suffering and death," said WHO Director-General Tedros Adhanom Ghebreyesus.
WHO reported that 1,18,000 positive cases had been reported globally in 114 countries and more than 90 per cent cases were in four countries. Dr Ghebreyesus said 81 countries had not reported any COVID-19 cases, and 57 countries had reported 10 case or less.
73 cases in India
The number of coronavirus patients in India rose to 73 with 13 fresh cases, including nine from Maharashtra and one each from Delhi, Ladakh and Uttar Pradesh.
Among the 73 are 16 Italian tourists and another foreign national, the Union health ministry said on Thursday.
Six positive cases have been reported in Delhi while 10 people were diagnosed with the infection in Uttar Pradesh till Thursday.
Kerala has till now reported 17 cases, including three patients who were discharged last month after they recovered from the infection.
Karnataka reported four cases, Maharashtra 11 and Ladakh three; Rajasthan, Telangana, Tamil Nadu, Jammu and Kashmir and Punjab reported one case each.
Being the international gateway to the country, the Delhi government has announced several measures to track and control the spread of the virus.
Headed by chief minister Arvind Kejriwal, a Delhi government task force is identifying and tracking people who might have come in contact with those infected. The Aam Aadmi Party (AAP)-led government constituted this task force on March 4.
Healthy people do not need to use masks at all.Masks should be used only by them who are suffering from corona or in touch with victims.

Just avoid going to crowded places and wash your hands at regular intervals : @ArvindKejriwal pic.twitter.com/SOPJNdXB3h

— Aam Aadmi Party Delhi (@AAPDelhi) March 9, 2020
The task force has focused containment efforts on three fronts – screening passengers at Delhi airport and later monitoring flyers who live in the national capital but have travelled from COVID-19 affected countries. It is also screening, testing and, if need be, isolating people in public hospitals like Ram Manohar Lohia (RML), LNJP and Safdarjung. It is also monitoring regular cleaning and disinfecting of public transport.
Over a lakh screened in Delhi
Delhi's Directorate General of Health Services (DGHS) has revealed that until Wednesday, 1,58,883 passengers from COVID-19 affected countries were screened and were being monitored.
On Wednesday alone, more than 3,500 people from such countries were screened.
Of the five cases identified in Delhi, the public health wing of Delhi's DGHS traced one to Janakpuri in west Delhi. The 46-year-old man, who travelled to Japan, Switzerland and Italy, was admitted to RML hospital.
"Nine of his family members were screened… (They) were found to be asymptomatic – showing no symptoms – except his mother," said a doctor in the team tracking cases. A state health official claimed that 50 nearby houses were also under surveillance.
Of the four others who have tested positive, the task force found that one had come in contact with 105 people, the other with 171 people, the third with 356 people and the fourth with 76 people.
More than 750 people, the task force and DGHS has found, came in contact with the five infected persons of Delhi. Of them, 500 reside in Delhi and are under watch. So far, only one of them has been kept in isolation at a hospital.
IMA warning
The Indian Medical Association (IMA) warned on Wednesday that sharing daily data abut the number of infected persons created a panic across the country.
"At least 25 hospitals have been identified where facilities of testing and sampling will be set up. Over the course of the week, more or less, all these facilities will be functional," said Jasmine Shah, AAP spokesman and Delhi Dialogue Commission vice chairman.
However, doctors in at least two private hospitals that serve several foreign patients confirmed that only screening facilities were available as of now. Suspected cases were being sent to Centralised Accident and Trauma Service (CATS).
Public transport
Shah also revealed that a daily disinfection regime had been put in place from Monday for public transport in Delhi including all Delhi Transport Corporation (DTC) and cluster buses, and Metro trains every morning.
Delhi government on Monday launched a disinfection drive of all buses operated by DTC.

The cleaning drive was started after a state-level task force meeting on measures to guard against Corona infection on Monday. pic.twitter.com/mpJYwEhDCe

— Aam Aadmi Party Delhi (@AAPDelhi) March 11, 2020
"It's a state level task force and a wide range of agencies are involved in it. In case of metros, instructions were issued by the state task force and DMRC management is following through," said Shah.