Cop 'iron fist' and water ruse
At least six women are in hospital with serious head injuries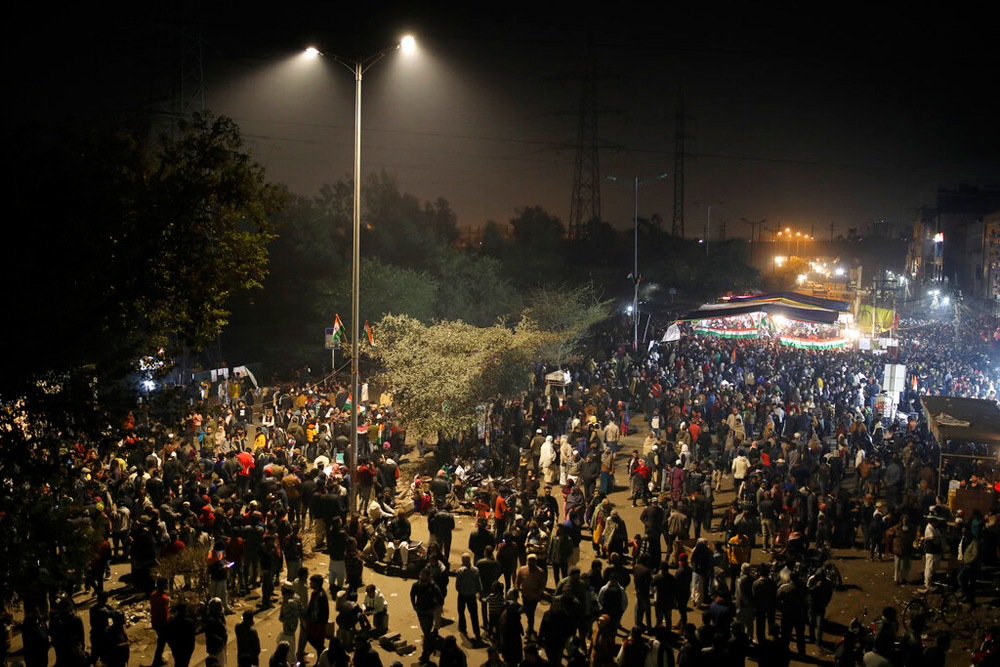 Delhi's Shaheen Bagh on January 22. The protests in the neighbourhood have inspired similar demonstrations across the country, including the fledgling one at Azamgarh
(AP photo)
---
Lucknow
|
Published 05.02.20, 09:43 PM
|
---
Uttar Pradesh police have been accused of using brutal force on a fledgling Shaheen Bagh-like protest in Azamgarh at 4am to break up a group of women and children holding a vigil against the new citizenship regime.
The police allegedly hurled stones at the protesters in the pre-dawn darkness, beat them with lathis, fired teargas and flooded with water the park that was doubling as the protest site.
At least six women are in hospital with serious head injuries and one of them was unconscious till Wednesday afternoon.
This is the first time the police have used such violent force against women protesting against the BJP-led Centre's new citizenship matrix. Although the police and the administration have been accused of threatening and vilifying women and children protesting in various parts of the country, there had not been such a fierce response earlier.
About 200 women and some children had gathered at Maulana Jauhar Ali Park in Bilariyaganj town, 20km north of Azamgarh city, around 7pm on Tuesday to begin a dharna against the Citizenship (Amendment) Act and the NRC. By 11pm, the number had swelled to over 1,700.
"We were carrying national flags and singing the national anthem because our sole aim was to force the government to protect the basic structure of the Constitution, which doesn't allow religious discrimination," said a woman.
"Around 4am, when we were a bit sleepy, the policemen and policewomen suddenly began throwing stones at us. Then they attacked us with lathis and fired teargas. The police had brought over a dozen water tankers and as we began running, they filled up the park, which is one-third of a football field, with water. There were children with us and we asked them to run away," she added.
Pankaj Pandey, the superintendent of police of Azamgarh city, said some cops had suffered injuries but did not give details. Additional district magistrate Narendra Singh said the police had "retaliated" when the women hurled stones at them. "We have picked up 18 rioters, including women, and are interrogating them," Singh said.