Continually hit on the head: Aishe
Ghosh had first asked the students to stay put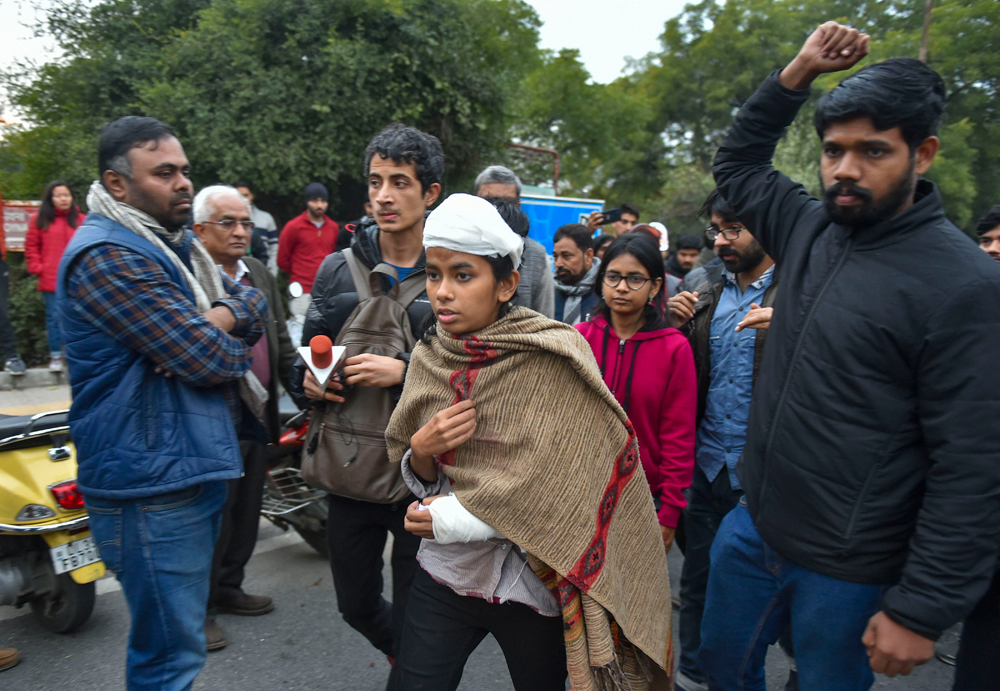 Aishe Ghosh leaves after speaking at a news conference in New Delhi on Monday
(PTI photo)
---
New Delhi
|
Published 06.01.20, 10:26 PM
|
---
Aishe Ghosh, the diminutive president of the JNU students' union, has 16 stitches on her head after being beaten with iron rods on Sunday evening.
Yet, on Monday, she was back leading the movement against the hostel fee hike — the root cause behind Sunday's attack — and was mobilising students for a countrywide strike on Wednesday.
She said she had earlier complained to the police about sporadic campus clashes with the ABVP during the ongoing fee agitation, and that the police had assured her on Sunday that all mischief-makers from outside had been removed.
However, after 6.30pm, goons armed with rods violently disrupted a meeting the teachers had called for peace on the campus, she said.
Ghosh, who is from Durgapur in Bengal, first asked the students to stay put. As the mayhem continued, she rushed towards Koyna Hostel.
"Before I could reach the hostel, I was singled out near a car with an activist (Nikhil Mathew of CPM student arm SFI) and my sister, who had come to meet me yesterday," she said.
"She (Ghosh's sister) managed to escape somehow. The activist and I were surrounded by 30 people. The first blow fell on my head. Till then I had been shouting at them (saying), 'You can't assault like this'."
She added: "I was continually hit on the head with iron rods. We (Ghosh and Mathew) both fell. They had hammers. I can't even explain how frightening it was. They were about to lynch us. They repeatedly abused us saying, 'We will hit and cut you people up right here today. Let's see what you do'. Some of them said, 'Let's run away, don't kill them'."
Ghosh said the ambulance that later took her to AIIMS had briefly been stopped by ABVP supporters, and she had to climb out to warn them to back off.
"Every iron rod with which you have beaten us will be given back through our democratic debate and discussions that we have always put up. JNU's culture will not be eroded anytime soon," she said.