Party writes another letter to Zuckerberg
Congress warns Facebook of legal action
Letter to Zuckerberg says company cannot cause disharmony in India for profit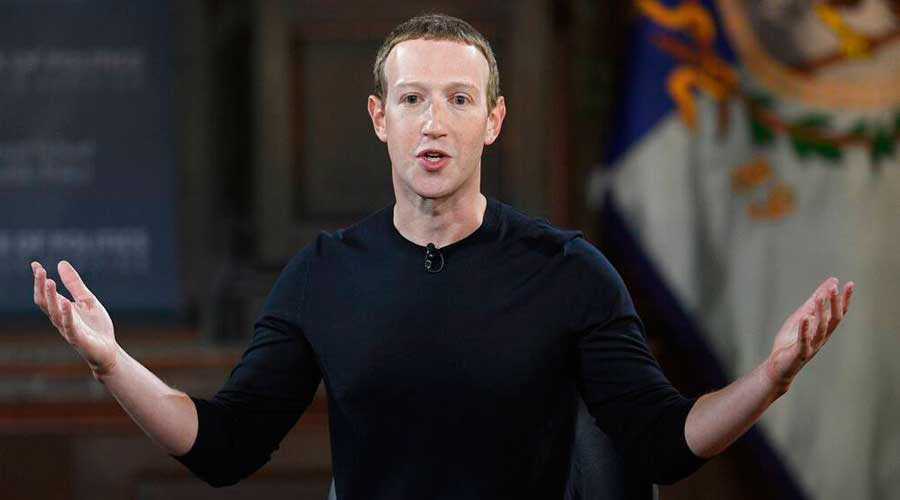 ---
New Delhi
|
Published 30.08.20, 01:02 AM
|
---
The Congress on Saturday warned Facebook CEO Mark Zuckerberg of legal action if the American company continued to interfere in democratic processes to help the BJP and allow its social media platforms to spread communal hatred in India. 
Two days after Time magazine reported that Facebook had allowed a hate post by a BJP lawmaker in Assam to remain on its pages for more than a year despite an alert from an NGO, the Congress shot off its second letter to Zuckerberg.
Earlier this month, after The Wall Street Journal had reported that Facebook had condoned violence-inciting posts from the Hindutva ecosystem, including BJP leaders, the Congress had written to Zuckerberg urging him to investigate the "blatant biases and dubious practices" of the social media giant's management team in India and make immediate amends, saying interference in the electoral processes of the country would not be tolerated.
In its letter on Saturday, written in connection with the Time report on BJP MLA Shiladitya Dev blaming Bangladeshi Muslims for rapes in a Facebook post, the Congress said: "We urge you to let us know what steps your company is planning to take to investigate these matters and draw a plan of action to stem the rot in your India operations. We will also be pursuing legislative and judicial actions in India to ensure that a foreign company cannot continue to cause social disharmony in our nation for pursuit of private profits."
The letter, written by general secretary in-charge of Congress organisation K.C. Venugopal, added: "You may recall our letter to you on August 17, 2020, outlined the Facebook India team's blatant biases and interference in India's democracy (as exposed by The Wall Street Journal). We draw your attention to the article in Time magazine dated August 27, 2020, that reveals more information and evidence of biases and a quid-pro-quo relationship of Facebook India with the ruling BJP."
It went on: "This article makes three main points that are alarming and violate both the spirit and the law of operations of foreign companies in India.
"1. The BJP has been allowed to exercise control of WhatsApp's India operations in return for a possible licence for its payment operations, which is critical for the future of WhatsApp in India. 2. More than just one person in your company's leadership team in India are biased and partisan in favour of the ruling BJP in their professional endeavours. The problem is larger, deeper and more pervasive than initially assumed. 3. The WhatsApp platform used by 400 million Indians has been willingly allowed by your India team to be appropriated for hate speech and the consequent tearing of India's fabric of social harmony."
The messaging app owned by Facebook has been so rampantly used in India to spread unsubstantiated, fake and hateful content, especially by the Hindutva brigade, that it has spawned the term "WhatsApp University".
Congress leader Rahul Gandhi has tweeted the Time article with this message: "America's Time magazine exposes WhatsApp-BJP nexus: Used by 40 crore Indians, WhatsApp also wants to be used for making payments for which Modi government's approval is needed. Thus, BJP has a hold over WhatsApp."
Congress spokesperson Pawan Khera and party data analytics department chief Praveen Chakravarty issued a statement iterating its demand for a probe by a joint parliamentary committee into the allegations against Facebook.
"The unholy nexus between Facebook's India operations and the Modi government is now unravelling fast and has become a global issue. There is a need for an investigation by a joint parliamentary committee (JPC). The investigation must include how Facebook manipulated voter opinion, allowed hate speech and was oblivious to fake news," the statement said.
The two leaders also said that WhatsApp must not be granted approvals for its payment operations in India until such an inquiry is complete and the actions recommended are implemented by the company.
The Congress also asked Facebook to probe the latest revelations about WhatsApp's links with the BJP and make the report of its internal investigations public.
Alleging that it is not only Facebook India head Ankhi Das who is involved with the BJP, Khera said another senior executive, Shivnath Thukral of WhatsApp, was an unabashed devotee of the ruling establishment and was partisan in his professional conduct.
Khera said: "The Time expose reveals Thukral was hired by Facebook in 2017 only because he was 'extremely close' to the ruling establishment. Thukral's relationship with the BJP goes as far back as 2013 when he operated websites and Facebook pages for the 2014 election campaign in conjunction with other party affiliates who continue to hold senior positions in the current government."
The Time report mentions that when members of the NGO Avaaz had met Thukral to complain about the Assam BJP MLA's Facebook post, he had walked out of the meeting saying he had other important things to do.
The Time report says that Thukral had in 2013 worked with senior party officials to help run a pro-BJP website and Facebook page. "The site, called Mera Bharosa ("My Trust" in Hindi) also hosted events, including a project aimed at getting students to sign up to vote, according to interviews with people involved and documents seen by Time," the article says. The site changed its name to "Modi Bharosa" in 2014.
Referring to this, Khera said: "It was in 2014 that this 'Mera Bharosa' Facebook page changed its name to 'Modi Bharosa', and thus started sharing pro-BJP and pro-Modi content."
The Congress spokesperson added: "In May 2020 the former chief security officer of Facebook, Alex Stamos tweeted, 'Local policy heads are generally pulled from the ruling political party and are rarely drawn from disadvantaged ethnic groups.… This naturally bends decision-making towards the powerful.' This is a ringing endorsement of Facebook's dubious operations and lobbying efforts."
Khera alleged that WhatsApp had become the "lifeline for the vicious and malicious propaganda of the BJP ecosystem".
"It is now the mainstream tool of misinformation. WhatsApp wants 40 crore Indians to not use it just for communication but for making payments as well. That is how WhatsApp can earn revenue and its future in India is dependent on this payment feature. This would be a multi-billion-dollar initiative for which WhatsApp needs the Modi government's approvals and permissions. This is where it gets murky," the Congress spokesperson said.