Congress turns focus to choice of House leader
The party has been adrift since the unexpected rout in the election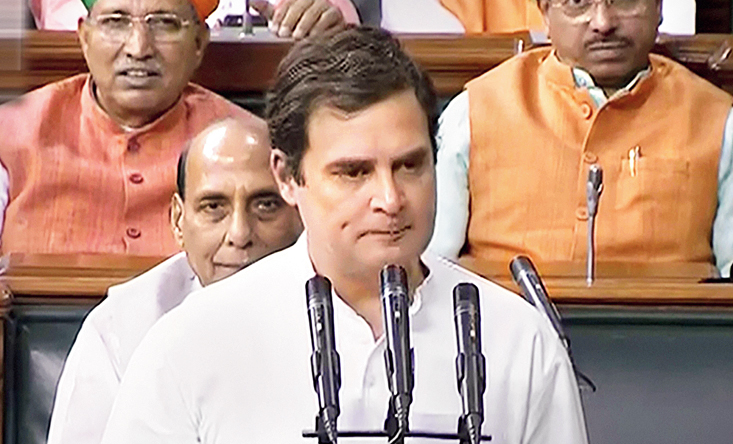 ---
---
Congress members are hoping for some clarity on the party's leadership in the Lok Sabha over the next two days at a time when the choice of the next party president continues to be a mystery.
Rahul Gandhi, who returned on Monday morning from a short trip abroad and took oath as a Lok Sabha member in the afternoon, has so far not discussed any pending issues with the party. Only his mother Sonia Gandhi and sister Priyanka Gandhi Vadra met him at his home on Monday.
Rahul was not seen in Parliament in the morning. As murmurs about his absence on the first day after the elections intensified, he tweeted around noon: "My fourth consecutive term as a Member of the Lok Sabha begins today. Representing Wayanad, Kerala, I begin my new innings in Parliament by taking my oath this afternoon, affirming that I will bear true faith and allegiance to the Constitution of India."
The party has been adrift since the unexpected rout in the election, and Rahul's refusal to lead it in this critical phase has prevented it from working out a road map for the future so far.
Although party seniors have been meeting over the past fortnight, there has been no consensus on any candidate for the post of party president.
Senior leaders have quit the Congress in several states, and Madhya Pradesh chief minister Kamal Nath's surprise meeting with BJP president Amit Shah last night has deepened the unease in the party.
While sources close to Kamal Nath insist that no political motive should be read into a meeting between a chief minister and the Union home minister, some in the Congress wondered why the talks took place at Shah's home and not his office.
Speculation is swirling around many possible reasons, such as Kamal Nath's purported desire to retain his Delhi bungalow. Senior Congress leaders denied any possibility of a political plot brewing between the two.
The key concern of choosing the party's leader in the Lok Sabha remains unresolved — primarily because the seniors are waiting for clarity whether Rahul might himself accept the role.
Other options have been discussed but opinion is divided. While Manish Tiwari and Shashi Tharoor were part of initial discussions because of their articulacy and political insight, Bengal's Adhir Ranjan Chowdhury and Kerala's K. Suresh too are now in consideration by dint of their seniority.
While the 63-year-old Chowdhury is a five-time MP, the 57-year-old Suresh is in his seventh term as Lok Sabha member. Both have continued to win their seats defying anti-incumbency and political "waves". They may lack the eloquence of Tiwari or Tharoor, but both are steeped in grassroots politics.
Both Tharoor, 63, and Tiwari, 54, have many critics who refuse to judge them on merit. Sources say that a large number of seniors have cited issues about the duo that have nothing to do with their talent, and have highlighted the seniority criterion to back Chowdhury or Suresh.
Chowdhury's strident posturing against Bengal chief minister Mamata Banerjee may, however, become a hurdle to his elevation.
Prime Minister Narendra Modi had praised the feisty Chowdhury at the end of Sunday's all-party meeting. Chowdhury and Suresh had represented the Congress along with Ghulam Nabi Azad and Anand Sharma from the Rajya Sabha.
While leaving the venue, Modi had called Chowdhury, patted him on the back and told others, including Azad and Sharma, that he was a "fighter".
Reacting to the gesture, Chowdhury said: "I greeted the Prime Minister. He then patted me on the back and said before everyone that 'Adhir is a fighter'. I felt happy."
He added: "I don't have any personal enmity with anyone. We are the people's representatives and they (the BJP) are also the people's representatives. We will raise our voice, they too will do so. We are going to speak in Parliament, not fight in a war."