Congress tries to deflect blame to BJP
It claimed that RSS had always been anti-Dalit, anti-tribal, anti-OBCs, and its government intended to demolish constitutional rights guaranteed to citizens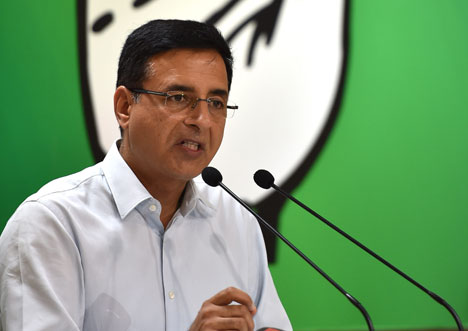 Prime Minister Narendra Modi should come forward and clarify whether bribes to the tune of Rs 1,800 crore were taken by the BJP leaders or not, said Congress leader Randeep Surjewala.
Telegraph file photo
---
New Delhi
|
Published 10.02.20, 09:38 PM
|
---
The Congress, whose then government in Uttarakhand had decided against allowing quotas in promotions in 2012, sought to deflect blame on Monday by pointing out that the Supreme Court had accepted the current BJP dispensation's "anti-Dalit" argument that claiming reservation was not a fundamental right.
Asked how could the Congress escape blame as the executive order regarding promotions had been passed by the then Congress government headed by Vijay Bahuguna in 2012, party communications head Randeep Surjewala said: "That's completely misleading and we are going to move a breach of privilege motion in Parliament.
"That executive order was not in consideration of the Supreme Court when it was hearing an SLP (special leave petition) filed by the (current) BJP government (in the state). That order was anyway about reservation in promotion but the BJP government questioned the right to reservation in jobs."
The BJP dispensation had filed the SLP in the Supreme Court in 2019 seeking clarification on the quota issue.
Laying the blame entirely on the RSS-BJP's mindset, Surjewala pointed out that the senior lawyers appearing for the BJP government in Uttarakhand — Ranjit Kumar, Mukul Rohatgi and P.S. Narsimha — had contended that there was "no fundamental right to claim reservation in appointments or promotions to public posts".
"There is no constitutional duty on the part of the state government to provide reservations," Surjewala said, quoting the lawyers.
The Congress leadership has asked its state units to hold demonstrations across the country against what it described as the RSS-BJP's design to scrap reservation for SCs, STs and OBCs.
The Congress claimed that the RSS had always been anti-Dalit, anti-tribal and anti-OBCs, and its government intended to demolish every constitutional right guaranteed to citizens.
The Congress, which is desperately looking for avenues to divert the national discourse from the Hindu-Muslim groove, grabbed the opportunity as the emotive question of reservation involves caste that has the potential to break the Hindu voters as a monolith.
Rahul Gandhi came out to address the media "on the sinister plan to scrap the reservation system".
"The RSS-BJP ideology is against reservation; they intend to somehow remove this provision. Attempts are made frequently. You saw how Ravidas temple was demolished here (in Delhi). They don't want SC-ST communities to progress. What the Uttarakhand government said in court is a ploy to end the reservation system. That's the DNA of the RSS," Rahul said.
"No matter what they dream, what fantasy they live in… we are not going to allow them to scrap reservation," he added.
Former minister P. Chidambaram tweeted: "The Government and the BJP cannot distance themselves from the Supreme Court's judgment on reservation not being mandatory. The BJP Government of Uttarakhand put forward the argument that was accepted by the court. The BJP must own up to the judgment and tell us if it will allow the declaration of law to remain unchallenged…."