Congress to Modi: Look at Nehru
The party has asked the PM to declare that Chinese occupation of Indian territory is not acceptable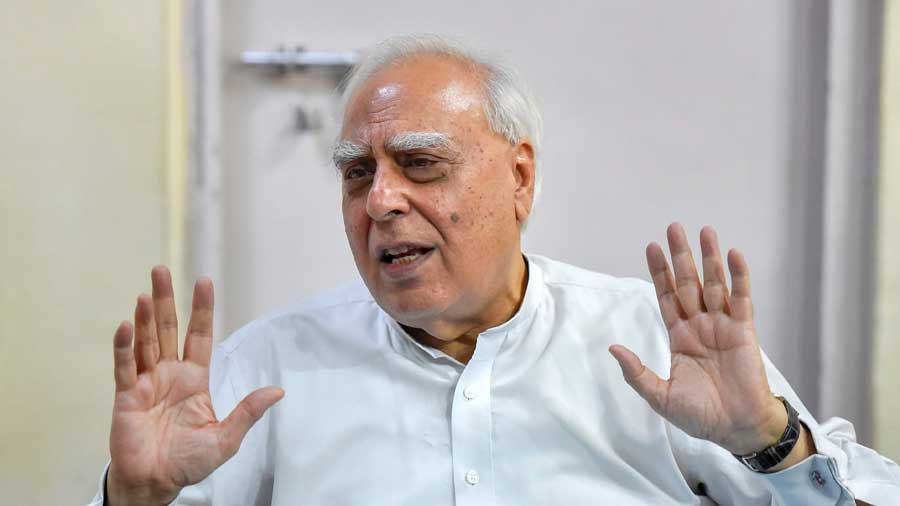 ---
---
The Congress has asked Prime Minister Narendra Modi to unambiguously declare that Chinese occupation of Indian territory is not acceptable and contrasted his actions with how Jawaharlal Nehru had confronted the neighbour.
A day after Modi's high-on-optics trip to Leh to meet soldiers, including those injured in the June 15 Galwan Valley clash, the Opposition party sought to drive home the point that the visit had not changed the ground reality.
"It is about the country, not politics," asserted Congress spokesperson Kapil Sibal, arguing that spectacle and rhetoric cannot override the central issue of Chinese incursions.
"Why are you talking indirectly instead of naming China as the aggressor? What is the message you sent to China by saying (at an all-party meeting last month) that neither had anyone intruded into our territory, nor had any of our posts been captured? Now when military commanders are discussing disengagement, China is consolidating its position, building concrete structures and planting signboards. This is unacceptable and this has to be stated emphatically to begin with," Sibal said.
During his Ladakh speech on Friday, Modi stuck to what appears to be a policy not to name China, only criticising "expansionism".
Sibal recalled how boldly Nehru had confronted China despite not having a modern army.
"People don't even know about the origin of the Line of Actual Control. This term was coined by Chinese Premier Zhou Enlai in 1956, then he repeated it in 1959, before the 1962 war. Zhou Enlai sent a letter to Nehru asking India to accept the 1959 Chinese claim and said that China was willing to withdraw 20km from this place.
"Nehru said that this proposal was nothing short of a victor's dictates. Nehru said, 'There is no sense or meaning in the Chinese offer to withdraw 20km from what they call 'line of actual control'. What is this 'line of control'? Is this the line they have created by aggression since the beginning of September?'" Sibal said.
He added: "That is the difference between 1962 and now, when Modi doesn't even take China's name. Nehru had said, 'The demand for India to accept the Chinese 1959 line is a demand to which India will never submit, whatever the consequences and however long and hard the struggle may be.' Paradoxically, the Chinese 1959 line clearly depicted the entire Galwan Valley in India. It was only on June 16, 2020 (a day after the clash in which 20 Indian soldiers were killed) that China formally laid claim for the first time ever to the entire Galwan Valley."
The Congress leader said the first step before any future action to reclaim the land is to declare that the Chinese had occupied Indian territory.
Recalling that then Prime Ministers Jawaharlal Nehru, Indira Gandhi and Lal Bahadur Shastri had visited real forward locations to boost the morale of soldiers, Sibal pointed out that Modi on Friday went to Nimu, which is at least 230km from the Galwan Valley and other border areas where tensions have flared up. Government wings and sections of BJP leaders had initially claimed that Modi was visiting a "forward location" in Ladakh.
Sibal said this was not the way to boost soldiers' morale. His emphasis, however, was on the Prime Minister's reluctance to name China. He said Modi's claim that the era of expansionism had ended was flawed as the world was aware of China's actions from the South China Sea to Arunachal Pradesh to Nepal and South Africa.
Sibal went a step ahead by alleging that Modi had been informed about Chinese intrusion as early as February.
"Isn't it correct that the local councillors of Ladakh, including those from the BJP, submitted a memorandum to Prime Minister Modi in February 2020 about the capture of our land by China? What action did the Prime Minster take? What instructions were passed on to the soldiers? Had the Prime Minister acted, wouldn't we have been able to preempt the brazen Chinese transgressions?" he asked.
Former Congress president Rahul Gandhi tweeted a video showing residents of Ladakh talking about Chinese intrusions and wrote: "Patriotic Ladakhis are raising their voice against Chinese intrusion. They are screaming a warning. Ignoring their warning will cost India dearly. For India's sake, please listen to them."