Congress to Mark: Replace Facebook India team
'It is still not too late to correct course and make amends through an impartial investigation into operations and practices'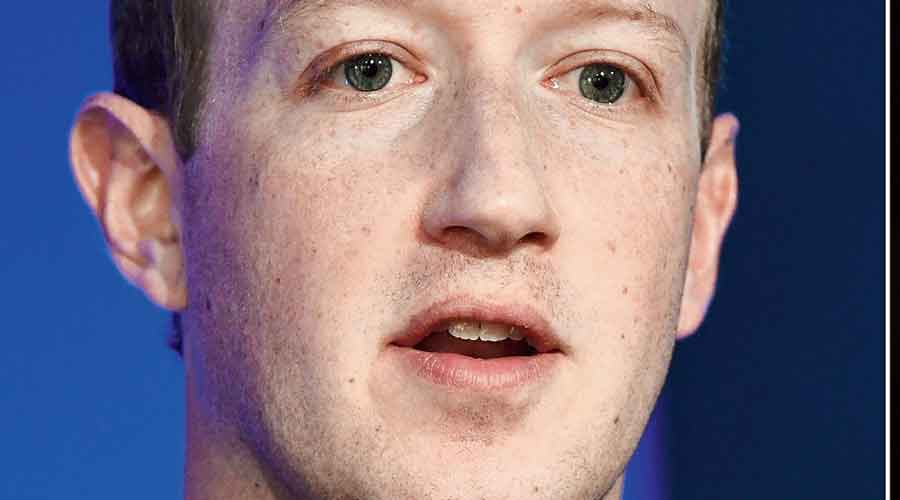 Mark Zuckerberg
File picture
---
New Delhi
|
Published 19.08.20, 03:42 AM
|
---
The Congress has written to Facebook CEO Mark Zuckerberg to investigate the "blatant biases and dubious practices" of the social media giant's management team in India and make immediate amends, saying interference in the electoral processes of the country will not be tolerated.
In a letter to Zuckerberg on behalf of the Congress, general secretary in charge of organisation K.C. Venugopal has written: "It is still not too late to correct course and make amends through an impartial investigation into Facebook India's operations and practices."
The Congress has asked for a high-level inquiry by Facebook's headquarters whose report should be submitted to the board of Facebook Inc and also made public.
Seeking the replacement of the existing Facebook India management team led by Ankhi Das, the director for public policy for South and Central Asia, with a new team so that the investigation is not influenced, Venugopal informed Zuckerberg that the Congress has sought a Joint Parliamentary Committee probe into the matter.
The letter comes days after The Wall Street Journal reported that Facebook did not apply its own rules against hate speech to posts from the Hindutva ecosystem to protect its business in India.
Pointing to the allegation that Ankhi Das provided support to the BJP, Venugopal said the WSJ report had not come as a surprise to the Congress because the Opposition party had raised such issues with Facebook in the past but no action had been taken.
The letter said: "As India's oldest political party that fought for the nation's freedom and established India's electoral democracy through universal adult franchise, it is deeply disturbing to note that your company may be a willing participant in thwarting the very rights and values that our founding leaders sacrificed their lives for."
Venugopal has attached to his letter a report by NewsClick, a video news network, detailing the close association of people involved in the BJP's election management with the Facebook India team.
Congress leader Rahul Gandhi on Tuesday tweeted the letter and wrote: "We cannot allow any manipulation of our hard-earned democracy through bias, fake news & hate speech. As exposed by Wall Street Journal, Facebook's involvement in peddling fake and hate news needs to be questioned by all Indians."
The Congress later at a media conference pointed to purported evidence of the "cosy connection" of Facebook's Das with BJP leaders. Referring to what he said were leaked internal memos and chats between Facebook officials that had been reported by international media in 2018, Congress spokesperson Pawan Khera said: "We get an insight into the relationship of Facebook India officials blossoming with BJP leaders between 2012 and 2014 when the UPA was in power."
He referred to a "July 2012 memo" in which the global vice-president of public policy of Facebook, Marne Levine, had mentioned a closed-door meeting then information and technology minister Kabil Sibal was to hold with Opposition MPs to discuss the government's intermediary rules on social media.
Khera said: "I quote, 'Ankhi has advised MPs that the matter is sub judice in various courts of India and they should make that point with the minister and reorient the discussion to the substantive issues in the rules…. We, along with Google and YI's local policy leads, have worked with them on talking points'."
The Congress spokesperson quoted another portion of the memo that said: '"We also finished drafting a letter that Arun Jaitley, leader of the Opposition, can use on intermediary rules.'"
He said: "It is clear the lobbyists were making talking points and drafting letters for BJP leaders and MPs."
Alleging that the memo had revealed how Facebook had lobbied to get the IT Act amended by planting stories in the media and supporting public interest litigation, Khera said: "I am proud that their internal communications confirmed UPA ministers did not listen to them."