Congress to government: Flash 'red eyes' at enemy, not us
'It is our duty to question Centre on territorial violations'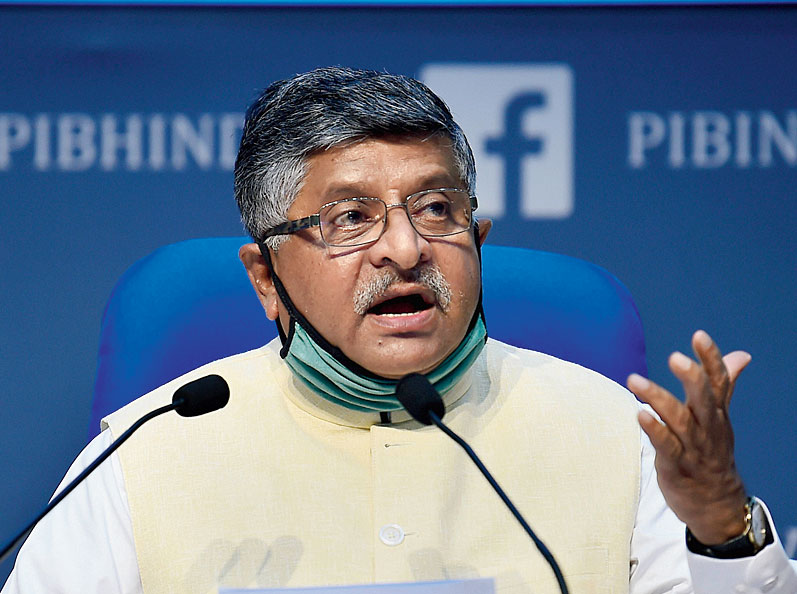 Ravi Shankar Prasad
(PTI)
---
New Delhi
|
Published 10.06.20, 09:05 PM
|
---
The Congress on Wednesday asked the government to flash its "red eyes" at the Chinese, not the Opposition in India, recounting a suggestion Narendra Modi had made before becoming Prime Minister.
On a day Union minister Ravi Shankar Prasad attacked Rahul Gandhi for asking sensitive questions about border issues on social media, Congress spokesperson Manish Tewari said: "The entire country is worried about intrusion by Chinese troops in Ladakh. Security experts, former generals — including ex-army chiefs — ex-intelligence officials and a section of the media are asking about the intrusion. But this government has made it a habit not to respond to vital questions."
Tewari added: "It is irresponsible of law minister Ravi Shankar Prasad to launch an intemperate attack on Rahul Gandhi. Nationalism is not anyone's monopoly. We have been asking the question whether the Chinese troops have encroached upon Indian territory or not.
"This requires a straight answer from the Prime Minister, the defence minister, or at least the defence secretary. We will ask the minister (Prasad) to show red eyes to the enemy, not to us. It is our duty to question the government if India's territorial integrity is violated."
Modi had famously declared that India should talk to China with "red eyes" before becoming the Prime Minister in 2014.
Prasad was angry because former Congress chief Rahul has been persistently asking about the Chinese intrusion.
Questioning his understanding of security issues, Prasad said: "Questions about international relations and strategic affairs are not asked on Twitter."
Prasad did not seem to have done his homework as BJP leaders, including Modi, used to ask similar questions on Twitter and other social media platforms about Chinese intrusions during the tenure of the Manmohan Singh government.
Rahul raised the China incursion once again on Wednesday, tweeting: "The Chinese have walked in and taken our territory in Ladakh. Meanwhile the Prime Minister is absolutely silent and has vanished from the scene."
Prasad, while criticising Rahul for asking questions on Twitter, did not clarify whether the terms of political engagement between the government and the Opposition had been formally changed after Modi's ascent to power.
Tewari, however, not only read out tweets from Modi and other top BJP leaders questioning then Prime Minister Manmohan over Chinese intrusions, he also played a video in which Rajnath Singh, now the defence minister, dwelt on the issue very aggressively.
Rajnath had asked the Congress about the retreat of forces on both sides, saying: "Why did the Indian troops withdraw when the Chinese withdrew from the LAC?"
Ironically, government sources on Wednesday said that "Chinese troops were withdrawing and we too have moved back our forces".
Tewari lamented that the government wanted to normalise the developments on the border by pretending that no encroachment had taken place.
"The country is fortunate to have a strong ex-servicemen's community that speaks the truth and asks questions of the government. Lt Gen. H.S. Panag, Lt Gen. Prakash Menon, former army chief Gen. V.P. Malik, Col Ajai Shukla and several other security experts have written saying the Chinese had intruded 40 to 60sqkm. They have nothing to do with politics; they spent their lifetime serving the nation."
Pointing out that these people have indicated that the Chinese have adopted an intransigent stance during negotiations, Tewari asked several questions: "The government must clarify: 1. How much land has been encroached by China? 2. From which areas have the troops gone back and whether all the land belonging to India has been vacated? 3. What is the government doing to restore the status quo in Galwan Valley? 4. How did the Chinese enter — was it an intelligence failure or a tactical failure? 5. Who will take responsibility of this lapse?"