Congress moves Supreme Court on Rajya Sabha poll
2 seats have fallen vacant in Gujarat as Amit Shah and Smriti Irani got elected to the Lok Sabha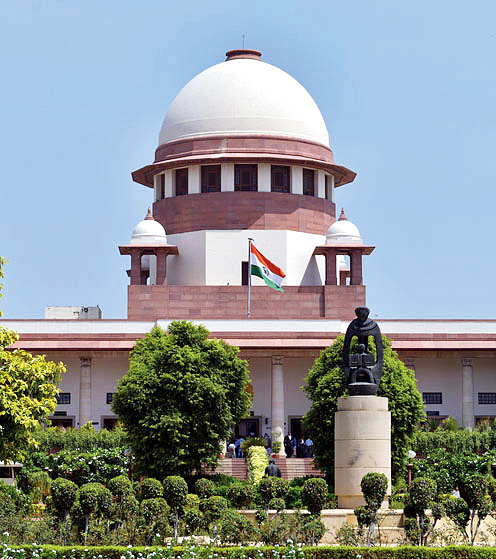 ---
---
The Congress on Monday moved the Supreme Court against the Election Commission's decision to hold separate elections to two Rajya Sabha seats that have fallen vacant in Gujarat.
The party had expressed fears a few days ago about this possibility and warned the poll watchdog against any such move, which, it said, would be antithetical to constitutional principles.
Two seats have fallen vacant in Gujarat as BJP president Amit Shah and Union minister Smriti Irani, who were members of the Rajya Sabha, got elected to the Lok Sabha in the recent parliamentary polls.
If the elections to the two seats are held together, the Congress will snatch one because it has the numbers in the Gujarat Assembly to push one of its candidates in a joint election. If the polls are de-linked, the BJP would win both the seats because of its simple majority in the House.
The commission has scheduled both the elections on July 5 but separately. A notification from the panel suggests that while Shah got elected on May 23, Irani was elected on May 24.
"Today the Gujarat Congress has filed a petition in the Supreme Court against this unconstitutional notification by (the) Election Commission," Gujarat Congress chief Amit Chavda tweeted. "We will fight tooth & nail to uphold the Constitution and save democracy in Gujarat. We are confident the Supreme Court will… prevent the murder of our democracy in broad daylight!"
Chavda added: "If election of both Rajya Sabha seats are held together according to the norm, the BJP will win one seat & the Congress will win one. Election of both these seats were held together, Rajya Sabha seats of Smriti Irani & Amit Shah got vacant together, so what is the need to hold two separate polls?"
The Congress leader said the panel, in "blatant disregard" of the Constitution and under "immense pressure from the BJP", had issued the notification. "This is (an) unprecedented, unconstitutional and blatant attempt by the commission to benefit (the) BJP."
Congress spokesperson Abhishek Singhvi had expressed the apprehension at a media conference a few days ago. "Both the members got elected to the Lok Sabha together; they got the certificate the same day — May 24. If elections to fill up the two vacant seats are held separately, it will be a mockery of constitutional ethos. Constitutional principles, tradition, norm… everything suggests the elections should take place together. Separation will be illegal as well as amoral," Singhvi had said.