Congress asks Punjab leaders to talk to Navjot Singh Sidhu
The recently-quit state party chief didn't show any sign of relenting, issuing a video saying: 'I am ready to make any sacrifice but will stick to principles'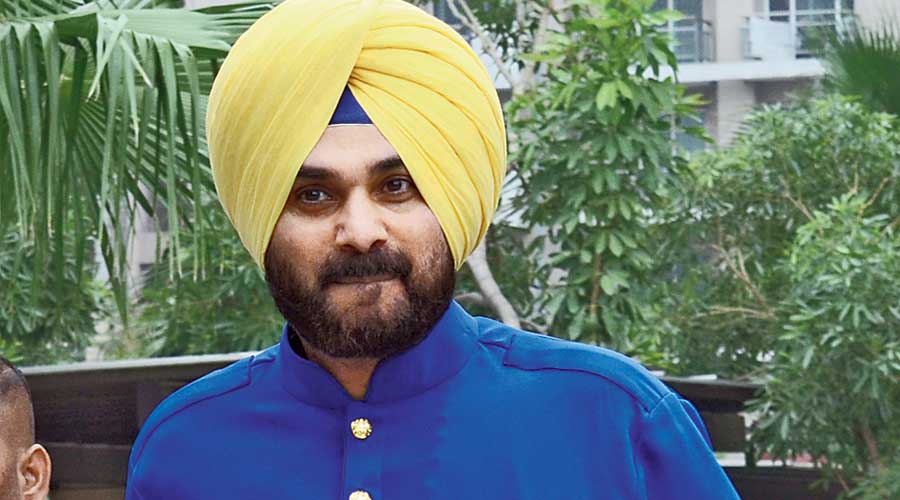 ---
New Delhi
|
Published 30.09.21, 02:08 AM
|
---
The Congress high command has asked its Punjab leaders to talk to Navjot Singh Sidhu instead of sending a high-level firefighting team to persuade him to withdraw his resignation, sending out a clear signal that it was for the mercurial leader to amend his mistake.
Chief minister Charanjit Singh Channi, some senior Punjab ministers and MLAs talked to Sidhu through the day without any concrete outcome. One leader explained the situation: "It is a closed chapter. If not for Sidhu, for the Congress."
He said the Congress would stand to lose by retaining Sidhu as state unit chief after this ugly drama.
Even the chief minister didn't appear unduly rattled.
Sidhu didn't show any sign of relenting, issuing a video saying: "I am ready to make any sacrifice but will stick to principles."
Local leaders sympathetic to him also concede he was overdoing the moral posturing and denting his own popularity by creating such a crisis for the party just before the election.
Sidhu said in the video: "My fight is based on pro-people issues, truth and justice and I never had any personal agenda. I never hankered after posts and my fight is for the welfare of Punjab."
He also defended his resignation, saying he would neither misguide the party high command nor allow anyone to do so. He targeted the Channi government over the appointment of the advocate-general and re-inducting ministers facing allegations.
Those very officers and the system that was responsible for all the misery in Punjab were back, he said. "Where have our promises gone? But I will continue to fight against the wrong," he added.
Sources said his rigidity is isolating him among the state leaders while Rahul Gandhi is already upset with his irresponsible act. Sources said Channi was ready to come to an accommodation with Sidhu but all the leaders were now worried about his next outburst, probably the selection of candidates, if he fails to have his way.
"What will happen if he resigns again, closer to the election?" one leader from Punjab said, asking the high command to take a tough decision without any delay.
While Channi will not mind if Sidhu is removed from the top post, he will also push deputy chief minister Sukhjinder Singh Randhawa for the post of state unit chief because the presence of a strong leader in the government will always keep him on leash.
Sources said the appointment of a new state chief could not be delayed beyond a point but the Amarinder Singh angle had given a new twist to the complex situation. While central leaders are surprised by Amarinder's meeting with home minister Amit Shah, local leaders were expecting such a development.
One leader said: "Amarinder has an entirely different image in Delhi. His joining the BJP or floating a new party will have little impact in Punjab. But the BJP will exploit his fauji image in the rest of the country to malign the Gandhi family," another leader said.