Congress hauls Narendra Modi government over coal shortage
Logistics lapse behind power crisis: Opposition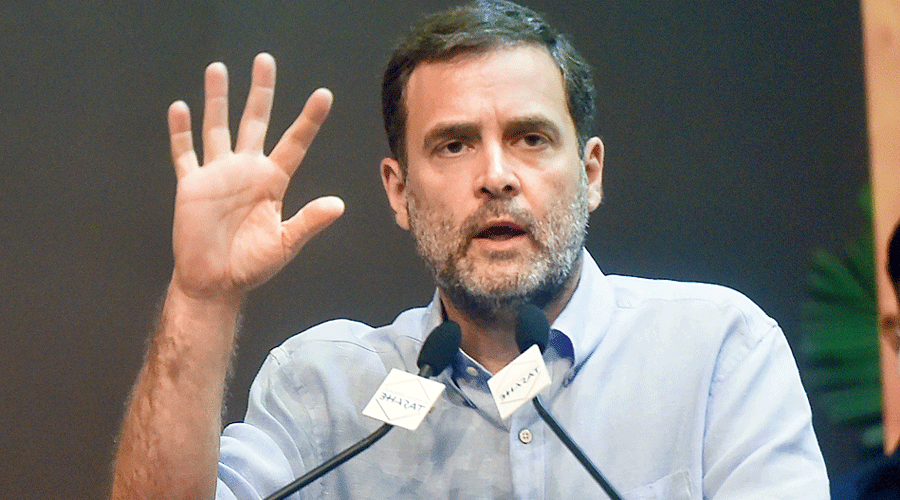 ---
New Delhi
|
Published 30.04.22, 01:24 AM
|
---
The Congress has asserted that the coal shortage in power plants that has caused an electricity crisis in at least 16 states during a scorching summer is one of the worst examples of mismanagement and bad governance.
Rahul Gandhi too posted a Facebook message spelling out the dreadful implications the power crisis might hold for the economy, job situation and vulnerable people, such as patients in hospitals and young children.
Party spokesperson Gourav Vallabh said there was no shortage of stocks in the coalfields and that the Centre's failure to provide the logistics for coal supply had created the problem. "Power plants with the capacity to produce 72,074MW electricity are shut down. Of the 173 plants, 106 have barely 25 per cent of the required coal. The demand for coal is 22 lakh tonnes daily and the supply is 16 lakh tonnes," he said on Friday.
Vallabh uttered a slogan: "Mehngai full, batti gul (Inflation rages, light departs)."
"Some parts of Uttar Pradesh are suffering power cuts for 10 to 16 hours daily. The situation is very bad in the rural areas. Several states are facing problems. They are forced to buy electricity at Rs 12 per unit because of the short supply," he said.
"This morning, the energy exchange data showed the demand was for 16,035MW and the supply was 2,304MW. Summer will peak next month, pushing the demand up to 2.2 lakh. We are asking the government how it plans to manage the crisis."
Vallabh blamed bad planning and inefficiency on the part of the central government. "The Prime Minister will say the states are responsible. He blames the states for everything. Covid — blame the states. Oxygen crisis — blame the states," he said. "What is the job of the government that is sitting in Delhi?"
Senior Congress leader Digvijaya Singh tweeted: "When Modi was Chief Minister, he used to ask the Prime Minister to reduce prices. When he became the Prime Minister, he asks the Chief Ministers to cut the prices."
जब मुख्यमंत्री थे तो प्रधानमंत्री से कहते थे दाम कम करें

और अब प्रधानमंत्री है तो मुख्यमंत्रियों से कह रहे है की दाम कम करें !

वाह मोदी जी वाह। #महंगाई @INCMP @INCIndia

— digvijaya singh (@digvijaya_28) April 29, 2022
Rahul wrote: "I requested Modi Government on April 20, 2022 to stop running the bulldozer of hate and start the power plants. Today, the entire country is reeling under a crisis because of electricity and coal crisis.
"I am saying again. This power crisis will finish off small industries and that will aggravate the unemployment crisis. Children won't be able to tolerate this dreadful heat. The lives of patients admitted to hospitals are at risk. Disruption in rail and Metro services will harm the economy."
The Delhi government has said the coal crisis might affect the supply of electricity to the Metro railway and hospitals.