Congress spokesperson Manish Tewari has asked five questions on the basis of the affidavit filed by the Centre in the Supreme Court on the Rafale deal.
If the Medium Multi-Role Combat Aircraft (the original deal the UPA was discussing) and the contract to purchase 36 Rafale aircraft were two separate processes, how was the figure of 36 finalised? Was the Indian Air Force on board to roll back the procurement from 126 to 36 aircraft? If yes, when were the standard qualitative requirements (SQRs) initiated?
Para 23 of the affidavit says the Defence Acquisition Council (DAC) gave acceptance of necessity for 36 aircraft on May 13, 2015. The announcement of purchase was made on April 10, 2015. Was DAC approval a command performance?
The defence minister said the cost of aircraft went up because of India-specific enhancements and the UPA's deal didn't have weaponry. Para 23 of the affidavit says "…that operational capability of 36 Rafale aircraft will be in accordance with the SQRs for the procurement of MMRCA". If you buy the aircraft with exactly the same specifications, how did the price go up?
Why and how was Hindustan Aeronautics Ltd (HAL) cut out of the process at the last moment? The logic that more manhours required by HAL would have pushed up the price is bogus as labour cost is cheaper in India.
Was the Defence Procurement Procedure 2013 amended with retrospective effect on August 5, 2015, in order to absolve the ministry of defence from pre-vetting the India off-set partner in a transaction of this nature?
At four rallies in Chhattisgarh, where Assembly elections have begun, Congress president Rahul Gandhi continued to accuse the Prime Minister of wrongdoing on Rafale. "The Prime Minister is scared of any inquiry. Once the inquiry starts, two faces will clearly emerge — (Narendra) Modi and Anil Ambani."
Rahul contended that it was shameful the Prime Minister did not consult the IAF before purchasing 36 fighter jets instead of the sanctioned 126.
The non-Congress Opposition also did not pull any punches.
Referring to Dassault chief Eric Trappier's interview in which he defended the deal, CPM general secretary Sitaram Yechury said: "The Modi government has resorted to a web of lies to hide the corruption in the Rafale scam. Cronies of all kinds, from France to here in India, are out trying to defend the indefensible. But their lies have all been nailed."
The questions that Trappier was answering ought to be answered by the Comptroller and Auditor General of India, the Supreme Court and the CBI, Yechury said. "Not the French CEO of a company making money on this deal or the PM — all of whom are complicit in the corruption," he tweeted.
RJD spokesperson Manoj Jha tweeted: "You can't simply make an 'Arranged Marriage' appear as 'Love Marriage'…. When choice is 'mediated beforehand'… it is no CHOICE. And Remember! 'Skeletons' have a very bad habit of coming out of 'well-guarded cupboards'. Wait… Just wait."
Samajwadi Party's Ghanshyam Tiwari questioned the timing of the interview: "State of the Nation like Interview by Eric Trappier played on all news channels simultaneously just when deal is in question in the Supreme Court. The ex-President of France, the President of France, the Dassault CEO have spoken. Why is our Bahubali PM hiding? After all, he took the decision!"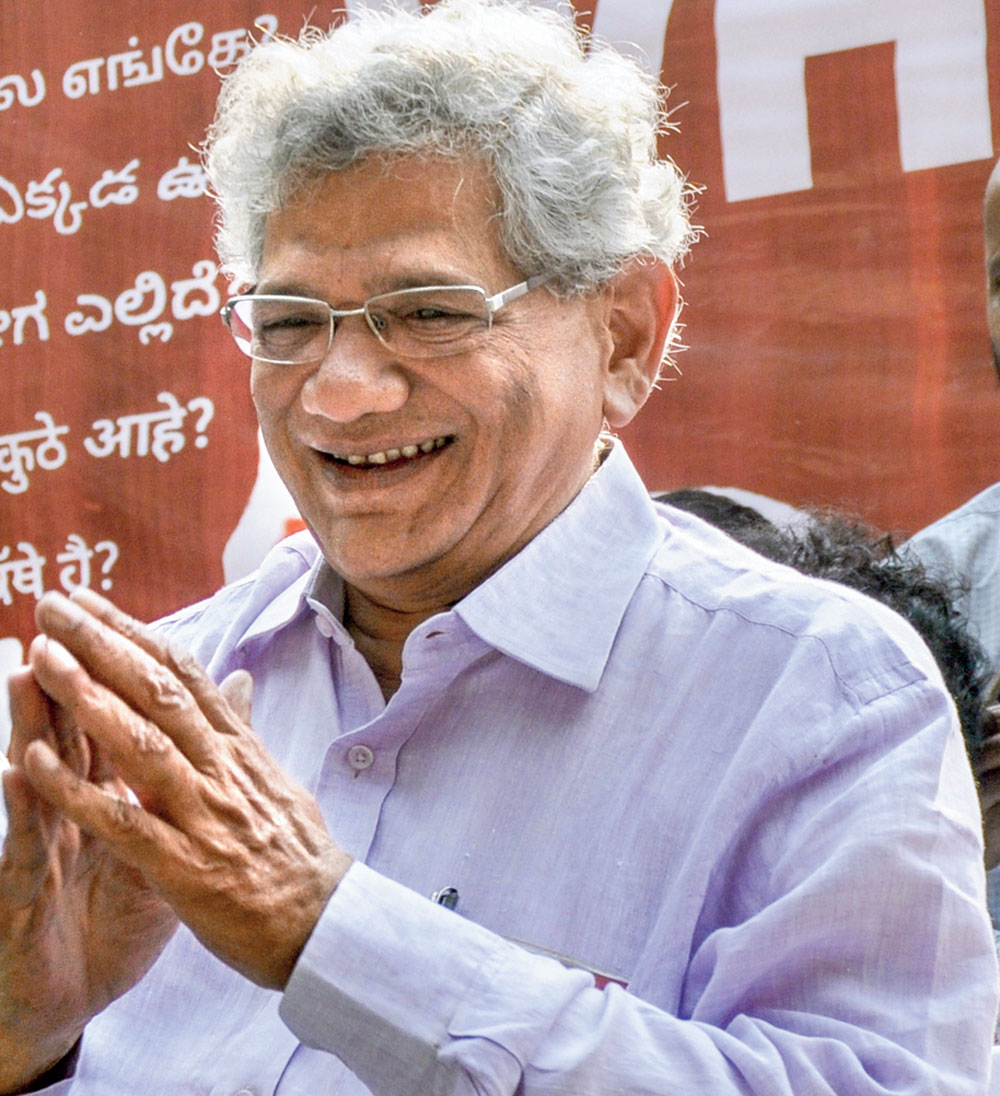 The questions that Trappier was answering ought to be answered by the Comptroller and Auditor General of India, the Supreme Court and the CBI, Sitaram Yechury said. Telegraph file picture