Congress flags electronic voting machine doubts
Call to Election Commission: Answer questions raised by former IAS officer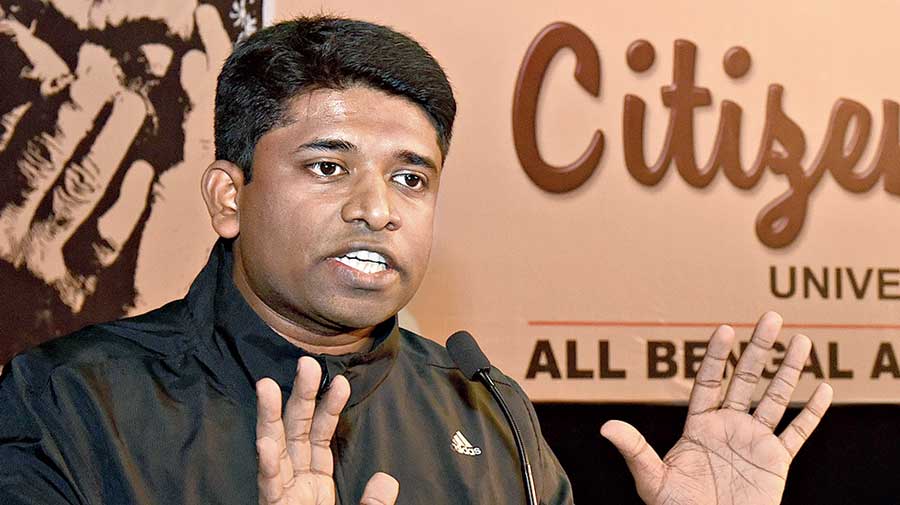 Kannan Gopinathan
File picture
---
New Delhi
|
Published 18.02.21, 01:35 AM
|
---
Congress veteran Digvijaya Singh has asked the Election Commission of India to clarify serious questions raised by former bureaucrat Kannan Gopinathan about the claim of electronic voting machines (EVMs) being standalone units not connected to external devices and exhorted political parties to take up the matter seriously.
Digvijaya said on Wednesday in a series of tweets: "Kannan Gopinathan has made very pertinent points which question the Election Commission's claim of EVM being a standalone machine, if it is connected to an external device? Also, the EC has always claimed that EVM has only OTP (one-time programmable) chip but there are reports that the chip used in VVPAT is MTP (multi-time programmable). If so, then the message to the control unit is what VVPAT gives and not what ballot unit gives."
Digvijaya appeared to be suggesting here that the VVPATs too can be manipulated. 
Gopinathan, an IAS officer who has offered his resignation from service, has been ceaselessly asking questions about EVMs, expressing grave concern about the fairness of the electoral process. 
He has written to the commission several times raising vital questions about the functioning of the EVMs without getting a satisfactory answer. Digvijaya lent his voice to the cause on Wednesday, saying: "The EC must respond to the issues raised by Kannan who has conducted elections on EVMs. Would they? Let's see."
Digvijaya, who lost the last parliamentary election in Bhopal to the BJP's controversial candidate Pragya Thakur, himself nurtures serious apprehensions about EVM manipulation. He has been working with technocrats to understand the possibilities of EVM manipulation and believes that it is incumbent upon political parties to take the issue seriously as it directly affects the soul of India's democracy. 
He reflected this sentiment in response to a tweet by Pankaj Sharma, former AICC secretary. 
Sharma, who had been former Madhya Pradesh chief minister Kamal Nath's media adviser, had tweeted: "Experts say hacking 5-10% of the EVMs in 100 constituencies is sufficient to change the entire political scenario. (Which means manipulating) 180 EVMs in each constituency, (out of) a total of about 18,000 EVMs. Unless Opposition takes this matter seriously, no change is ever possible." 
Digvijaya replied: "Yes all political parties have to take it up seriously. I am very happy that the concerned citizens, retired bureaucrats, retired judges, professors of computer science and cryptography are raising logical doubts about the efficacy of EVM and the vulnerability to manipulation of EVM. 
"Can't let the largest democracy and a nation which has the oldest democratic history in the world be allowed to be hijacked by unscrupulous entities whether from within or outside. The EC must come out of their 'head in the sand' attitude!! They must allow forensic test by any internationally reputed forensic science laboratory of VVPAT & EVMs under supervision and guidance of internationally well known and eminent computer scientists and cryptographers."
Digvijaya also agreed with Gopinathan's view on the stance of professors who were members of a technical expert committee formed by the EC to examine EVMs before the 2019 parliamentary elections. 
The committee had held that there was no chance of tampering as EVMs were standalone machines. 
Gopinathan tweeted on Wednesday: "If you know any of these four professors of the Technical Expert Committee, ask them as to how is the name & symbol of candidates loaded on to the EVM if they are not connected to any external device. People trusted them. They shouldn't have lied."
Gopinathan also dared the EC, saying: "If I am wrong in any of my statements, you have a solemn duty to counter me and prove me wrong so that I don't spread falsehoods. And if there is truth to what I am saying, then acknowledge it & take steps to improve. No one wants to delegitimise elections."
Over the past few days, Gopinathan has intensely grilled the EC on EVMs being standalone machines.
He said: "Is it true that EVM-VVPAT is connected to an external device, SLU, through a 9-pin serial cable? And SLU (symbol loading unit) is connected to a laptop through a serial cable? Then what about EVM-VVPAT are standalone machines not connected to external devices claim? Why a laptop computer/desktop PC is required for VVPAT commissioning? Also, there is an application software! If EVM-VVPAT is not connected to any external device what is this laptop for? Please care to explain."