Congress feels vindicated
Rahul Gandhi tweeted that 'speaking the truth is patriotism, not treason', commenting after SC had put all cases under the sedition law in abeyance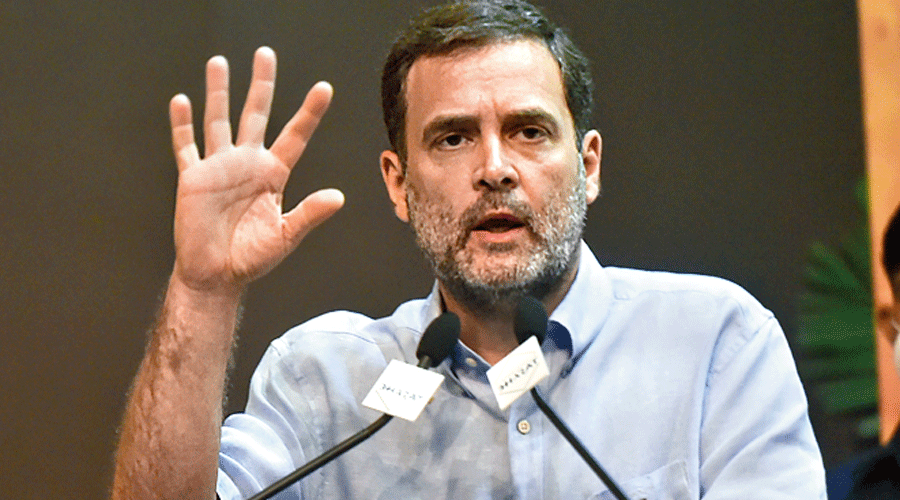 ---
New Delhi
|
Published 12.05.22, 01:21 AM
|
---
Rahul Gandhi on Wednesday tweeted that "speaking the truth is patriotism, not treason", commenting after the Supreme Court had put all cases under the sedition law in abeyance.
The Congress, which accuses the Narendra Modi government of rampant misuse of the sedition law against critics, activists, journalists and political rivals, had promised repeal of the provision in its 2019 election manifesto.
Although some Congress leaders had thought that such a promise in the manifesto was suicidal at a time nationalism dominated the national discourse following the Pulwama massacre, the party feels vindicated now.
Prime Minister Modi had at his election rallies ripped into the Congress for promising repeal of the sedition law, and the BJP had alleged that Rahul was trying to encourage and protect terrorists and anti-national groups.
On Wednesday, though, some media outlets lauded the Prime Minister for his government's submission in the apex court (on Monday) that it was ready to review the provision.
Rahul had tweeted after the court order: "To speak the truth is patriotism, not treason. To speak the truth is love for the nation, not an act of betrayal. To pay heed to the truth is rajdharma (duty of the State), to crush the truth is raj-hath (arrogance of power). Don't be afraid."
Congress communication chief Randeep Surjewala welcomed the court order.
"A clear-cut message has gone (out) today to suppressers and subjugators of public opinion, of dissent, of everyone who criticises the autocratic and dictatorial rulers and their policy that you can no longer suppress the voice of truth, suppress the voice of dissent; those critical of Government must be heard and course corrections need to be done," Surjewala said.
"Speaking truth to power is true nationalism and the true test of how committed you are to your country and to your people. It is not sedition. The Supreme Court has finally spoken in a historical verdict by staying the sedition law.
"We fought against the British (and) the seditious law that was heaped upon crores of Congressmen by the British, and that law needs to go now. The Supreme Court has finally spoken, the Constitution will be upheld and the voice of truth and those speaking truth to power will finally have their way."