Congress calls out Narendra Modi's 'half-truths'
The Opposition party argued that the PM insulted India's scientists and health professionals by claiming that Covid vaccine was the first to be manufactured in India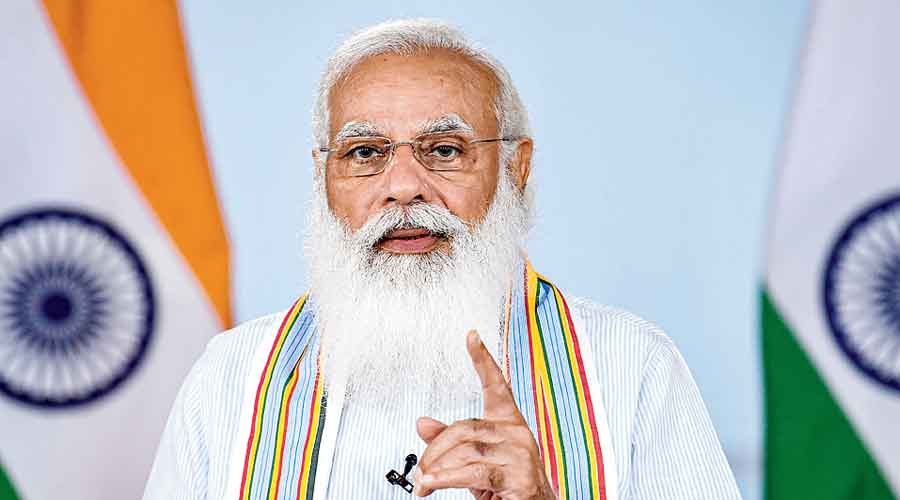 Narendra Modi
File picture
---
New Delhi
|
Published 23.10.21, 12:07 AM
|
---
The Congress on Friday said Prime Minister Narendra Modi should have addressed the nation on the several serious problems the country was grappling with but he went on a credit-hunting spree for vaccination on the basis of half-truths and plain lies.
Arguing that the Prime Minister insulted India's scientists and health professionals by claiming that the Covid-19 vaccine was the first to be manufactured in India, Congress spokesperson Gourav Vallabh said: "India is known as the vaccine hub of the world. India has run several successful vaccination drives since the 60s but no Prime Minister turned it into an image-building event for himself. They didn't orchestrate 'thank-you' campaigns to refurbish their own image. They didn't cry free-free because such drives are conducted with national resources."
Former Union minister Jairam Ramesh said in an acerbic tweet: "Jagadguru of Jhoot (global leader of lies) excelled himself today rewriting history, twisting facts, distorting reality, making meaningless comparisons, beating his own chest — in short, being himself. While he forgot those who suffered loss of lives and livelihoods from COVID19 due to his Govt's failures."
The Congress on Friday reiterated the need for a judicial commission to investigate Covid mismanagement and lamented that the Prime Minister didn't tender an apology.
Rahul Gandhi also hinted at the Prime Minister's tendency to mislead the nation by tweeting, "the usual doublespeak". He was referring to Modi's claim that there was a time when goods made in other countries were purchased during Diwali but now the 'Atmanirbhar Bharat' mission had ensured people bought local stuff. This was a clear reference to China, a country he was very fond of, but avoids naming after the intrusion in Ladakh. Rahul posted a news item that reported imports from China had increased by 49 per cent over the last year. 
The Congress has repeatedly pointed out that trade with China was increasing despite the bluster against the hostile neighbour.
Vallabh said the Prime Minister was not a knowledgeable person and his expertise lay elsewhere but the officials should not make him rely on wrong facts. He expressed shock at the Prime Minister addressing the nation without a single word of condolence on the death of lakhs of people, selective killings in Kashmir, inflation, petrol-diesel prices and other pressing problems. 
Vallabh said the vaccines would have been free if Modi bought them from the money he got through electoral bonds, adding: "This government collected lakhs of crore by taxing petrol, and if that money is being used to fund the vaccination drive, photograph of a common man filling petrol in his vehicle should be there on the vaccine certificate, not the Prime Minister."
He also busted the false propaganda that no other country achieved such a feat, saying: "China gave over 200 doses in September itself. Over 80 per cent of their population have got two doses. Do we need celebrations for fully vaccinating 21 per cent of population?"
Wondering why should the nation thank the Prime Minister for gross mismanagement leading to the deaths of over 40-50 lakh people, Vallabh said: "When there was not enough vaccine in the country, Modi exported vaccines to other countries. When the big countries were placing orders for vaccines, the Prime Minister was asking us to do thaali-taali. And when millions of families are mourning the loss of the their dear ones, the scars of second wave have not been forgotten, the government is celebrating."