Congress attacks BJP on Amit Shah road show violence in Bengal
'Shah uses hate to gain entry in states'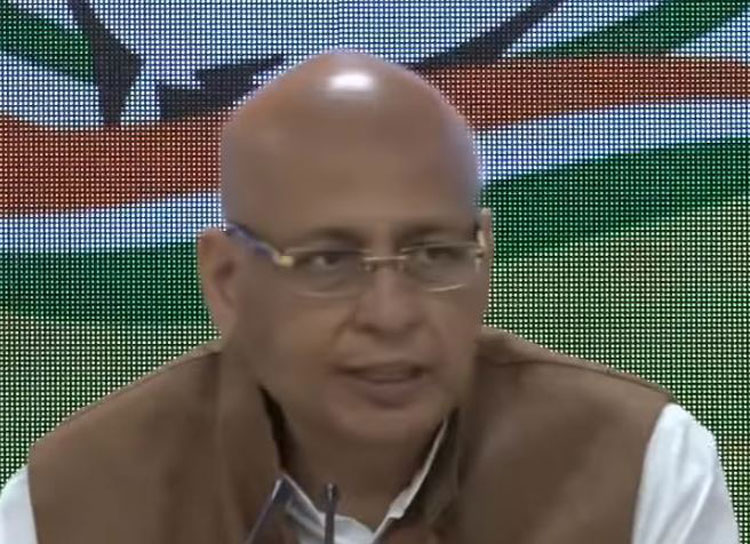 ---
---
The Congress on Wednesday accused Amit Shah of using hate and violence to create political space for the BJP in many states and said Prime Minister Narendra Modi's talk of cooperative federalism and "Team India" had been proved to be hollow rhetoric.
Strongly condemning the violence in Bengal, Congress spokesperson Abhishek Singhvi said: "Modi talks of federal cooperation and practises federal fascism. He did the drama of Team India and went on to bulldoze state governments ruled by Opposition parties. Divisive politics is embedded in the BJP's DNA and mobocracy is being actively encouraged and abated in Bengal."
Modi had initially said he wanted all chief ministers to work with the Centre as "Team India" and had coined the term "cooperative federalism". But his relationship with chief ministers from rival parties has been extremely antagonistic, with the recent incidents in Bengal demonstrating a new low in Centre-state relations.
The Congress took care not to appear to be speaking for Mamata Banerjee, restricting itself to attacking the BJP.
Singhvi said: "The Congress strongly condemns the violent desecration of our national icon — Ishwarchandra Vidyasagar, the great educationist, the man who changed the Bengali alphabet and type, Sanskrit scholar, reformer who brought in the Widow Remarriage Act and fought for women's education. We are deeply pained that such a shameful incident took place. This is symptomatic of a larger malaise. Modi and Shah are squarely responsible for systematically damaging the cultural identity of each state in India."
Arguing that the duo were animated by the sole objective of establishing their political dominance, Singhvi said: "Federal structure, respect for regional aspirations, culture, language, food habits, and identity of indigenous people are under attack by the BJP in every state of the country. This negative politics of destruction, demolition and desecration are methodically vitiating the political atmosphere of the country. The BJP wants to exert its monolithic supremacy and bigoted agenda on each state, thus weakening the federal polity."
Contesting Shah's claim that Bengal alone had seen political violence that he blamed on Trinamul's belligerence, Singhvi said: "Shah is too busy to check facts. We are there to crosscheck their claims. What happened in Tripura, where the Election Commission had to order repoll? Haven't we seen political violence in Bihar, Kerala, Haryana, Karnataka, Uttar Pradesh and Tamil Nadu? Wherever the BJP goes, it uses violence to carve out its space."
Referring to desecration of icons, he gave examples: "H. Raja, a close aide of Shah in Tamil Nadu, pledged to destroy the statue of great social reformer, Periyar. (BJP leader) Ram Madhav justified pulling down statues. A bust of Ambedkar was found splashed with red paint in Chennai. In February this year, a fringe Right-wing group associated with the Sangh parivar re-enacted the scene of Mahatma Gandhi's assassination and garlanded his assassin Nathuram Godse."
Rae Bareli
The Congress condemned the attack on its Rae Bareli MLA Aditi Singh, and said it would not be deterred by the BJP's tactics of violence and intimidation.