China refuses to vacate encroached land
LAC: Congress alleges Modi's 'lie' harmed India's strategic interests
On June 19 last year, four days after a clash in the Galwan Valley claimed the lives of 20 Indian soldiers, the PM said that no one entered Indian territory or occupied posts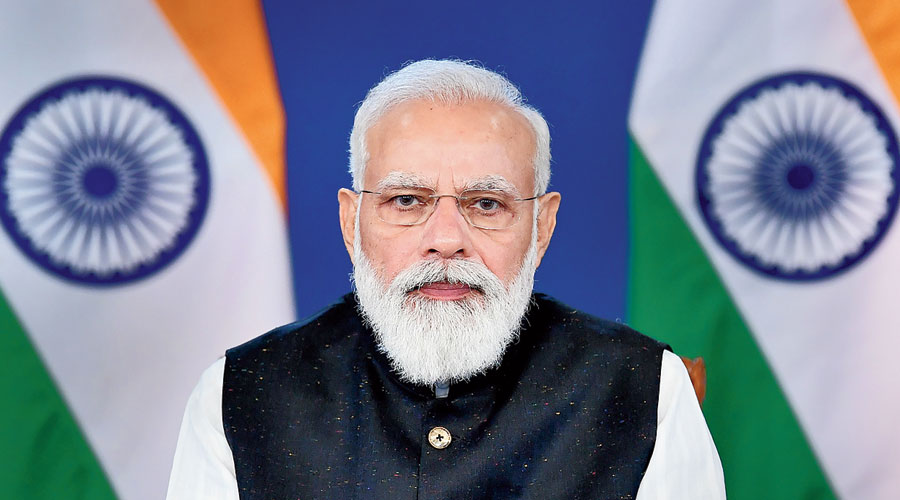 Modi attends the G20 Extraordinary Summit on Afghanistan, via video conferencing, in New Delhi on Tuesday
PTI
---
New Delhi
|
Published 13.10.21, 01:32 AM
|
---
The Congress has alleged that Prime Minister Narendra Modi's statement about nobody having intruded into Indian territory has severely harmed India's strategic interests, with China now refusing to vacate the land it had encroached on last year.
On June 19 last year, four days after a clash in the Galwan Valley on the India-claimed side of the LAC had killed 20 Indian soldiers and at least four Chinese troops, Modi had said that no one had entered Indian territory or occupied Indian posts. China had seized on the comment to claim ownership of the areas it had occupied within India-claimed lines in eastern Ladakh.
"Mr 56 inch, lal aankh dikha kyon nahin dete (why don't you show red eyes)?" Rahul Gandhi, who has been harping on Modi's failure to deal firmly with the Chinese aggression, said sarcastically on Tuesday.
He was alluding to Modi's boast before he became Prime Minister that India should deal with China by showing it "red (angry) eyes". However, since assuming the hot seat, Modi has avoided any muscle-flexing on China — a country he refuses to even name in the context of the 17-month-old border standoff.
"The Prime Minister has refrained from mentioning China by name as the aggressor, and has stipulated that 'not an inch of Indian territory' had been ceded," Congress spokesperson Pawan Khera said.
"What was discussed at the 13 rounds of military talks? And the army chief did say, 'China is here to stay….'"
Khera said the Chinese had entered Indian territory and Indian soldiers were fighting them "but this government, and especially the Prime Minister, is scared of even taking the name of China and holding them accountable".
He mentioned the "fresh Chinese incursions" seen recently in Uttarakhand and Arunachal Pradesh.
"This, added to the extensive infrastructural build-up along the Hot Springs region (in Ladakh) — including a logistical facility, artillery units and an air defence base among others — poses a potential threat to India's strategic interests."
The Congress recalled Monday's external affairs ministry statement that said the situation along the LAC had been caused by "unilateral attempts of the Chinese side to alter the status quo and in violation of bilateral agreements".
"It was therefore necessary that the Chinese side take appropriate steps in the remaining areas so as to restore peace and tranquillity," the ministry had said.
"Why did Modi lie to the country stating that no Chinese had entered Indian territory? Haven't this government and its agencies failed at protecting India's national security and sovereignty?" Khera asked.
He argued that the implications of the Chinese incursions were critical, especially when the Chinese weren't even open to discussing de-escalation in the strategic sectors of the Depsang Plains and Daulat Beg Oldi.
"After the 12th round of military talks in August, it was mutually agreed that there would be a mutual troop pullback from the Gogra area, (but) what did happen rather was a massive troop consolidation by China along the Daulat Beg Oldi sector," he said.
"Not just has the PLA (Chinese army) consolidated troops but it has upgraded its weapons systems in the region too. They now have the advanced S-400 air defence missile system deployed at least in one location along the Demchok sector. This poses a threat to aircraft within a 400km (radius), which covers almost all of Jammu and Kashmir and Ladakh."
Khera said Modi had told the nation there was no transgression into Indian territory because to him, national security didn't seem as important as maintaining his image. "This strategy has now harmed India's strategic interests," Khera said.