Congress asks Modi: When was HAL dropped?
Kapil Sibal demands the government reveal who benefited from the "sidelining" of HAL in the Rafale deal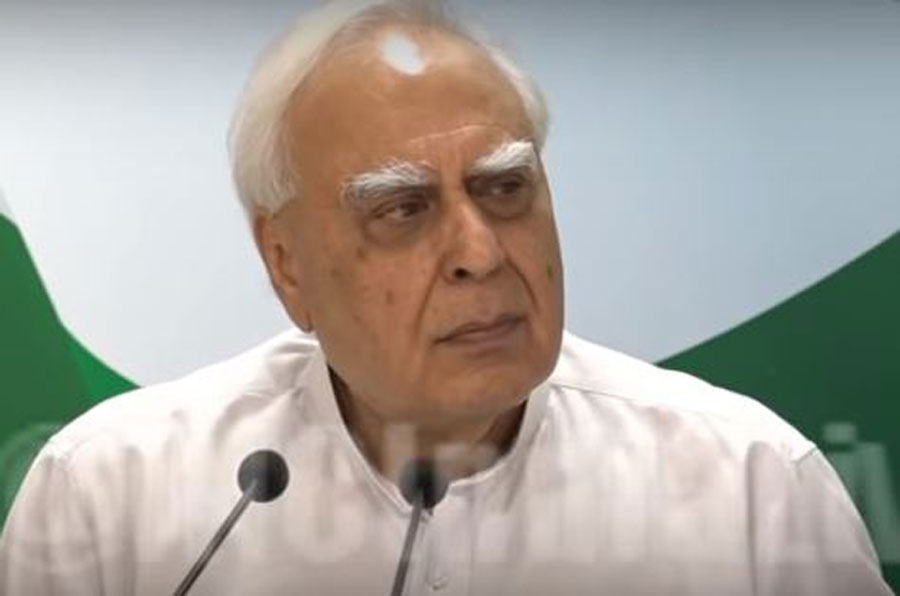 Kapil Sibal at his press briefing in AICC on the Rafale scam
Source: INC site
---
New Delhi
|
Published 25.09.18, 09:51 PM
|
---
The Congress on Tuesday urged Prime Minister Narendra Modi to answer a "basic" question: how and when was Hindustan Aeronautics Ltd (HAL) ousted from the Rafale deal and who benefited from its exit?
Congress spokesperson Kapil Sibal said: "Only the Prime Minister knows the answer as he had not discussed his plan to buy 36 Rafale (combat jets) by ignoring the live global tender. "Indisputable facts in the public domain prove that the defence ministry, the foreign ministry, HAL and (Rafale-maker) Dassault didn't know too before the announcement of this plan. If he doesn't respond soon, we will have to explore other options."
Asked if the Congress was planning to move the Supreme Court, Sibal said: "We have placed hard facts in the people's court."
The Congress leader pointed to some "undisputed facts" — the incorporation of Reliance Defence Ltd on March 28, 2015, days before Prime Minister Narendra Modi visited France where the Rafale deal was tweaked; Dassault chief Eric Trappier saying on March 25 that year that a deal with HAL for the manufacture of the aircraft was almost done; the foreign secretary saying on April 8 that Rafale was not on the Prime Minister's agenda; Modi announcing the deal on April 10; and then French President Francois Hollande disclosing last week that the Indian government proposed Reliance as the offset partner and that France did not have a say in this.
The Congress leader said the court would say these were the "best evidence".
The Congress leader said only a court could decide who was a "chor" — Rahul Gandhi had claimed Hollande had virtually called Modi a thief — amid a storm of allegations and counter-allegations.
According to Sibal, current defence minister Nirmala Sitharaman "doesn't know what Modi told Hollande in a one-on-one meeting; she wasn't even a minister then".
"Let Modi come forward to say Hollande is lying. We don't want to hear from the law or agriculture minister either," Sibal said.
He said "now we understand" why the Modi government had not appointed a Lokpal, the country's anti-graft ombudsman, in four-and-a-half years — as the facts of such deals had to be hidden.
"Another question the Prime Minister has to answer is: at what stage it was decided to exclude HAL and who benefited from this?" Sibal asked.
According to the Congress leader, no other Prime Minister in the history of India had displayed the arrogance of setting aside a deal without consulting anyone.
Contesting the BJP's charge that the Congress was undermining national security, Sibal said: "India needs 126 fighter jets for its security. We cleared the purchase of 126, but Modi, without consulting anyone, reduced it to 36. Can they now buy 126 at the same price of the 36 that is being bought? At that price, it will cost India Rs 2 lakh crore. Modi has compromised not only with transparency and integrity, but also the nation's security."
The Congress rubbished the BJP's allegations linking Sonia Gandhi's son-in-law