'Rajnath statement shows PM's June 19 statement untrue'
Congress to Modi: Clarify 'no-intrusion' claim
Party says PM's June 19 statement about China was untrue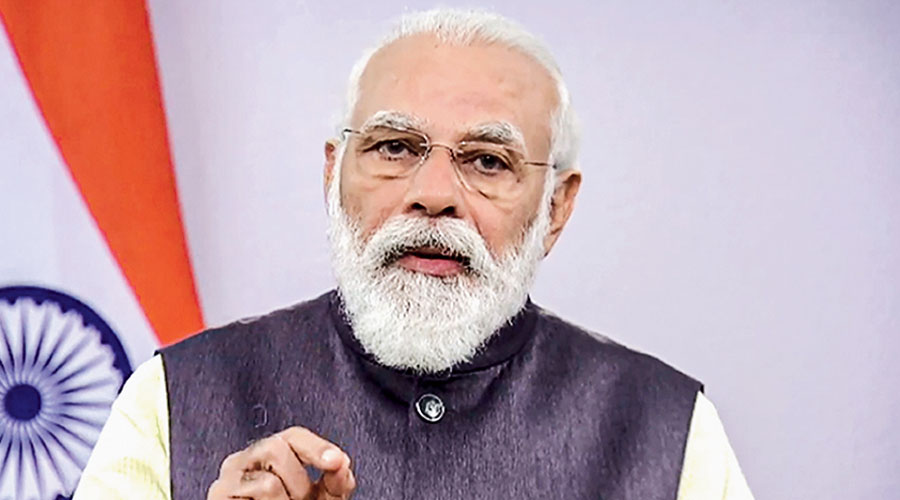 ---
---
The Congress on Sunday reminded Prime Minister Narendra Modi of his claim, made exactly a month ago, that there were no intruders in Indian territory and asked him if he still stood by that statement.
Modi had told an all-party meeting on June 19: "Neither has anyone intruded into our frontier there, neither is any intruder there, nor is any of our posts occupied by someone else."
Congress communications chief Randeep Surjewala pointed to defence minister Rajnath Singh's statement in Ladakh on Friday in which he said that going by the progress of the India-China talks so far, "the situation should be resolved" but "to what extent it will be resolved, I cannot guarantee".
Surjewala said: "This statement of Rajnath Singh shows the Prime Minister's no-intrusion statement on June 19 was untrue. Many newspapers, retired army generals and security experts have given specific details of Chinese intrusion. Now the defence minister says there is no guarantee of a pullback. Does that indicate the government has accepted the Chinese encroachment and has no solutions to offer?"
The Congress asserted that there can be no compromise on territorial integrity. It pointed to satellite images of encroachments and said the Chinese not only continued to occupy land but had also made new constructions inside Indian territory in addition to a massive military build-up near the Ladakh border.
Rahul Gandhi, who has steadfastly grilled Modi on the Chinese aggression as well as the economy and Covid-19, tweeted on Sunday morning: "BJP has institutionalised lies. 1. Covid-19 by restricting testing and misreporting deaths. 2. GDP by using a new calculation method. 3. Chinese aggression by frightening the media. The illusion will break soon and India will pay the price."
Surjewala later said at a media conference: "Chinese troops are not only present inside our territory in the Depsang and Pangong Tso areas, tell-tale signs of new constructions are also available. There can be no compromise on territorial integrity and the Prime Minister must tell the nation what he intends to do to restore status quo ante. We have been raising concerns repeatedly but the government is trying to mislead the nation by creating false impressions through the media. This is not patriotism."
He continued: "China is not allowing the Indian Army to patrol near Point 10 and Point 13. At Pangong Tso, around 3,000 Chinese troops have captured Finger 4 to Finger 8. India has relocated the ITBP (Indo-Tibetan Border Police) administrative base from Finger 4 to somewhere between Fingers 2 and 3. China has transformed the civilian Ngari-Gunsa Airstrip into a military airstrip, posing a strategic threat to us. China has also deployed two divisions (20,000 soldiers) near the Ladakh border, which is an alarming situation."
After his defence minister's statement that has all but confirmed the Chinese intrusion, it is incumbent on Modi to issue a clarification on his own statement, Surjewala said. The Prime Minister must tell the nation about his "plan and complete timeline for the restoration of the situation that prevailed in May before the incursions", he added.