Computer Baba spots black sheep in parivar
In Madhya Pradesh, some seers do not like to meddle in politics, while some are big players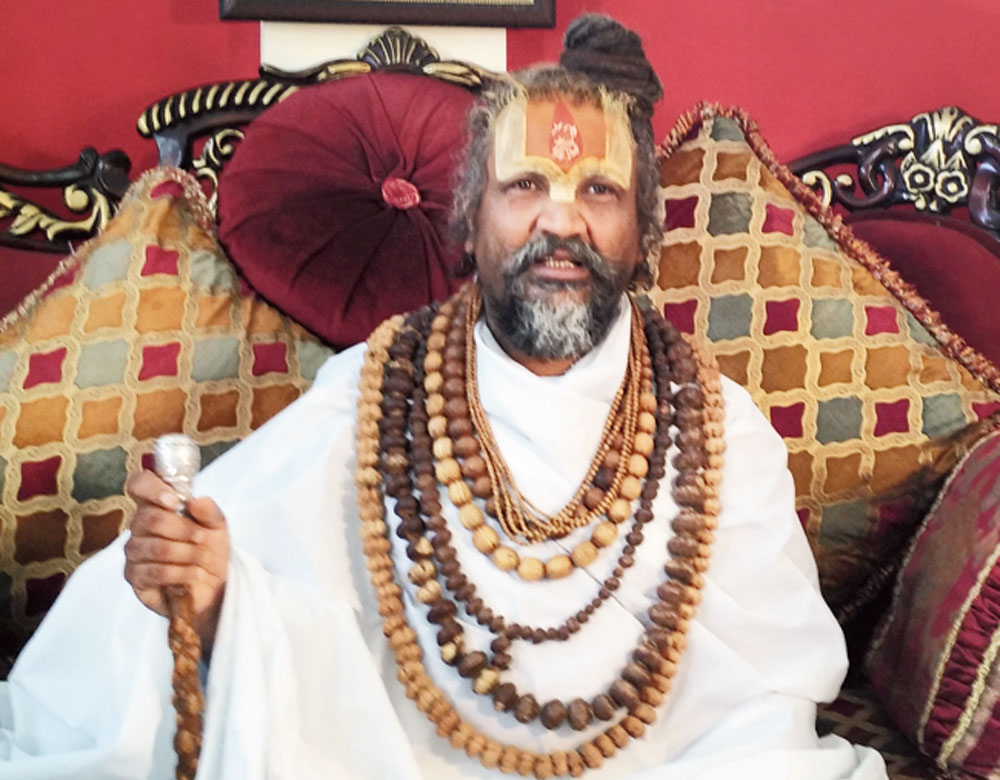 Computer Baba was given the status of minister of state when he revolted against the BJP government in Madhya Pradesh
Source: Facebook
---
Indore
|
Published 20.11.18, 09:26 PM
|
---
The stairway to nirvana may or may not wind its way through ashrams but the road to power in this part of the country does run through the abode of babas.
Rishabh Chand Vijayji, a Jain seer considered to be one of the most influential religious figures in the region, draws leaders cutting across the party divide. If BJP leaders Narendra Modi and Shivraj Singh Chouhan have sought the blessings of the baba, so have Rahul Gandhi and Jyotiraditya Scindia of the Congress over the past few decades.
Vijayji discussed politics with this correspondent for over two hours at a sprawling ashram in Mohan Kheda, around 100km from Indore, but insisted: "It is below my dignity to be part of partisan politics. I bless whoever comes to me."
In Madhya Pradesh and Rajasthan Assembly elections, he is expected to quietly help over 50 candidates.
Vijayi is not an exception. A common thread that binds many powerful babas is their stated disinterest in politics.
Yogi Umeshnath, who runs Valmiki Dham in Ujjain and heads the Valmiki Sanatan Dharmsabha in the country, dwelt on the rise of money-and-muscle-power in politics, apart from the "bhediya pravirti (wolf tendency)" of the predatory elements.
He asserted that "saints should not interfere with politics…. Being part of the electoral process is a fall from dignity as saints should focus on human welfare and social justice." Although RSS chief Mohan Bhagwat met him recently, he refused to endorse the BJP or the Congress in the Assembly elections.
But this election has also sucked some religious leaders into the partisan vortex of Madhya Pradesh like never before.
Computer Baba, who was given the status of "minister of state" when he revolted against the BJP government in Madhya Pradesh for neglecting the Narmada river and encouraging illegal mining, is openly mobilising religious leaders in his campaign to oust chief minister Chouhan from office.
The baba, who says "my mind works very fast, like a computer. So people started calling me Computer Baba", has turned against the RSS and is going to organise a huge congregation of sadhus in Jabalpur on November 23, where he may declare support to the Congress.
The following are excerpts from an interview with Computer Baba who has emerged as a key factor in this election:
Q: Baba you have become a political campaigner against the BJP. Is that your job?
Computer Baba: They are doing politics with religion, not me. I am fighting against corruption and injustice; this is what I have been doing for over a decade. On exactly the same issues: protection of the Narmada and illegal mining that is affecting the river. In 2009, Shivraj agreed to my 15-point charter of demands, including setting up the Narmada Swachhta Aayog. He didn't fulfil even one of the 15 promises.
Q: So that gave you an excuse to involve yourself in politics?
A: They are doing politics to interfere in religious matters. The chief minister pressurised the Akhara Parishad — using money power — to get me removed from the Akhara. The Parishad withdrew my Mahamandleshwar title and barred me from entering the upcoming Kumbh in Allahabad. Is opposing the BJP a crime in Hinduism? Is the BJP a contractor of the Hindu religion?
If I was wrong, why did Shivraj make me a minister and assign the role of planning the cleaning of the Narmada? I presumed he was sincere but he tried to fool me…. People are fed up. I am giving voice to the people's sentiments and that's the job of a saint.
Q: But most sadhus oppose your political posturing. They are calling you a pawn in the Congress's hand.
A: So, they wanted me to remain an RSS-BJP pawn? The sant samaj is angry with the BJP; Shivraj did not meet them for 10 years. They have withdrawn my security and I am getting death threats. My supporters are getting threats. Telling us — sare aam hatya kara denge. If a government is selling the Narmada for illicit money, indulging in corruption in the afforestation project along the Narmada, allowing illegal mining… shouldn't a saint speak against it? And for speaking the truth, you threaten to kill him? Isn't that anti-religion? We want a dharm ki sarkar, not goondon ki sarkar.
Q: Are you saying the RSS, VHP, Akhara Parishad… all have ganged up against you?
A: I am telling you I and my supporters are getting threats regularly. I have approached the high court for protection, the first hearing is on November 29. The Shankaracharya formed the Akhara Parishad to protect the interests of sadhus, not to save corrupt politicians. They threw me out alleging that I support the Congress. What are you doing by supporting the BJP? Is the Akhara Parishad ready to issue an order saying 'don't oppose BJP'? Will Computer Baba be good if he supports the murderous Vyapam scam? The corruption in the Narmada projects?
Q: Are you suggesting the Sangh parivar has used religion only to nurture the BJP's political interests?
A: I will not comment on the Sangh. It is for the Sangh to comment on Shivraj's corrupt actions. Why is Shivraj using chatukar (sycophant) babas to oppose me? If politics and religion should be strictly kept separate, why are some babas appealing to vote for the BJP? Recently, there was a convention of sadhus in Delhi's Talkatora stadium where they appealed for Narendra Modi's return in 2019. They compared Modi with Lord Ram. How will people see this? They will suspect Modi ne manage kiya. Is comparing our Gods with politicians a religious act?
Q: So, ousting Shivraj is your political agenda now?
A: I am not in politics but I will fight for truth. I can prove Shivraj ran an anti-religion government. They demolished sadhus' huts, math-mandir. I have proof of his corruption. I am now organising sadhus' 'mann ki baat' all over Madhya Pradesh. Rallies have been held in Gwalior, Rewa, Indore. They did nothing significant for cows, they made toilets and a magnificent BJP headquarters in Delhi instead of Ram mandir. At Narmade Sansad on November 23 in Jabalpur, 10,000 saints will assemble to declare their mann ki baat.
Q: Will you ask people to vote for the Congress that day?
A: People have decided not to be fooled again. Majority of people are against a corrupt, adharmi sarkar. But yes, this is not the time to be a fence-sitter. I will declare my decision on this election before the day of voting.