Comatose Congress awaits reactivation
Telangana defection symptom of party's malaise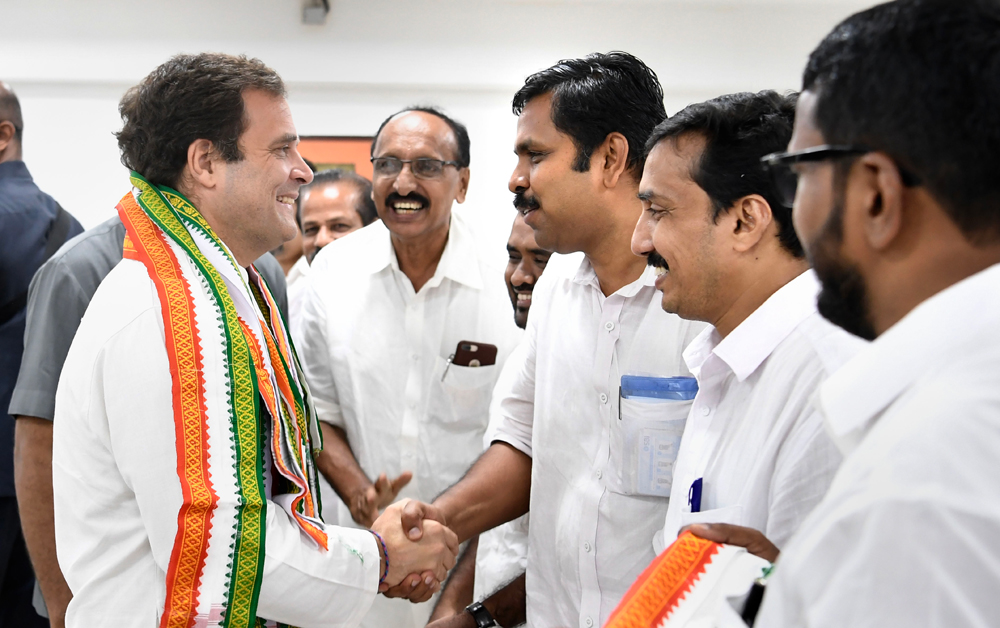 Congress President Rahul Gandhi greets party leaders and activists in Kozhikode, Friday, June 7, 2019.
(PTI)
---
New Delhi
|
Published 08.06.19, 12:33 AM
|
---
The debilitating blow that the Congress suffered in Telangana on Thursday with 12 of its 18 MLAs defecting to the ruling TRS is symptomatic of the crisis of politics in the party where the entire system is awaiting reactivation.
Party sources reveal that the lurking defection of MLAs in Telangana was not a secret and the smooth merger only exposed the absence of political management in the Congress.
Majority of leaders privately lament that the party was at present like a rudderless boat cut adrift from its moorings. They concede trouble is brewing in many other states but the leadership is still struggling to come out of the shock.
While the Leader of Opposition in the Maharashtra Assembly, Radhakrishna Vikhe Patil, quit, factionalism is peaking in Rajasthan as majority of MLAs believe a change of guard was badly required and Sachin Pilot should be elevated sooner than later.
Most other states are waiting for restructuring and demoralised party workers hope clarity about the party president comes at the earliest.
Even other Opposition leaders are dazed, privately conceding that this defeat was qualitatively different from the 2014 experience which was more or less expected. They say this kind of result shocked everybody and most leaders don't have the mental strength to easily cope with the struggle for five years more.
While they believe ground realities will create situations that will inject fresh hope and energy into the Opposition, nothing concrete can be expected till the Congress gets back into the fighting mode.
Parliament session is starting on June 17 and the leaders of both Lok Sabha and Rajya Sabha are to be appointed before that by Sonia Gandhi.
Rahul Gandhi's first public outing from Friday in the politically salubrious environs of Kerala may reignite his passions, leading to quicker resolution of leadership stalemate. Some leaders contend that the cooling-off period was badly required and there was no point in getting into the battlefield right away.
Officially, the party refused to accept that the Telangana exodus had anything to do with the crisis in the central leadership.
Party spokesperson Abhishek Singhvi said: "It is the outcome of naked dance of money power. The chief minister of Telangana follows the model of sale and purchase very brazenly. We have just witnessed the commercialisation and industrialisation of politics in the election -– a reputable organisation, the Centre for Media Studies (CMS), has reported how Rs 60,000 crore was spent and the ruling BJP's share was 45 per cent of the total amount."
Singhvi said: "The country should ponder over this. The CMS report has reached the conclusion after much research that the BJP spent Rs 27,000 crore and there was not even a distant number two. The expenditure by other parties was far less. Without a level playing field, you cannot have a fair, independent and objective election. If you cannot have level-playing field elections, then you cannot have democracy. We all have seen how the BJP deployed its enormous money power in the election."
He added: "The only strategy appears to be money, money and more money. At the end of the day, it is vital to correct this excessive commercialisation of the Indian electoral processes because it creates distortion and skews a supposedly level playing field and completely erodes democracy at the base. Rs 60,000 crore is 30 per cent of India's education budget, 43 per cent of India's health budget, 10 per cent of India's defence budget, 45 per cent of India's MGNREGA budget, is spent on electioneering!"
Contending that the Congress had raised the issue of disturbed level-playing field before the election as well, Singhvi said: "One of the factors that skewed the system is electoral bonds -– they have certainly played a negative and an important role in this distortion. We have given you the details and condemned the opaque electoral bond system. The BJP should reveal the source of its resources. If the report is wrong, they should come up with an explanation."