Mamata vows to stand by minorities
The comments offered a glimpse into what could be her course of action as she comes to terms with the BJP's gains in Bengal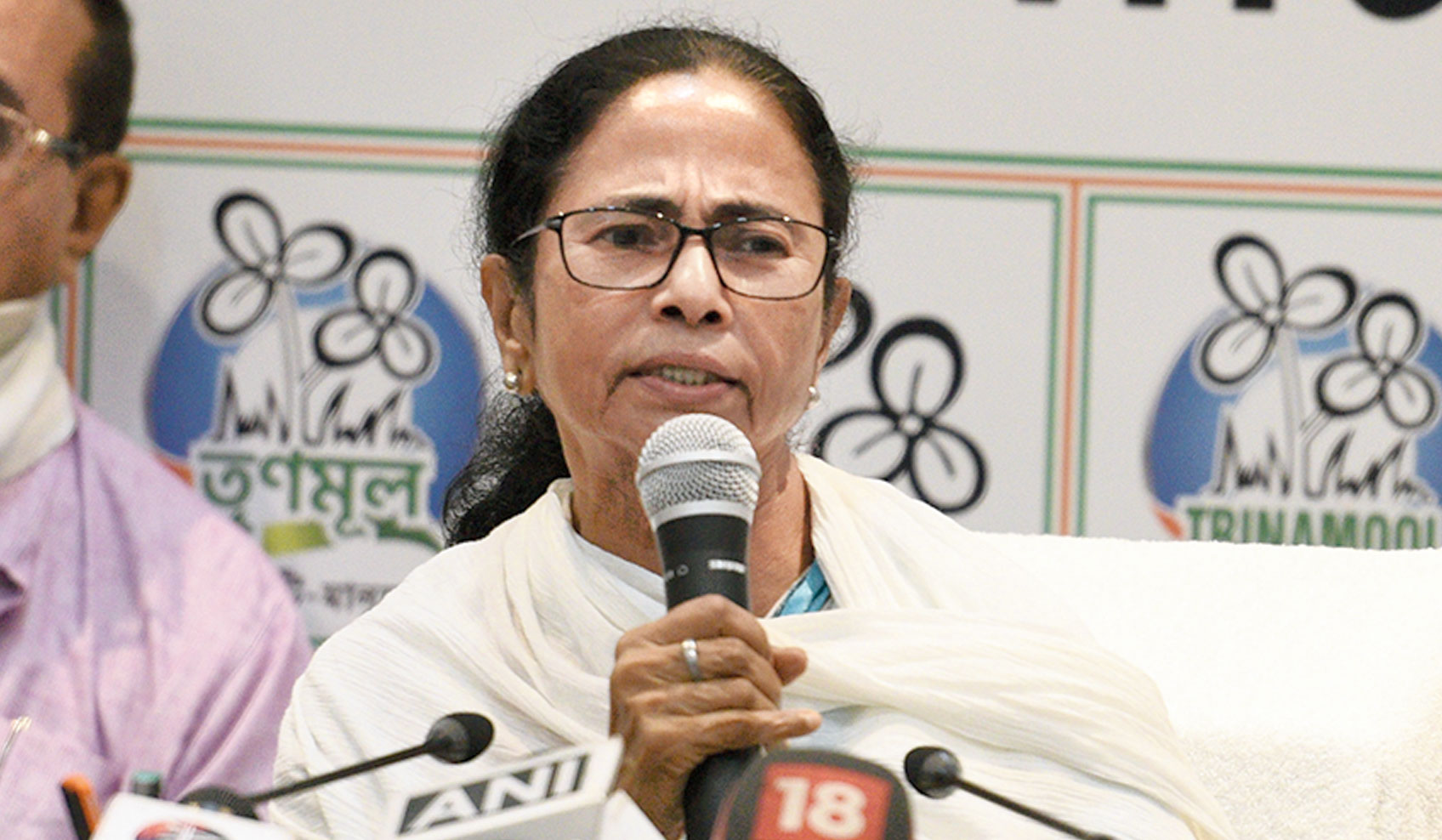 Mamata Banerjee at the media conference on Saturday.
Picture by Gautam Bose
---
Calcutta
|
Published 25.05.19, 08:42 PM
|
---
Mamata will remain Mamata, chief minister Mamata Banerjee messaged her supporters as well as opponents on Saturday in her first public comments on the Lok Sabha election results.
The assertion and a series of comments — including a disclosure that she had offered to step down as chief minister and the party had rejected it — during a media conference offered a glimpse into what could be her course of action as she comes to terms with the BJP's spectacular gains in Bengal and the formidable challenge ahead of her.
She would not desist from standing by and reassuring the minorities. If the BJP brands it "appeasement", so be it. "I appease Muslims…. Will do it 100 times as there is no harm in taking kicks from a cow that gives you milk," Mamata said.
She would call a spade a spade, even if other Opposition parties are not as blunt. "Congratulations to Modiji. This election was all about Hindu-Muslim polarisation," Mamata said. "I don't believe in dividing people on the basis of religion. I am prepared to go alone on this."
She added: "The country belongs to everybody. I am opposed to both Hindu and Muslim fundamentalism…. There is a softer version of all the religions and I will continue to believe in that."
Not that Mamata confined herself to idealism. An ominous note was also struck, probably with the additional objective of reassuring her party supporters at the grassroots who are facing the brunt of the sudden BJP surge in the state. "More than 200 of our party offices have been captured. We will recover all of them by Monday," Mamata declared.
Was there any hint of bitterness? A fleeting one, perhaps. Asked why her development message lost out to Narendra Modi's narrative, an emotional Mamata said: "Probably, we overdid for the people."
The chief minister sought to anchor her resolve to fight back on a wish expressed by her mother, the late Gayatri Devi, in a media interview. "My mother had said in that interview that she wants Mamata to remain the same Mamata," she told the news conference.
It was her first public appearance after the Lok Sabha poll results that saw the BJP storming her citadels and winning as many as 18 of the 42 seats, reducing the Trinamul tally to 22.
Sources said that over the past 48 hours, she had been busy collecting feedback from party functionaries across the state and contacting Opposition leaders in different parts of the country. After sharing her analysis with the party, she addressed the media.
Mamata disclosed that she had wanted to resign. "Earlier, it had taken me a minute to resign (as) the railway (minister)…. Today also, I wanted to resign from the post of the chief minister. But my party colleagues didn't allow me."
While asserting that she would stand by Muslims, Mamata said she would attend the iftar planned by the Calcutta Municipal Corporation on May 30. "I have always attended this iftar of the CMC," she added.
The results suggest that in a polarised political environment, an overwhelming majority of Muslim voters, accounting for more than 30 per cent of the electorate in the state, had stood with Trinamul.
Mamata articulated her stand in spite of fears within her party that the BJP would try to focus more on its plank that Trinamul is pro-Muslim and try to consolidate the Hindu votes. At the news conference, the chief minister showed no sign that she would keep the issue under the radar.
She replied in the same vein when asked about the National Register of Citizens, which the BJP has projected as a tool to weed out infiltrators and which appeared to have struck a chord in Bengal.
"We are opposed to the NRC and we will not let it happen," Mamata said, iterating her known stand although it did not yield her political dividends. Trinamul lost all the eight seats in north Bengal, Bongaon and Nadia, where the NRC became an issue.