Clear abuse of sedition law: Former Supreme Court judge
Justice Reddy on student's arrest over 'Pakistan Zindabad' slogan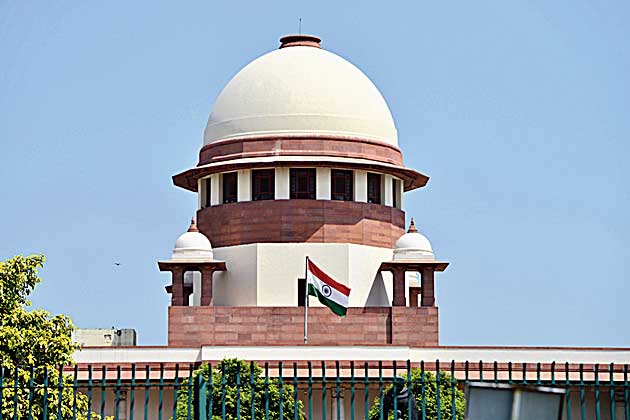 The former judge said neither Section 124A (the sedition law), much less any other criminal provision, would apply if a citizen chanted "Pakistan zindabad" since India was neither at war with Pakistan nor had it been declared an enemy country.
Telegraph file picture
---
New Delhi
|
Published 22.02.20, 08:45 PM
|
---
A former judge of the Supreme Court has said in response to a question that the use of the sedition charge against a student in Karnataka for shouting a slogan is a "clear abuse of the law", adding that the time has come for the judiciary to step in on its own to counter the trend.
"It is a clear abuse of the law of sedition. How would it amount to sedition? It won't amount to sedition. The Indian Penal Code is not attracted at all. In fact, no penal provision is attracted against her for shouting whatever she did. Not only sedition, no criminal law provision appears in her case," Justice B. Sudershan Reddy said from Hyderabad on Saturday.
The former senior judge had been asked the question with reference to the arrest of journalism student Amulya Leona Noronha, who had shouted "Pakistan zindabad" from a public stage in Bangalore on Thursday. Charged with sedition that can attract a maximum punishment of life imprisonment, Amulya has been sent to judicial remand for two weeks.
Justice Reddy wondered if it was all right for citizens to raise slogans like "America zindabad" or "Donald Trump zindabad".
Asked what the solution was to counter the trend of charging citizens under this law, Justice Reddy said: "Except people freely expressing their opinion, what else can be done, and timely intervention by courts. Sometimes, suo motu cognisance they should be taken by courts."
Suo motu cognisance refers to a situation where a court, on its own, takes up a matter instead of the victim — or someone on the victim's behalf — approaching the judiciary for relief.
The former judge said neither Section 124A (the sedition law), much less any other criminal provision, would apply if a citizen chanted "Pakistan zindabad" since India was neither at war with Pakistan nor had it been declared an enemy country. Pakistan had downgraded ties with India after special powers were revoked in Jammu and Kashmir but formal diplomatic relations have not been cut off altogether.
Justice Reddy said: "The most important part of the story is that Pakistan has not been declared as an enemy state…. We are not at war with Pakistan. Diplomatic relations continue with Pakistan…."
Asked what the position would be if Pakistan had been a declared enemy state, Justice Reddy said: "Even then, it wouldn't amount to sedition. But it may not be acceptable morally as you are not on terms with that enemy country and diplomatic relationship has been snapped. It may be in bad taste because you are praising your enemy state."
He added: "Should we shout only America zindabad and Donald Trump zindabad? That's all? What is all this going on? This is totally unacceptable. I think liberal constitutional democracy is in peril."
Trump is scheduled to touch down in India on Monday.
Referring to a question on the claim by Karnataka chief minister B.S. Yediyurappa that it had been "found that she has Naxal links", Justice Reddy said: "That's what the Hon'ble chief minister says. But I don't know what is the basis for saying so? If she has nexus with Naxalites, has it surfaced only when she raised the slogans? Why was she not arrested on that ground earlier?"
The former judge added: "It is only an afterthought to justify her arrest. Now they are trying to paint her in so many colours just to justify her arrest."
Lawyer K. Sravan Kumar also opposed the Bangalore police decision to arrest the girl. "Just because a citizen says 'Pakistan zindabad', can that person be prosecuted for sedition?" Sravan Kumar asked, ruing that the sedition law was being increasingly misused despite several Supreme Court judgments on the issue.
Justice A.P. Shah, former chief justice of Delhi High Court, declined comment on Saturday.
In an address at the Asian College of Journalism in 2017, Justice Shah had spoken extensively on rising instances of misuse of the sedition law while citing several Supreme Court decisions to back up his contention.
In the Kedarnath Singh versus State of Bihar case, he said, the court had upheld the constitutionality of sedition but limited its application to "acts involving intention or tendency to create disorder, or disturbance of law and order, or incitement to violence".
Justice Shah had said the top court had rightly distinguished these acts from "very strong speech" or the use of "vigorous words" strongly critical of the government.
In 1995, he added, the Supreme Court had in the Balwant Singh versus State of Punjab case acquitted of sedition charges two persons who had shouted "Khalistan zindabad, Raj Karega Khalsa" hours after Indira Gandhi's assassination.
Justice Shah said the Supreme Court had held that "raising of some lonesome slogans, a couple of times… which neither evoked any response nor reaction from anyone in the public" did not amount to sedition, for which a more overt act was required.
The court recognised that the accused did not intend to "incite people to create disorder" and that no "law and order problem" actually occurred, he said.
R Balaji is a practising advocate in the Supreme Court