Chinmayanand spared rape charge
The SIT also arrested three young men for allegedly blackmailing the monk with purported sex videos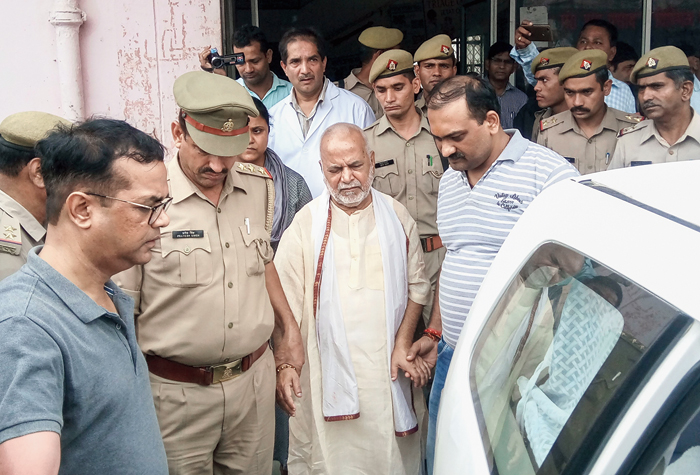 ---
|
Lucknow
|
Published 20.09.19, 09:46 PM
---
Former BJP Union minister Chinmayanand was on Friday arrested on charges of molestation, intimidation and predatory sexual exploitation, with the special investigation team stopping short of booking him for rape.
The SIT also arrested three young men for allegedly blackmailing the monk with purported sex videos, at least one of whom had been described by the rape complainant as a "rakhi brother" who had helped her escape the monk's clutches.
The complainant herself "is under investigation" in connection with the blackmail allegation, SIT chief Naveen Arora told reporters.
Chinmayanand, remanded in judicial custody for 14 days, faces charges under penal code sections 354 (assault on woman with intent to outrage her modesty), 506 (criminal intimidation) and 376c.
Section 376c says: "Whoever, being the superintendent or manager of a jail, remand home or other place of custody… or of a woman's or children's institution takes advantage of his official position and induces or seduces any female inmate of such jail, remand home, place or institution to have sexual intercourse with him, such sexual intercourse not amounting to the offence of rape shall be punished with imprisonment of either description for a term which may extend to five years and shall also be liable to fine."
The 23-year-old complainant, who studied at a law college Chinmayanand runs from his Shahjahanpur ashram, has accused the 72-year-old of raping her for over a year and threatening her when she tried to end the exploitation.
She says Chinmayanand had filmed her secretly while she was bathing in her hostel room and blackmailed her into having sex with him.
At a news conference in Shahjahanpur where he announced the day's four arrests, inspector-general of police Arora did not clarify that Chinmayanand had not been charged with rape even when a specific question was asked.
"Chinmayanand has admitted to almost every allegation levelled against him, including smutty conversations and naked body massages. He said he was ashamed of his acts," Arora initially said.
Asked whether Chinmayanand had admitted to rape, he said: "He has not accepted it directly but there are certain facts leading to it. It's more than enough that he said he was ashamed of his acts; he didn't want to say much about it."
Chinmayanand has "accepted what was seen in the video as true", Arora added, without clarifying which video he was referring to and what it showed.
He further said: "Chinmayanand and the victim had spoken 200 times over the phone in the past one year."
The woman says she has given the SIT a pen drive with 43 videos that contain "evidence" against Chinmayanand, but has not revealed the specifics. She claims to have shot the videos with cameras hidden in her spectacles.
Also, at least four video clips have been circulating on social media since September 10, each purportedly showing a young woman massaging a naked man who resembles Chinmayanand and is apparently trying to initiate a smutty conversation with her. Chinmayanand's lawyers have said all the videos are fake.
"Certain evidence and video clips have been sent to a forensic lab and its report is awaited," a police officer in Lucknow said.
The Supreme Court has asked the SIT to submit a report on the case to Allahabad High Court on September 23.
Pooja Singh, one of Chinmayanand's lawyers, said: "The SIT has not yet provided us with the arrest-related documents. Swamiji is a thorough gentleman and doesn't react to anything."
Arora said the three young men arrested on blackmail charges were students of the same law college. They too have been remanded in jail custody for 14 days.
One of the trio is Sanjay Singh, who the complainant says helped her escape from the ashram in mid-August to protect her from Chinmayanand.
While on the run, the woman had posted a video on social media, with her face partially masked, airing her allegations against the BJP leader.
Soon after, on August 22, Chinmayanand lodged the blackmail complaint alleging he had received a WhatsApp message that threatened to circulate videos showing him in obscene acts if he didn't cough up Rs 5 crore.
By then, the apex court had taken note of the woman's video and asked the police to trace and produce her. The police tracked down her mobile phone and brought her back from Rajasthan in end-August.
A native of Gonda, Chinmayanand was born Krishna Pal Singh. He earned an MA from Lucknow University and then got close to the BJP. He joined the Ram temple movement in the 1980s and became MP from Badaun in 1991, Machhlishahar in 1998 and Jaunpur in 1999. He was appointed junior home minister in the Atal Bihari Vajpayee government.
Sources said Chinmayanand had been close to the late Avaidyanath, then head of the Gorakhnath temple in Gorakhpur, and later to his successor Yogi Adityanath.
Chinmayanand is believed to be close to chief minister Yogi Adityanath and Samajwadi patriarch Mulayam Singh Yadav. A woman resident of Chinmayanand's ashram had in 2011 alleged that the monk had kept her in confinement and raped her, but the investigation didn't progress for the next seven years. The Adityanath government withdrew the charges in 2018.