Chinmayanand not ours: BJP claim draws scorn
Asked about proof, spokesperson says 'he is at present not a member of our party'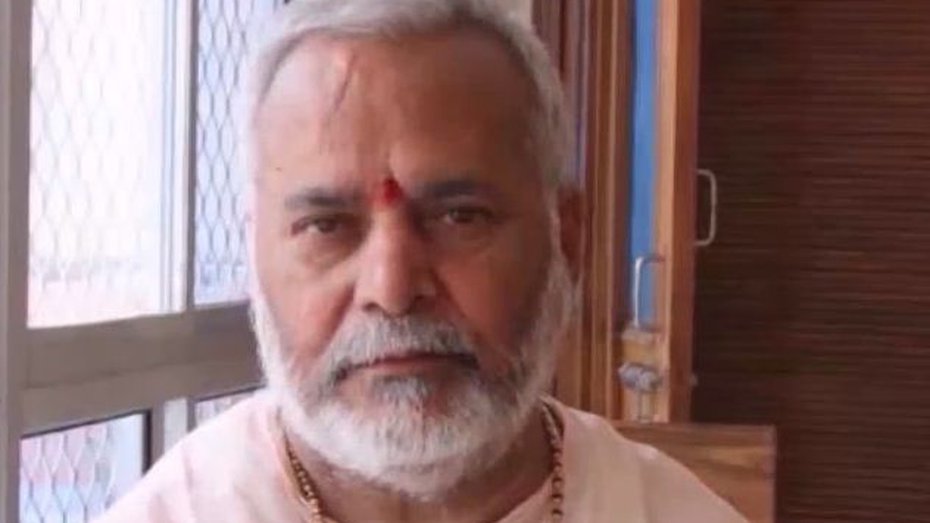 ---
|
Lucknow
|
Published 26.09.19, 08:36 PM
---
The BJP has claimed that rape accused and former Union minister Swami Chinmayanand is not a party member but declined to say whether and when the three-time BJP parliamentarian had been expelled.
The claim by party spokesperson Harish Srivastava comes a month after a woman student of a law college the monk runs in Shahjahanpur accused him of raping her after blackmailing her with nude pictures, and threatening to kill her when she resisted.
"Being a spokesperson for the Uttar Pradesh BJP, I am saying with complete responsibility that Chinmayanand is not a member of our party," Srivastava told reporters here on Wednesday.
Asked on Wednesday and again on Thursday to reveal when the BJP had expelled Chinmayanand, now in jail custody, he said: "This is not about providing proof. All I'm saying is that he is at present not a member of our party."
Srivastava did not claim that Chinmayanand's party membership had lapsed, either.
The Opposition ridiculed Srivastava's claim, which came days after apex monastic body Akhil Bharatiya Akhara Parishad expelled Chinmayanand from its community of sadhus, calling him a "blot" on the Hindu religion.
"Chinmayanand was elected MP in 1991, 1998 and 1999 as a BJP member. Atal Bihari Vajpayee appointed him minister of state for home. He had been attending BJP meetings till recently," state Congress spokesperson Dwijendra Tripathi said.
"The people understand very well how the BJP government is protecting him while the party is claiming such people are not its members."
Chinmayanand was arrested on Friday on charges of molestation, intimidation and sexual exploitation but the special investigation team (SIT) failed to invoke rape charges, attracting accusations of official efforts to protect him.
On Sunday, Chinmayanand was shifted from Shahjahanpur district jail to a government medical college in Lucknow, where he has been admitted to a private ward and is allegedly meeting his supporters.
Former chief minister and Samajwadi party president Akhilesh Yadav said: "The dual face of the BJP has been exposed in Chinmayanand's case."
The SIT has also arrested the rape complainant, along with three male college mates, on the charge of blackmailing Chinmayanand with a purported sex video and demanding Rs 5 crore.
Her father told reporters on Thursday his daughter was innocent and had been arrested for resisting "a powerful rapist".
"A man who was exploiting my daughter has been saved by the BJP government, with the SIT arresting him under a mild charge and sending him to a hospital in Lucknow where he is enjoying every luxury. My daughter has been put in jail where she is suffering every second," he said.
Priyanka jab
Congress general secretary Priyanka Gandhi Vadra questioned "BJP justice", citing how rape complainants kept getting targeted under its rule. She drew parallels with the Unnao rape case, where the accused was a BJP lawmaker (now expelled from the party).
"Unnao rape case: Victim's father is killed. Victim's uncle is arrested. Following massive public pressure and after 13 months, accused MLA arrested. Attempt to kill the victim's family. Shahjahanpur rape case: Victim arrested. Victim's family being pressured," she tweeted.
"Even the charge of rape has not been put on the accused BJP leader (Chinmayanand). Is this BJP justice?"
Priyanka also posted a media report claiming that police in Banda, Uttar Pradesh, had asked a rape victim to get two witnesses so that her case could be registered, PTI reported.
"This is the height of insensitivity. This makes it clear that the BJP government is anti-women. What kind of demand is this to ask a rape victim to get two witnesses of the rape?" she said.
Several Bollywood personalities too criticised the arrest of the Shahjahanpur woman.
Actress Swara Bhaskar tweeted: "Beti inhi se bachao (Save your daughters from them)!!!" — an allusion to the Centre's Beti Bachao Beti Padhao (Save the Daughter, Educate the Daughter) programme.
She hash-tagged Chinmayanand and posted a news clip about the rape complainant's arrest.
Actress Richa Chadha has re-tweeted a message that cites how the "fraud Swami" got the woman to give him a massage while he was naked — a charge that SIT chief Naveen Arora says the monk has admitted.
Actor Rahul Dev has tweeted: "A girl gets harassed/molested by a hypocritical swami caught on camera. Cops arrest him. Now the victim gets arrested for extortion by the SIT. Is this happening in India?"
Brinda Karat, CPM Rajya Sabha member and Subhashini Ali, a party member, met the rape complainant in Shahjahanpur jail on Thursday.
"We can now see how the BJP behaves with women and protects its leaders," Ali told reporters.