China creeps into House proceedings
Rahul had on Friday accused the government of sleeping over the threat from China while Indian soldiers were getting beaten up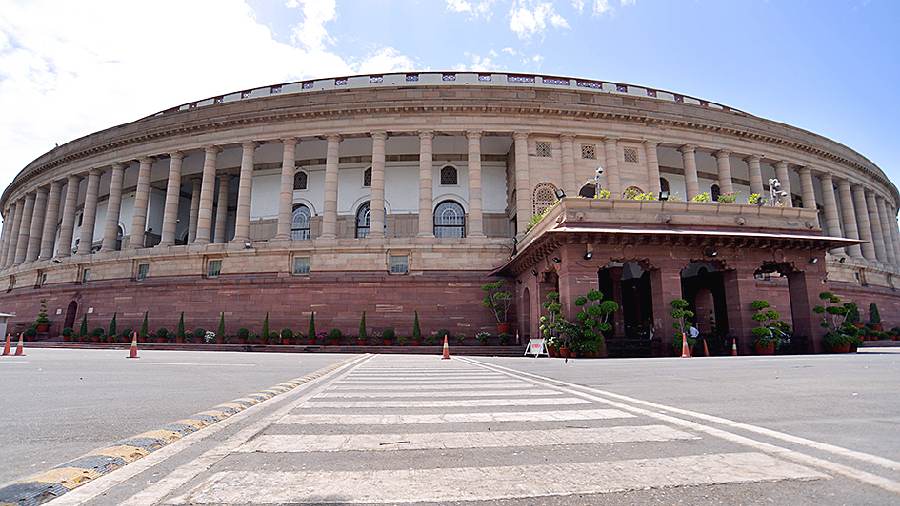 Indian Parliament
File picture
---
New Delhi
|
Published 20.12.22, 03:08 AM
|
---
China's border incursions crept into parliamentary proceedings on Monday even though the Opposition's demand for a full-fledged discussion was disallowed in both Houses of Parliament.
While external affairs minister S. Jaishankar used the discussion on The Anti-Maritime Piracy Bill, 2019, to respond to Congress MP Rahul Gandhi's criticism of the government's handling of China's border incursions in the Lok Sabha, senior Congress leader P. Chidambaram brought up China during his intervention in the Rajya Sabha on The Appropriation Bill, 2022.
"Our soldiers are standing at a height of 13,000 feet in Yangtse and guarding our border. They should be respected and appreciated…The word 'pitai' (thrashed) should not be used for them," Jaishankar said.
Rahul had on Friday accused the government of sleeping over the threat from China while Indian soldiers were getting beaten up. Several Indian soldiers fractured their hands and legs in a clash with the Chinese in Tawang, Arunachal Pradesh, this month. Several Chinese soldiers too were injured. 
Jaishankar used Congress leader Adhir Chowdhury's speech on the bill, in which he had said the government was "indifferent" to the border conflict, to slam Rahul.
"If we were indifferent to China, who sent the Indian Army to the border? If we were indifferent to China, why are we today pressing China on disengagement and de-escalation? Why are we saying publicly that our ties are not normal," the minister said.
In the Rajya Sabha, Chidambaram used the discussion on the Appropriation Bill to bring up China.
"The government is asking Rs 500 crore for defence capital expenditure. These are for strategic and border roads in the Northeast. Our question is whether China has conceded anything on Hot Springs. Have the Chinese agreed to discuss the friction points in the Doklam Junction and Depsang Plains?" he asked.
Referring to the informal meeting of Prime Minister Narendra Modi with Chinese President Xi Jinping in Bali, Chidambaram said: "I saw a video clip of the Prime Minister shaking hands with Xi Jinping. I want to know whether the border situation was discussed?" As for the buffer zones being created by the government at some points along the Line of Actual Control, he asked: "Does it mean we are no longer in areas where we were patrolling in the past?"
Also, he wanted to know details about the infrastructure being created by China on its side of the LAC, referring to a statement to this effect by a Pentagon spokesperson.
In the morning, Rajya Sabha Chairman Jagdeep Dhankhar disallowed several notices for suspension of business to discuss China's incursions.
In the Lok Sabha, too, adjournment notices were not allowed.