China army talks adrift, political effort awaited
Failure of military talks to break the logjam shifts focus to diplomatic dialogue between neighbours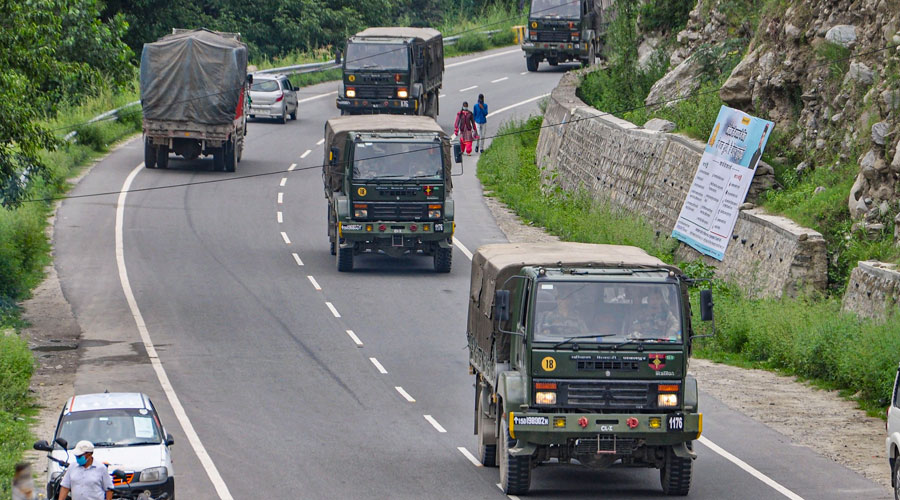 Indian Army trucks move towards Ladakh on the Manali-Leh highway on August 1
PTI
---
New Delhi
|
Published 05.08.20, 03:40 AM
|
---
 The fifth round of military talks between India and China failed to break the logjam, and the People's Liberation Army continues to hold on to their newly claimed zones inside Indian territory in Pangong Lake, sources in the security establishment said on Tuesday.
"With both sides sticking to their positions, the meeting ended without any breakthrough. India had pushed for restoration of status quo ante while the Chinese side asserted its control at the friction points," a ministry official told The Telegraph.
No official word, either from the government or the Indian Army, has been issued on the latest round of talks till Tuesday evening.
Sources said the hope for resolution to the stand-off is now pinned on the high-level diplomatic dialogue that should be led by top political leadership.
"The PLA is not willing to pull back from the Finger 4 area in Pangong Lake and is said to be very rigid during the talks. With the deadlock continuing in the boundary dispute, the serious issue now needs intervention of the top political leadership," said a security official attached to Union home ministry.
Beijing's latest claim on Pangong Lake areas has triggered concern among India's security establishment and military veterans who fear the Chinese were trying to establish "a revised status quo" in the region.
Although the main agenda of Sunday's meeting was to push for complete disengagement from Pangong Lake areas, sources said the Indian side asked the PLA to pull back from Depsang Plains.
Some sections in the government feel that the Chinese will gradually fall in line.
"It's a continuous process and we will keep talking to them. Military talks have helped in reducing the tension at the multiple friction points between the two sides. The need of the hour is to hold multiple rounds of diplomatic dialogue at the highest level. We are still optimistic," said an official.