Childhood vaccination drive improves, but still lags
Coverage of BCG vaccine reduces from 92 per cent of babies born in 2019 to 85 per cent of those born in 2020 and 84 per cent in 2021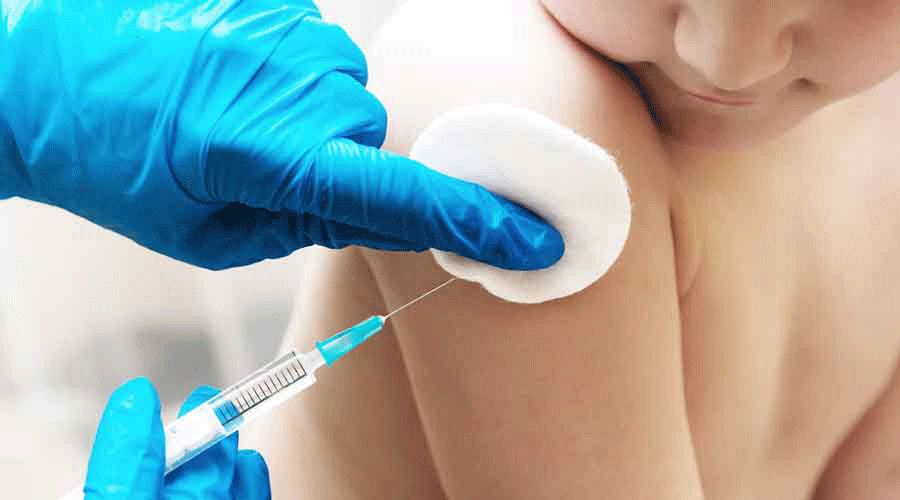 Representational image.
Shutterstock
---
New Delhi
|
Published 16.07.22, 01:15 AM
|
---
An intensified childhood vaccination drive launched by India has improved coverage levels of some vaccines in 2021 but failed to fully reverse a large drop in immunisation coverage during the Covid-19 pandemic, according to data from two global agencies released on Friday.
The World Health Organisation and Unicef have estimated that for a second consecutive year in 2021, India's vaccination coverage levels for diphtheria, tetanus and pertussis (DTP), measles and hepatitis-B were six percentage points below their levels in 2019.
Coverage of the BCG vaccine — intended to protect children from tuberculosis — reduced from 92 per cent of the babies born in 2019 to 85 per cent of those born in 2020 and 84 per cent in 2021. Health experts estimate that around 26 million babies are born in India annually.
The India figures are part of worldwide data published by the WHO and Unicef that estimate that around 18 million children did not receive a single dose of DTP during 2021, the highest counts in India, Nigeria, Indonesia, Ethiopia and the Philippines. Around 25 million children missed out on one or more doses of DTP — a marker for immunisation services — in 2021, two million more than those who missed DTP doses in 2020 and six million more than the estimate for 2019.
"This is a red alert for child health," Catherine Russel, Unicef executive director, said in a media release. "We are witnessing the largest sustained drop in childhood immunisation in a generation. The consequences will be measured in lives."
Russel said the world needed immediate immunisation catch-ups to reach out to the millions of children who have missed doses without which, she said, it could witness "more outbreaks, more sick children and greater pressure on already strained healthcare systems".
An intensified version of the country's childhood vaccination campaign called Intensified Mission Indradhanush (IMI) launched by the Union health ministry in February 2021 has helped improve the coverage levels of some vaccines, preventing a further backslide.
The WHO-Unicef exercise has estimated that the number of children who did not receive the first dose of DTP in India increased from 1.4 million in 2019 to 3 million in 2020. But the IMI has enabled the country to lower the number to 2.7 million.
"India has managed to stall the decline in coverage while ensuring a continued focus on Covid-19 vaccination," said Mainak Chatterjee, a health specialist with Unicef India. "A rapid resumption of immunisation services coupled with catch-up campaigns enabled India to avert further decline."
Public health experts had hoped that 2021 would be a year of recovery from the impact of Covid-19 in 2020, but the worldwide coverage with three doses of DTP was set back to its lowest level since 2008, WHO and Unicef said in the media release.