Child dies after 110 hours in borewell
Doctors at the hospital said the child was brought dead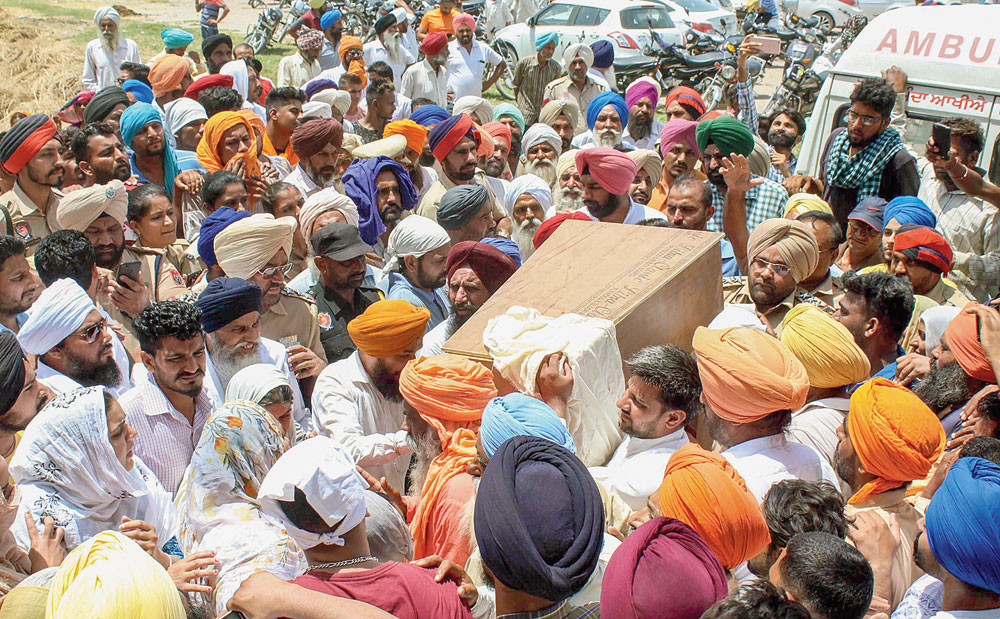 Relatives carry the coffin of Fatehveer for his last rites at their village in Sangrur district, Punjab, on Tuesday
(PTI)
---
Sangrur
|
Published 12.06.19, 12:27 AM
|
---
A two-year-old child who was stuck in a 150ft-deep unused borewell here was pulled out on Tuesday morning after almost 110 hours, but could not survive, officials and doctors said.
Fatehveer Singh was brought out around 4:45am by National Disaster Response Force personnel. He was taken to the Post Graduate Institute of Medical Education and Research (PGIMER), Chandigarh, 130km away, in an ambulance, Sangrur deputy commissioner Ghanshyam Thori said.
Doctors at the hospital said the child was brought dead.
The autopsy report said Fatehveer died due to hypoxia "a few days back".
The body was then flown back to the village in a helicopter arranged by the Punjab government.
Fatehveer, who turned two on Monday, had been stuck in the shaft of the seven-inch-wide borewell at a depth of 125ft. Rescue workers had dug along the shaft to reach the boy.
Opposition parties in Congress-ruled Punjab have accused the state government of "negligence", while residents of the village where Fatehveer lived have alleged delay in rescue efforts.
The only child of his parents, Fatehveer fell into the borewell in a field while playing at Bhagwanpura village around 4pm on Thursday. The borewell was covered with a cloth and the boy accidentally stepped on it. His mother tried to rescue him, but failed, the officials said.
A massive rescue operation was launched to bring the child out. Officials managed to supply oxygen but no food or water could be provided to him.
"They didn't use the proper technique to rescue him early on. Trial and error methods were adopted for days," a relative said.
Villagers alleged that ultimately Fatehveer was pulled out of the borewell with clamps fastened to his hands. "If they had to use this method, they could have done it much before," said a villager.