Chidambaram sent to CBI custody
The Supreme Court will on Friday hear Chidambaram's plea for anticipatory bail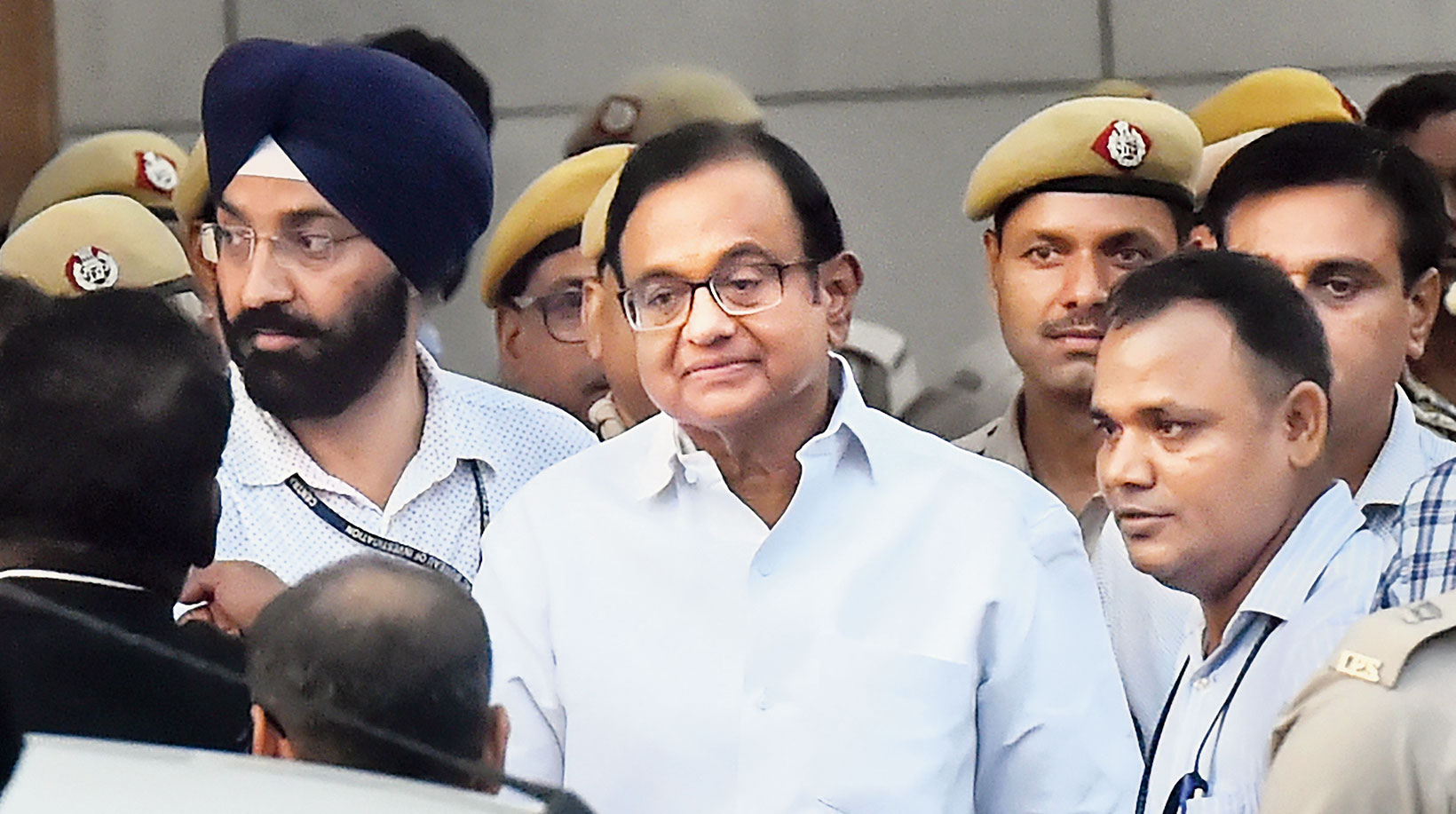 ---
---
P. Chidambaram was on Thursday remanded in CBI custody till August 26 after the CBI told the special court he was not cooperating, which the Congress leader's counsel contested saying: "I won't say what you want me to say; I will say what is correct."
Abhishek Singhvi continued: "You cannot force me to say what you want. If I don't say what you want, is that non-cooperation?"
As soon as the proceedings had begun inside a packed courtroom at 3pm, solicitor-general Tushar Mehta, appearing for the CBI, had accused Chidambaram of being evasive in his replies and sought his custody for five days.
Singhvi, a senior advocate, challenged this: "It could have been alleged only if he had been called 10 times and appeared 5 times."
Chidambaram is being probed for alleged corruption in the grant of Foreign Investment Promotion Board clearance to INX Media in 2007 when he was finance minister.
His wife Nalini and son Karti, who was earlier arrested in the case, were in the courtroom.
Kapil Sibal, who too appeared for Chidambaram, asked why the former finance minister had been arrested when the investigations were over and when the bureaucrats involved in the FIPB clearance hadn't been arrested.
Sibal said that when the CBI officers arrived at Chidambaram's home to arrest him on Wednesday night, the veteran had told them he had not slept the previous night and asked if they could arrest him on Thursday morning; but they declined.
During the court proceedings, which continued for over 90 minutes, Mehta offered Chidambaram a chair but he refused.
Mehta told the court that since Chidambaram wanted to rest, the CBI had begun questioning him only on Thursday morning.
Sources said Chidambaram spent the night at Suite No. 5 in the CBI guesthouse at the agency headquarters and had breakfast on Thursday before questioning began around 10.20am.
"Since he is a very high-profile accused, he was put up in the guesthouse and not inside the lock-up," an official said.
Chidambaram's plea against the Delhi High Court order denying him anticipatory bail will come up in the Supreme Court on Friday.