Chidambaram delinks $5-trillion target and prime ministership
Narendra Modi has been speaking about his government's target of achieving the goal of a $5-trillion economy in five years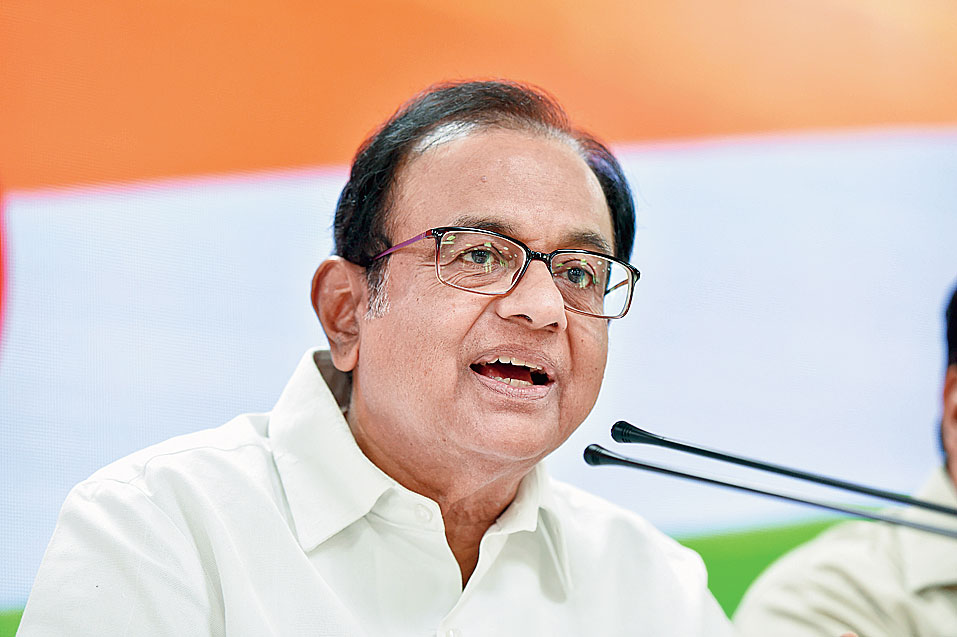 Chidambaram said the size of India's economy was $325 billion in 1990-91 and it doubled by 2003-04
(Telegraph picture)
---
New Delhi
|
Published 12.07.19, 01:58 AM
|
---
Former finance minister and senior Congress leader P. Chidambaram on Thursday said India would become a $5-trillion economy through natural progression, irrespective of who is Prime Minister or finance minister.
Prime Minister Narendra Modi has been speaking about his government's target of achieving the goal of a $5-trillion economy in five years. Modi had described as "professional pessimists" those who had wondered why the government had set such a target.
Chidambaram said the size of India's economy was $325 billion in 1990-91 and it doubled by 2003-04. When the UPA government came to power, the size of the economy doubled again from $618 billion to $1.22 trillion in four years. It doubled afresh to $2.48 billion in September 2017.
"It will double to $5 trillion; it does not require a Prime Minister or a finance minister, it will double. Why? That is the magic of compounding. Any money lender knows this, any borrower knows this. If the nominal growth of economy is 12 per cent, it will double in six years, if the nominal growth of economy is 11 per cent, it will double in seven years," Chidambaram said.
He appealed to the finance minister to tell publicly that the economy would double to $10 trillion by 2028-29 and will again double to $20 trillion by 2032-33.
"What is this great number of $5 trillion? It will always double in every six years or seven years because the nominal growth would be 11 or 12 per cent. So, please don't put this pie in the sky before the people and say that a $5-trillion economy is equal to Chandrayaan and landing on the moon. Five trillion dollars is simple arithmetic," he said.
The former finance minister expressed the fear that the political turmoil in Goa and Karnataka, where MLAs are shifting loyalties, would exact an economic price.
"I am unhappy that democracy is suffering. What we see in Karnataka and Goa, it may appear to be political upmanship but it has a damaging impact on economy. Rating agencies do not go by tamed electronic media," Chidambaram said.
Chidambaram put under the scanner some of the claims made by the government. He said the monthly pension of Rs 3,000 each to workers in the unorganised sector under a contributory pension scheme would start only in 2039.
The former finance minister said the toilets built under the Swachh Bharat Mission were without double pits and soak pits and such toilets perpetuate manual scavenging. He said 800 manual scavengers had died on duty in India in recent years, including 88 people this year.
A study by the government had revealed that 23 per cent owned but did not use the toilet. A study by a private agency had found that 43 per cent of toilets were not used or not usable because there was no water, he said.
Chidambaram said there was nothing in the Union budget to improve household savings. If household savings do not improve, domestic savings will not rise and domestic investment, which is key to growth, will stagnate.
"But taking note of the reality, you should have been bold. The government has a superb mandate — 303 members in the Lok Sabha," he said.