Joint statement by Ashoka University and profs who quit
While reaffirming their affinity with the varsity, the academics — Pratap Bhanu Mehta and Arvind Subramanian — have not withdrawn their resignations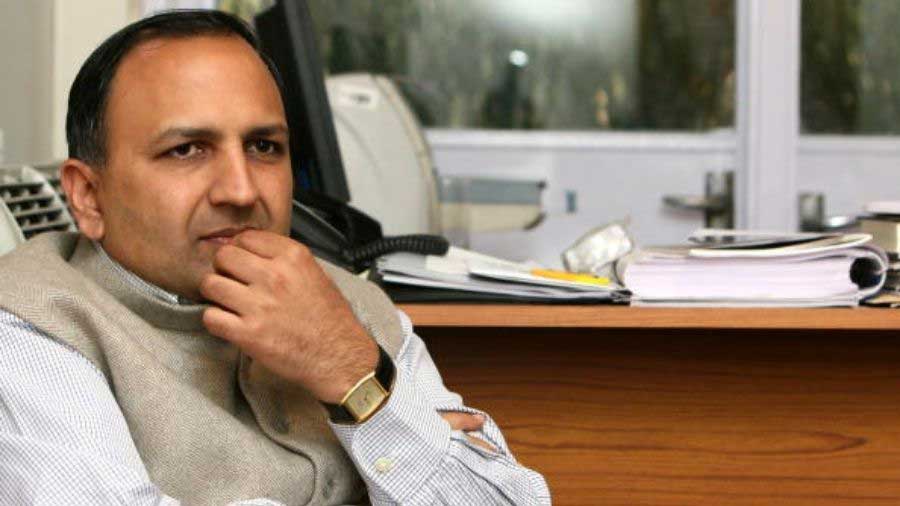 Pratap Bhanu Mehta.
Getty Images
---
New Delhi
|
Published 22.03.21, 01:51 AM
|
---
A joint statement released around 1.30am on Sunday by Ashoka University's management and two eminent academics who have quit amid allegations of curbs on free expression attempted to put a lid on the controversy.
While reaffirming their affinity with the varsity, the professors — BJP critic Pratap Bhanu Mehta and former chief economic adviser Arvind Subramanian — have not withdrawn their resignations. The students too are set to continue with their two-day class boycott from Monday over the lack of transparency in the university's functioning.
The tone of the joint statement, whose signatories included Mehta and Subramanian, marked a departure from that of the resignation letters of the two professors.
It read: "The chancellor (Rudrangshu Mukherjee), vice-chancellor (Malabika Sarkar) and the chairman (Ashish Dhawan) of the board of trustees of Ashoka University (all co-signatories) express deep regret at the recent events surrounding the resignations of Prof. Pratap Bhanu Mehta and Prof. Arvind Subramanian who have been extraordinary colleagues and faculty members at Ashoka University.… We acknowledge that there have been some lapses in institutional processes which we will work to rectify in consultation with all stakeholders."
It added: "Pratap and Arvind would like to emphasise that Ashoka University is one of the most important projects in Indian higher education. They are sad to be leaving Ashoka, especially its outstanding students and faculty. They continue to believe strongly that Ashoka University should embody a liberal vision and commitment to academic freedom and autonomy.
And they remain lifelong friends and well-wishers of the institution and are committed to its success wherever they are. They remain available for advice and consultation to the university in the future."
Mehta had said in his resignation letter on March 15: "After a meeting with founders it has become abundantly clear to me that my association with the university may be considered a political liability. My public writing in support of a politics that tries to honour constitutional values of freedom and equal respect for all citizens is perceived to carry risks for the university."
Subramanian had said in his resignation letter two days later: "That even Ashoka — with its private status and backing by private capital — can no longer provide a space for academic expression and freedom is ominously disturbing."
A little before the joint statement was issued, Mehta had emailed students and faculty addressing them as "Dear Superheroes". The letter was an acknowledgement of the agitation the students have announced demanding a divestment of powers from those who fund the university to elected student and faculty representatives and the administrators who run the institution.
Mehta's email said: "Ashoka as an institution stands indicted before your bracing moral clarity and deep political wisdom. Your protests instantly grasped what we, your elders, failed to adequately understand. Your protest was not about two individuals. It was about Ashoka's institutional integrity. But it was also about the dark and ominous shadows that loom over India(n) democracy.
"As we worry about Ashoka, you also reminded us that the challenges we face pale in comparison with what our academic colleagues in universities elsewhere in India face. You connected the dots. Your protest was focussed on Ashoka. But it was about values larger than Ashoka."
The email added: "So what can we, those who let you down, say to you? The first thing I will say is this. In all candour, this episode will be seen to have hurt Ashoka's reputation. But in a larger sense Ashoka's reputation will be enhanced, not by what the university did but what you did….
"I hope the trustees and faculty will work with you to secure your renewed trust and confidence. With your guidance they will be able to secure the institutional autonomy and freedom Ashoka needs. You embody the courage, reasonableness and understanding of democratic values that will take the university forward. I request you to work with them to make Ashoka a success."
Mehta also said: "The underlying circumstances that led to the resignation will not change for the foreseeable future, in my case, at any rate. So I must close this chapter. I urge you not to press on this matter. I know you will be disappointed. But if I may exercise one last bit of professorial discretion: your mission is larger than the fate of two professors."
Mukherjee and Dhawan too wrote long letters to the varsity community.
The flurry of letters comes a day before the start of the class boycott that the Ashoka University Student Government has called against the resignations, which it has attributed to "a gross violation of academic freedoms".
On Saturday it had been reported that four of the university's founders had obtained a licence from the Union home ministry to receive foreign funds to start another university in Chandigarh. The administration was already being accused by students of having forced Mehta out to pave the way for easier land acquisition and the recognition of a course.
Dhawan, three other founders and Sarkar met students and alumni online on Sunday.
Besides denying allegations of foul play and underhand deals with the government, Dhawan stressed that Mehta had not been asked to quit.
A source who attended the meetings told The Telegraph: "The founders said there were conversations about whether his writings could be misconstrued as the views of Ashoka. They did not ask students to call off the strike."
Dhawan said in his letter: "I deeply regret any lapses that led to this situation — this was not something we had anticipated or planned…. As we move forward, there are certain things that need to change. For one, the last few days have taught us it is really important for us to build an open line of communication and also listen to you."
Mukherjee asserted the founders "have never interfered with academic freedom" while interpreting this as freedom for the faculty to decide curricula and the methods of teaching and assessment. Neither Mehta nor Subramanian has alleged interference over these matters.
The eminent historian and chancellor said: "Today when the founders are being attacked for trying to compromise and curtail academic autonomy and freedom of expression, I find it necessary as chancellor, and given my association with Ashoka from its inception, to state unambiguously that the founders have never interfered with academic freedom: faculty members have been left free to construct their own courses, follow their own methods of teaching and their own methods of assessment. They have also been left free to carry out their own research and publications."