Chandrayaan-2 mission: 95% and scientific spirit don't tally
Scientists feel Isro should shed reluctance to discuss failure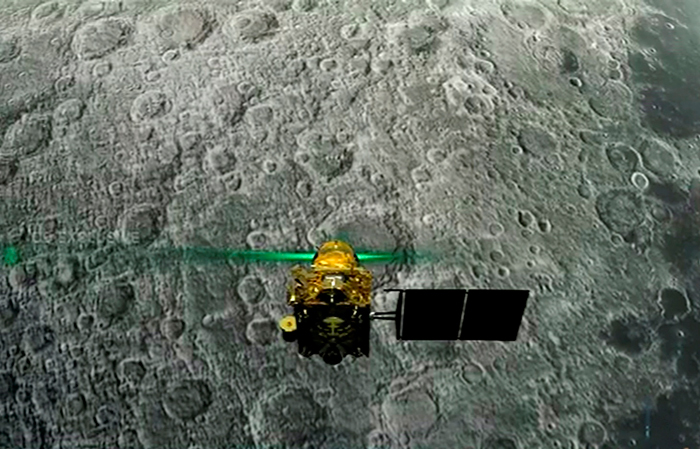 Live telecast of soft landing of Vikram module of Chandrayaan 2 on lunar surface, in Bangalore, on September 7, 2019.
PTI
---
New Delhi
|
Published 08.09.19, 08:35 PM
|
---
Several scientists have questioned the claim by the Indian Space Research Organisation that the Chandrayaan-2 mission has accomplished "90 to 95 per cent" of its objectives, saying this reflects the agency's reluctance to acknowledge and discuss failure.
These Indian scientists, some of whom are associated with space research, have underlined that the mission's primary objective was to soft-land a spacecraft carrying a rover on the lunar surface, while keeping intact its communication links with Isro's ground control.
But Isro lost communication with the lander, Vikram, when it was only 2.1km above the lunar surface early on Saturday morning. Till Sunday evening, the space agency had not clarified whether the spacecraft had crashed or landed intact while losing its communication links.
Amid the uncertainty about the fate of Vikram, Isro had said on Saturday that Chandrayaan-2's lunar orbiter was in its intended orbit and that its eight scientific instruments would help study the moon and its minerals and aid the search for water on its south pole.
Isro said: "The success criteria (were) defined for each and every phase of the mission and till date 90 to 95 per cent of the mission objectives have been accomplished and will continue to contribute to lunar science."
But some scientists suggested that such a quantification of the purported success amounted to intellectual dishonesty. They wondered whether the agency would issue a similar statement if communication were lost with a future manned mission, such as the one India hopes to launch by 2022.
"There is no justification or basis to the '90 to 95 per cent' claim," said a senior space scientist who requested anonymity because the scientist did not want to appear to be criticising Isro at a difficult time.
Scientists underlined that Isro had already placed a spacecraft in lunar orbit in 2008. "The Chandrayaan-2 orbiter has more sophisticated instruments, but the primary goal was a confirmed soft-landing at the first attempt. Did we achieve this? It's black and white: the answer is 'No'," a scientist said.
Some scientists believe that Isro has imbibed a culture of celebrating successes while refusing to publicly discuss failures. When Isro had to abort the July 15 Chandrayaan-2 launch and postpone it to July 22, it revealed no details of what had gone wrong.
An Isro spokesperson contacted by The Telegraph on Sunday declined to explain how the agency had quantified the accomplished mission objectives as "90 to 95 per cent".
Senior scientists not associated with the space programme believe that Isro is trying to manage perceptions after having built up expectations of success.
"There should be no shame in accepting that something went wrong — space is a high-risk enterprise," said Aniket Sule, an astrophysicist at the Homi Bhabha Centre for Science Education, Mumbai.
Sule, among others, believes it is possible that a string of successful space missions over the past two decades has left senior Isro scientists incapable of publicly coping with failure.
"Absolutely, Isro has the capacity to bounce back from failures; it has repeatedly shown that," Sule said. "But in this case, I think, the unprecedented hype and enthusiasm among the public for the mission has backfired."
IIT Delhi director V. Ramgopal Rao said in a Facebook post that space missions carry an inherent risk of failure.
"No scientific project can be designed to succeed," Rao said. "If all our projects succeed, it only means we are not choosing the right projects and not keeping the bar high."