Centre should not have taken "one-sided" decision on new farm laws: Shankaracharyas
Their remarks are particularly significant since they rarely comment on political subjects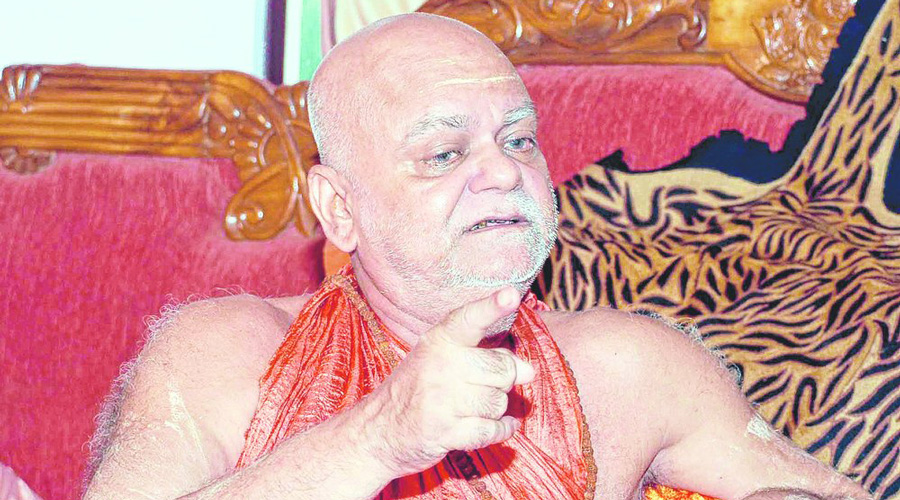 ---
|
Lucknow
|
Published 08.02.21, 01:58 AM
---
Two Shankaracharyas on Sunday said the Centre should not have taken a "one-sided" decision on the new farm laws without discussions with the farmers, one of them adding that the NDA government's habitual unilateralism was a "bad sign for democracy".
Shankaracharyas, heads of the four monasteries established by Adi Shankaracharya, are among the most venerated of Hindu monks and the two pontiffs' remarks are particularly significant since they rarely comment on political subjects.
"The government took a one-sided decision on every issue, including the (2016) demonetisation and the farm laws. It's a bad sign for democracy," Swami Swaroopanand Saraswati, pontiff of two of the four monasteries — Sharada Peeth in Dwarka, Gujarat, and Jyotir Peeth in Badrinath, Uttarakhand — told reporters in Allahabad.
"The people of the country in general, and the farmers in particular, should have been taken into confidence before such a crucial decision (on enacting the new farm laws) was taken."
Swami Nishchalanand Saraswati of Govardhan Peeth, Puri, said: "The government shouldn't have taken a one-sided decision on the farm laws. The farmers should have been taken into confidence."
The two pontiffs are in Allahabad to attend the annual Magh Mela at the confluence of the Ganga and the Yamuna.
Nishchalanand, who was addressing a congregation at his ashram in the Mela area, also suggested that the farmers understand the new farm laws thoroughly before making them an issue.
"We hope they will understand the laws. It's not good to hold a dharna for so long without food and water," he said.
"However, the law should have been formulated while keeping in view cow protection, agriculture and the trades linked to it. Since all trade in our country is linked to agriculture one way or another, it would have been better to take the opinion of the stakeholders (farmers) while passing the law."
Nishchalanand didn't explain the reference to cow protection.
The Narendra Modi government had railroaded the farm laws through Parliament with little discussion, and the farmers say they were not adequately consulted.
While the government says the three new laws would benefit farmers, agitating farmers say these laws will promote their exploitation by big companies.
The country now has three Shankaracharyas, the third being Bharati Tirtha Mahaswami of the Sringeri Sharada Peeth in Karnataka.