Centre plans vaccine push
The HarGhar Dastak 2.0 campaign will seek to vaccinate eligible population groups for the first, second and precaution (booster) doses through door-to-door campaigns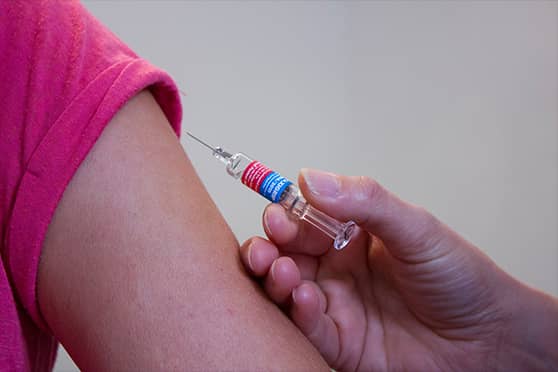 Representational image
File Photo
---
New Delhi
|
Published 21.05.22, 02:01 AM
|
---
The Union health ministry on Friday flagged a "considerable decline" in Covid-19 vaccination in some states and announced a two-month programme from June to accelerate the vaccination of eligible people.
But a health expert said that given India's high population-level immunity, there may be an argument for younger and healthier people to delay their booster doses.
The HarGhar Dastak 2.0 campaign will seek to vaccinate eligible population groups for the first, second and precaution (booster) doses through door-to-door campaigns, focused on schools and colleges, out-of-school children and old-age homes, among other groups, health secretary Rajesh Bhushan said.
In a review meeting with state health secretaries and other officials, Bhushan underlined concerns that the "sub-optimal coverage" of people aged 60 or older with booster doses was leaving them vulnerable. He also flagged the slow speed of the coverage of children aged 12 to 14 years.
India's 16-month-old Covid-19 vaccination campaign has administered over 1.9 billion doses, and 87 per cent of adults are fully vaccinated with two doses. But dose distribution data suggests that many eligible recipients in several states have not turned up for the booster dose, or even the second dose.
Over 118 million people aged 60 or older have taken their second doses but only 17 million have turned up for their boosters, although the campaign began offering boosters to this age group since January this year.
In Uttar Pradesh, the country's most populated state, 173 million people have taken the first dose but only 146 million have taken the second. In Maharashtra, 90 million have taken the first dose and 73 million the second.
The vaccination campaign began to offer boosters to all adults through private hospitals from April 10 this year, but among the 676 million people aged 18 to 60 who have taken both doses, only around 1.7 million have taken their boosters.
Some health experts say they would not worry too much about the low booster uptake among the young.
"India's population is very well protected through hybrid immunity acquired through three waves and an amazingly high level of vaccination coverage," said Rajeev Jayadevan, a physician in Cochin and co-chair of the Indian Medical Association's national task force on Covid-19.
A nationwide survey had shown that by July 2021, nearly 70 per cent of the population had been infected with Covid-19. The vaccination campaign accelerated in the second half of 2021 before the emergence of the coronavirus variant named omicron.
While the current Covid-19 vaccines do not prevent infections by new variants, experts say that hybrid immunity - acquired by people exposed to both natural infection and vaccines - and full vaccination protect people from severe disease and death.
Such protection, Jayadevan said, largely comes from long-lived memory arms of the immune system while the role of the booster is primarily to temporarily raise the level of antibodies, providing a few months of reduced risk of infection.
"For younger and healthy people who are at low risk of serious outcomes, there may be an argument for delaying boosters," Jayadevan told The Telegraph.
"Why take boosters for temporary protection when the infection burden is so low? Some of them might think it is better to wait until a new variant emerges before raising antibodies through boosters. That might explain the reluctance among younger people to take boosters."
Foreign travel
The health ministry has asked the states not to insist on documentary proof of intended foreign travel from people who seek early boosters within 90 days of the second dose.