Centre faces cover-up charge over iron rice given to poor, kids
'Shocking that govt is trying to evade responsibility by issuing circulars that call on state governments to comply with FSSAI regulations'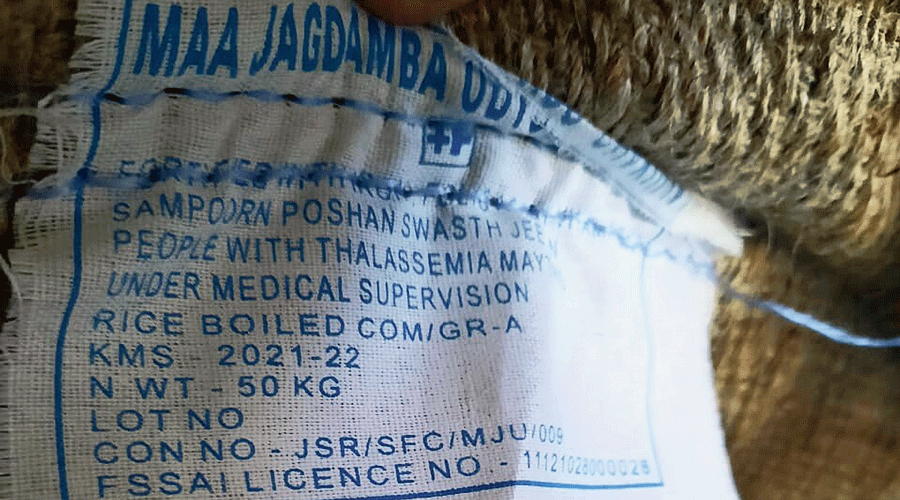 A label on a rice sack at a mill in Jharkhand's East Singhbhum district notifies: "People with thalassemia may take under medical supervision."
Picture arranged by Bhola Prasad
---
Jamshedpur, New Delhi
|
Published 23.08.22, 03:33 AM
|
---
Two citizens' alliances on Monday accused the Centre of trying to "cover up" what they have described as its "irresponsible" and "unscientific" decision to release iron-fortified rice through government food schemes and exposing vulnerable people to the potential health risks of iron overdose.
The Right to Food Campaign (RTFC) and the Alliance for Holistic and Sustainable Agriculture (ASHA) said two central ministries had asked the states through "circulars" to comply with food safety regulations that require certain vulnerable sections of the population to be warned against consuming iron-fortified food.
"These circulars are a desperate attempt by the Government of India to cover up an unscientific one-size-fits-all approach to anaemia in the country," the RTFC and ASHA said in a joint statement.
The Union food and public distribution department had in 2019-20 initiated an iron-fortified rice scheme that was initially rolled out in six states — Andhra Pradesh, Chhattisgarh, Gujarat, Maharashtra, Tamil Nadu and Uttar Pradesh — and then extended to other states.
The iron-fortified rice is distributed among poor households through the public distribution system and also made available to children through the midday meal programmes and Anganwadis, or community childcare centres.
The expanded scheme had disregarded a research note last year from a team of 18 experts in health economics, nutrition and paediatrics that called for "extreme caution" against mandatory fortification as it could expose vulnerable sections of the population to iron overdose.
The RTFC and ASHA had in May this year, after a survey in Jharkhand, expressed concern that the fortified rice, while intended to address high levels of anaemia, might also reach people with blood disorders such as thalassaemia and sickle cell anaemia.
The Food Safety and Standards Authority of India's regulations on fortified foods require mandatory labelling and a statement cautioning people with thalassaemia to consume iron-fortified food under medical supervision and people with sickle cell anaemia not to consume iron-fortified food.
It is "shocking" that the government is now trying to evade its responsibility by issuing circulars that call on state governments to comply with the FSSAI regulations, the RTFC-ASHA joint statement said. The statement described the fortification programme and the circulars as "irresponsible".
The department of food and public distribution had issued a circular on May 27, 2022, and an email on July 13, 2022, asking all the states to comply with the FSSAI regulations while distributing the iron-fortified rice through the public distribution system, school midday meals and community childcare centres.
The Union women and child development ministry sent a similar letter to all the states on August 1, the RFC and ASHA said, citing circulars obtained under the Right to Information Act.
Consumers in poor households and schoolchildren who receive the iron-fortified rice will now receive two contradictory messages --- a promotional message urging them to consume the iron-fortified rice and the FSSAI's statutory cautionary message.
"How will such circulars help where no choices are available to the beneficiaries and worse, where many citizens with contraindicated medical conditions (such as sickle cell anaemia or thalassaemia) remain unscreened, undiagnosed, and unaware of their condition?" the RFA and ASHA asked.
India has among the world's highest burdens of thalassaemia and sickle cell anaemia.
The RFA and ASHA have also underlined that the FSSAI's labelling compliance is irrelevant in situations where the iron-fortified rice is handed over loose at public distribution retail outlets or cooked as midday meals for children.
"The risk is not only to such patients. Scientific studies suggest that iron-fortified foods are contraindicated for other conditions, including acute infections, acute malnutrition, certain stages of malaria, tuberculosis and even diabetes," said Kavitha Kuruganti from ASHA.
"The Centre embarked on this ill-conceived plan to feed iron-fortified rice to tackle anaemia. Such a one-size-fits-all solution to anaemia is a misadventure and ignores numerous conditions specific to our country and in fact showcases the disconnect between policy-making and ground realities, especially relating to the poor," she said.
Proponents of the iron-fortification programme have argued that fortification of rice with vitamins or minerals during the post-harvest phase is a cost-effective strategy to combat micronutrient deficiencies in countries with high per capita rice consumption.