The Central Board of Secondary Education is likely to revamp its Class XII exams from next year by setting questions that demand "analytical" and "creative" answers in all the papers, and by introducing internal assessment in four subjects.
According to proposals that board sources said were certain to be accepted, 20 per cent of the marks in the mathematics, language, political science and legal studies papers will be set aside for internal assessment. Currently, the entire 100 marks that each of these papers carries are assessed through the board exam.
The Class X exam too is poised to see changes to the break-up of the internal assessment, which will continue to account for 20 per cent marks in all the papers but will include a few more activities such as quizzes and oral tests. (See chart)
Schoolteachers and principals largely welcomed the initiatives, saying they would promote quality learning. One principal, though, feared that the introduction of internal assessment in four Class XII papers would dilute the quality of assessment.
The CBSE had issued a circular to all the school principals on March 6 informing them of the proposals. Issued by Joseph Emmanuel, director (academics), the circular emphasised the importance of critical thinking, problem solving, ability to analyse information, collaboration, effective communication, curiosity and imagination.
Among the proposed changes, the circular mentioned the introduction of subjective-type questions that would demand analytical and creative answers. Subjective-type questions are set even now but they can be answered just through rote learning.
"Analytical questions will force the children to think and respond from their understanding of the concepts," said Ameeta Mulla Wattal, principal of Springdales School here.
"Such questions go against the idea of (there being a) fixed answer to every question. The students have the liberty to present innovative answers."
Even now, certain Class XII subjects do have an internal assessment component, which takes into account a student's performance in practical classes and projects, among other things. These subjects include physics, chemistry, biology, history, economics and certain commerce papers.
In the four papers where internal assessment is to be introduced, the schools can now get the students to do practical classes.
Hukum Singh, former dean (academic) with the NCERT, said the schools can get Class XI and XII students to do experiments on mathematical theorems. Each school has such labs for students up to Class X, he said.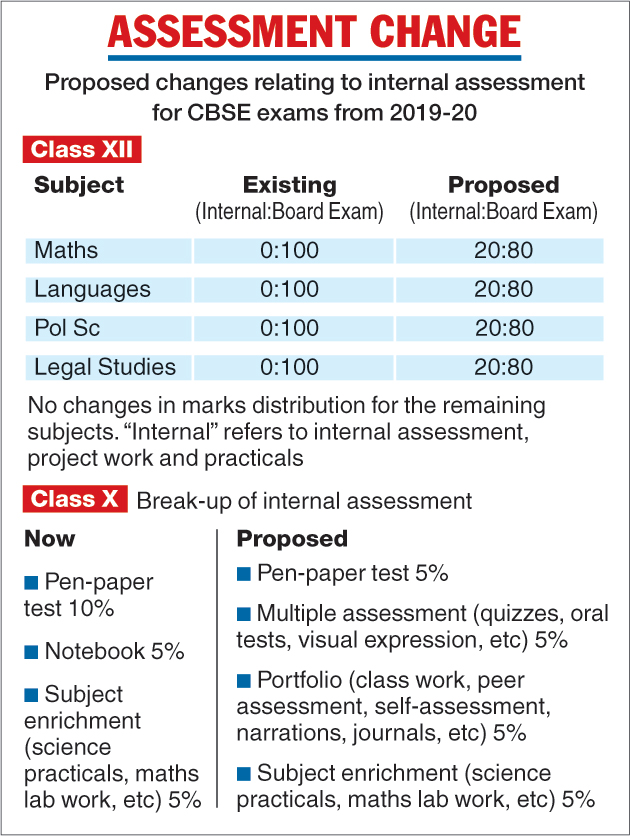 The NCERT has developed modules for mathematics experiments, as well as mathematics kits, for senior secondary classes, he added.
"There should be practical classes in mathematics. The schools must be trained to do such practical classes," he said.
"The students can do a lot of activities to demonstrate their understanding of mathematical concepts like 3-dimensional theory, calculus and so on."
One school principal, who did not want to be identified, disagreed with the proposal to introduce internal assessment in four Class XII papers.
"This is indirectly empowering schools to give a full 20 marks irrespective of performance. It's already happening in Class X," he said.
He cited how the board's introduction of Continuous and Comprehensive Evaluation had failed because the schools did not implement it properly. As a result, the Class X board exam had to be made compulsory again.
Usha Ram, former principal of Laxman Public School here, said that school education in Europe and America heavily emphasises project work and practical classes.
"The success of the internal assessment rule will depend on its implementation. The schools and the board must implement it with seriousness," she said.
A board source said plans had been drawn up for mandatory in-service training for the teachers of all the 20,000 affiliated schools, and that a notification had been issued on the subject.
It was an exam reforms committee set up by the board that came up with the proposals. The committee went through the findings of the National Assessment Survey, 2017-18, which revealed poor performance by Class X CBSE students in mathematics, science, social science, English and Indian languages.
"What is happening is rote learning all along. What is required is conceptual learning. Project and practical-based learning is ideal for that," said Kiran Mehta, former principal of Salwan Public School.
A committee has proposed that the internal assessment component in all subjects be increased gradually over the next five years.
New subjects
The CBSE has introduced Artificial Intelligence as a new elective subject in Class IX and yoga and "early childhood education" — which will prepare the students to teach nursery and kindergarten classes — as elective subjects in Class XI.