Caste survives American Dream, rights groups tell US Congress
Upper-caste Hindus in America were discriminating against lower-caste Hindus in both education and at work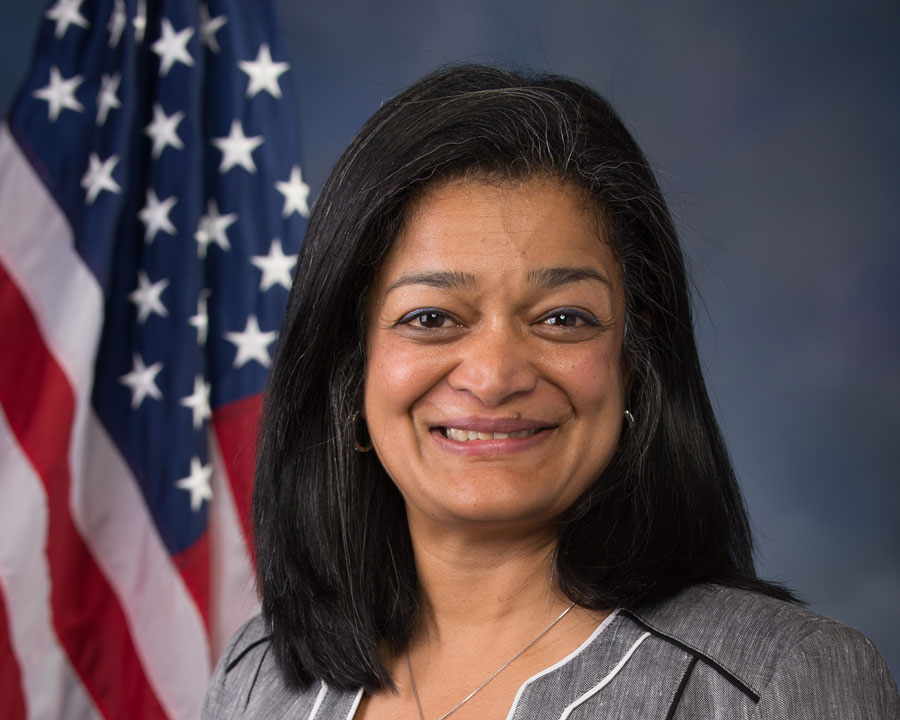 Rights groups briefed Congresswoman Pramila Jayapal and other lawmakers on what they called caste apartheid in USA
(Wikipedia)
---
New Delhi
|
Published 22.05.19, 09:32 PM
|
---
You can take South Asia out of some South Asians but it appears you can't take caste out of them even in America, "the land of the brave and home of the free".
South Asian rights groups in the US on Wednesday told Congress lawmakers that upper-caste Hindus in America were discriminating against lower-caste Hindus in both education and at work, bringing up the sensitive matter for the first time before the country's representatives.
Activists of these groups said Equality Labs, a South Asian American human rights forum, and groups like the South Asian Americans Leading Together (SAALT) and API Chaya briefed Congresswoman Pramila Jayapal and other lawmakers on what they called caste apartheid.
Equality Labs also shared the findings of a study it had conducted: "Caste in the United States: A survey of castes among South Asian Americans". The 2016 survey covered 1,500 Dalit and Sudra caste members living in the US.
Thenmozhi Soundararajan, director, Equality Labs, and the report's co-author, said Dalits in the US faced caste-based discrimination at educational institutions and at workplaces.
"This was a historic briefing because it is the first time caste discrimination in the United States is being acknowledged and being openly discussed by Congressional staffers," she told The Telegraph.
According to the study's findings, South Asian Americans in the US are a major ethnic group of about 4.3 million people who have their origins in India, Pakistan, Nepal, Bangladesh, Sri Lanka and Bhutan and have mostly settled in California, New York, New Jersey, Texas, Illinois and the Carolinas.
The report has quoted Bhimrao Ambedkar who had said: "If Hindus migrate to other regions on earth, caste would become a world problem."
The study has found that "one in three Dalit students reported discrimination during their education" while "two out of three Dalits reported being treated unfairly at their workplaces".
Sixty per cent of the respondents said they had experienced caste-based derogatory jokes or comments while 40 per cent of the Dalits surveyed said they felt unwelcome at places of worship.
Another 40 per cent of the Dalits reported being rejected in romance because of their caste and that every second Dalit lived in fear of their caste being outed, the report said.
Thenmozhi said the "upper-caste lobby in the US also tried to sabotage" the meeting with the lawmakers.
"It is a critical first step in terms of advocacy stemming from our report and will open pathways for advocacy around this issue. We will seek policy intervention to check this kind of discrimination," Thenmozhi said.
The US is the second foreign country to face the issue of caste discrimination after the UK, which has been debating the matter for more than 10 years.
Prof. Vivek Kumar, an Ambedkarite scholar and chairperson of the School of Social Sciences at Jawaharlal Nehru University (JNU), said caste becomes a reason for natural alliance in a foreign land when people face a crisis, which leads to caste bonding and discrimination.
"Caste helps Hindu people wriggle out of a crisis in a foreign country where nobody else is ready to help. It establishes a convenient bond. That is how it does not go away," Kumar said.
Kumar said human rights groups had demanded inclusion of caste in the agenda of the UN World Conference against Racism in 1999, but the Indian government had opposed the move. The government, he said, had sent a seven-member parliamentary delegation led by Congress leader Sushil Kumar Shinde to oppose it.
The Equality Labs report has recommended that government officials in the US work on effective monitoring and documentation of the problem of caste apartheid and that human resource departments in American companies include caste in their code of conduct.