A nationwide body campaigning for the rights of the disabled on Sunday demanded an apology from Prime Minister Narendra Modi, joining a chorus of angry public responses to his remarks relating to dyslexia on Saturday.
The National Platform for the Rights of the Disabled (NPRD) said it "condemns the disrespectful and insensitive remarks" by Modi during an interaction with students. The NPRD also said that his remarks constituted an offence under a 2016 law.
During the video interaction that was part of the Smart India Hackathon, a BTech student from Uttarakhand started to explain to Modi that her project related to people with dyslexia, a learning disability.
"I feel really blessed to get this opportunity to… express my words in front of you…. Basically, our idea is based on dyslexic people. Dyslexic children are those whose learning and writing pace is very slow. But their intelligence and creativity levels are quite high," she said, citing the example of a character from the Bollywood movie Taare Zameen Par.
At this point, video recordings of the event show Modi interrupting her to say: "Could this idea help any 40 or 50-year-old child?"
As Modi broke into a chuckle, many in the audience laughed and clapped before the student replied: "Yes, sir, it will."
Modi then said: "The mother of such children would become very happy."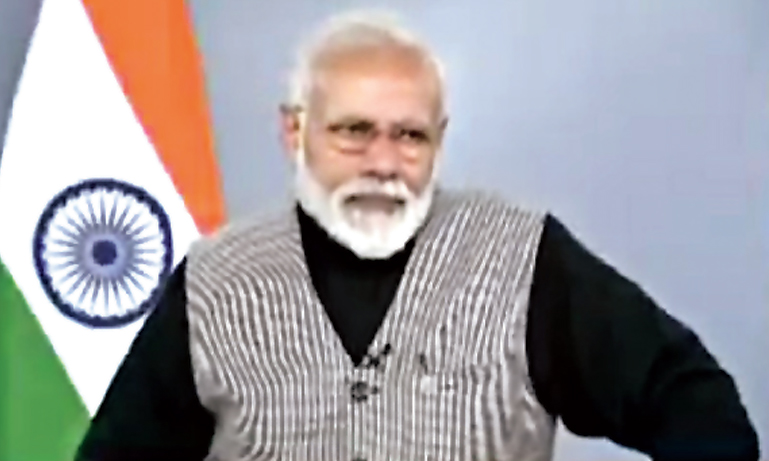 Footage shows Modi listening to the student's question. Screen grab from Narendra Modi's Twitter profile (@narendramodi) Modi interrupts the student, utters what he appears to think is a joke and makes a wry face. Screen grab from Narendra Modi's Twitter profile (@narendramodi)
Many people as well as the NPRD have interpreted the comments as a dig at Congress president Rahul Gandhi and his mother Sonia Gandhi.
Modi "sought to take pot shots at his political rivals", the NPRD said in a statement released on Sunday. "In an uncalled for and totally insensitive response, the Prime Minister tried to portray dyslexic people in poor light. It is all the more unpardonable as it comes from a person holding such a high office."
The NPRD said Modi's remarks appeared to reflect a mindset he had revealed also during the 2014 election campaign. "Even during the 2014 Lok Sabha election campaign, Modi had used terms like blind, deaf, lame to belittle his rivals. It is a reflection of a totally regressive mindset."
However, the NPRD added that other political leaders too seemed to be displaying a similar tendency. Rahul had called Modi "schizophrenic", it said.
Many people took to Twitter to slam Modi for his remarks. "A Prime Minister mocking dyslexia is nothing short of insensitive and shameful," posted Roshan Rai, who describes himself on Twitter as politically aware and a "cricketoholic".
Another microblogger posted: "Indeed shameful. That student is talking sense and amidst all this, completely unrelated, the Supreme Leader takes a jibe at Rahul & his mom. How immature. Does this man not think of anything else, ever?"
Vaibhav Sharma tweeted: "Modi is a terrible human being. He's also a terrible Prime Minister but that really pales in comparison to his failings as a human being…."
The NPRD said the remarks constituted an offence under the Rights of Persons with Disabilities Act, 2016, which prescribes punishments for intentionally insulting or humiliating people with disabilities.
The laughter and claps by the students too have evoked anger. "The worst part is… educated youth clapping over his remarks", a tweeter posted.
Another wrote: "And the so-called future of the nation, the youth, is laughing and clapping."