Critics missing from economic council to PM
Rathin Roy and Shamika Ravi were dropped from the economic advisory council to the Prime Minister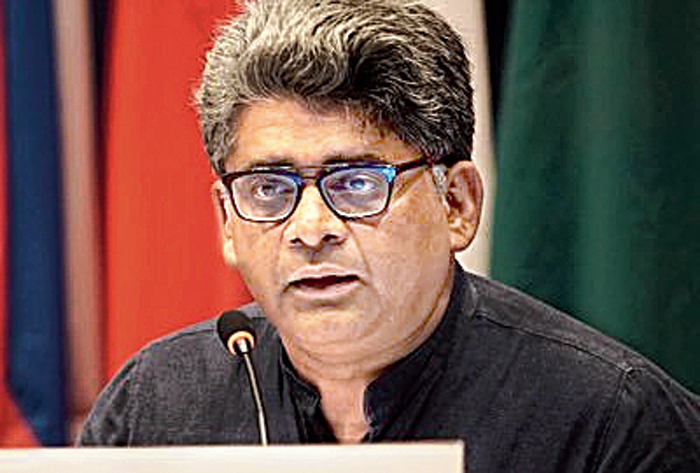 Roy, director of the National Institute of Public Finance and Policy, had in the past slammed the saffron brigade's nonchalant utterances on the nation's fiscal deficit
Telegraph picture
---
New Delhi
|
Published 25.09.19, 08:00 PM
|
---
The Narendra Modi government on Wednesday dropped Rathin Roy and Shamika Ravi from the economic advisory council (EAC) to the Prime Minister.
The EAC-PM is an independent body constituted to advise the government, especially the Prime Minister, on economic and related issues. Both Roy and Shamika Ravi have been increasingly critical of the Modi government's policy courses.
Roy, director of the National Institute of Public Finance and Policy, had in the past slammed the saffron brigade's nonchalant utterances on thenation's fiscal deficit and recently expressed deep concern over the government's announcement in the July 5 budget that it was mulling the flotation of a sovereign bond in overseas markets.
Shamika Ravi, director of research at Brookings India, had in a series of tweets earlier this month blamed former finance minister Pranab Mukherjee's decision on retrospective tax and the Supreme Court's order cancelling coal-block allocations since 1993 for the current economic downturn.
The Modi government has been accused of being intolerant of criticism. Several economists have found it hard to work with an administration that refuses to acknowledge the legitimacy of an alternative view.
The EAC has been reconstituted under existing chairman Bibek Debroy for a period of two years. The EAC will have two part-time members against three on the outgoing panel. While Ashima Goel continues to be one of the part-time members, JP Morgan India's economist Sajid Chinoy has been inducted as the new member.
Ratan P. Watal will continue as member-secretary of the advisory council.
Roy had joined former RBI governor Raghuram Rajan in urging the government to reconsider plans to float a dollar-denominated sovereign bond even though many Asian peers have already done so.
Roy had also urged the government to hold wider consultations before going down a path that many economists believe would bind the country into a cycle of perpetual debt and rising payback costs linked to falling exchange rates.
"I have grave concerns about this proposal on grounds of economic sovereignty, and about the macroeconomic consequences.… The government should instead look at relaxing the rupee bond limits for foreign portfolio investors," Roy said.
"I would pay very careful attention to former RBI governor Raghuram Rajan's statement, and I would urge very respectfully, a public consultation on this subject, a public discussion, rather than imperial announcements of borrowing programmes being made without taking account of these facts.
"Show me one country after the World War which has done a foreign currency sovereign bond and not paid dearly for it. Brazil, Argentina, Turkey, Greece, Indonesia have all paid a price for foreign currency sovereign borrowings."
Later, in an article in the Business Standard newspaper, Roy said: "I have been concerned about some macro-solutions proposed to address the slowdown. Calls for fiscal stimulus are misplaced and would, without much sustained benefit, jeopardise the hard-earned macroeconomic stability attained since 2014. Monetary and credit policy transmission needs fixing, not further rate cuts. Using speculative foreign money for sovereign spending would raise risk without ameliorating the credit and liquidity situation."
In a television interview before the general election, Roy had expressed outrage at the manner in which people in positions of power and influence in various administrations -– without any knowledge of economics -– cavalierly suggested profligate fiscal policy courses without any idea or appreciation of the disastrous consequences.
Roy has said that India is staring at "a silent fiscal crisis" and that the government should release a white paper on its medium-term targets in the backdrop of a shortfall in tax revenue targets. "At the heart of the crisis is a shortfall in provisional tax revenues for 2018-19. It is mainly due to a shortfall in GST revenues (but also personal income tax revenues), compared to the numbers presented in the revised estimates," he said.
Roy has also asked how the Modi government claimed to have capped fiscal deficit at 3.4 per cent in 2018-19. "How is this done, given the stunning shortfall in the tax-GDP ratio?" he asked.
"In my professional judgment, you will not able to tax as much as has been forecast in the 2019-20 budget. Therefore, either you will have to borrow more or you will have to spend less. If you borrow more, it has implications for the overall economy. If you spend less, then too it will have implications," he had said.
Shamika Ravi recently tweeted: "The objective of economic reform is to reduce policy uncertainty in the economy. Private investments in India have been declining since 2012: after Pranab Mukherjee's retro taxes and then SC cancellation of all coal block allocations since 1993(!)... anyone estimated growth foregone?"