Businessmen feel GST has triggered a role reversal in Amritsar
Punjab's unemployment rate rose from 4.9% in November 2016 to 7.6% last month: Centre for Monitoring Indian Economy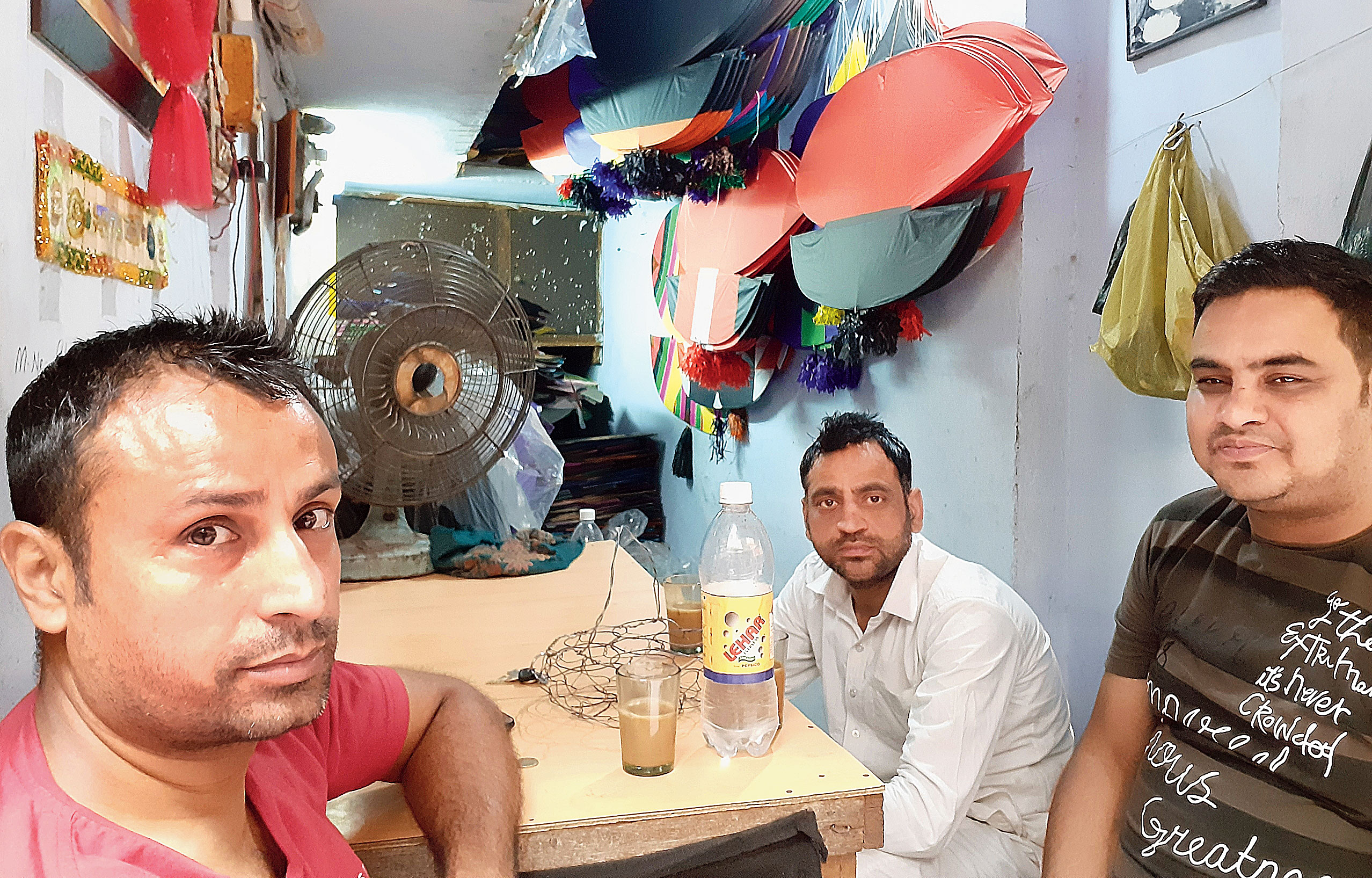 ---
|
Amritsar
|
Published 19.05.19, 10:28 PM
---
Across swathes of north and central India, the election has been about the "vocal" and "aggressive", even confident, BJP supporter; the Congress cadre has been more "subdued", some would say silent. But in this holy city of Sikhism, the Goods and Services Tax (GST), dubbed Gabbar Singh Tax by the Congress, has triggered a role reversal.
In a typically crammed walled city kite shop in Amritsar's Chowk Passian, garment trader Vikram Bhatia and shawl manufacturer Vikram Dhawan are spending an afternoon cracking jokes with "Coach" Anil Kapoor. Kapoor — in his late 20s — is a legend of the street for his kite flying skills. He also sells them for a living.
"A BJP leader asked me to contribute 1000 printed kites — that cost Rs 15,000 — with Hardeepji's (BJP candidate Hardeep Singh Puri) picture and the lotus symbol. I refused for two reasons. Post-GST my cash flow has been so low that I can't accept such large orders. Two, first they impose GST — even on a cottage industry like kites — and then they ask us to donate kites to them. Punjabis are generous but we don't like it when our business is disturbed," says Kapoor.
Kites attract 5 per cent GST, the paper used to make it has a levy of 12 per cent. Large designer kites that used to cost Rs 30 now cost Rs 45. Kapoor claims he loses money on accountants and there are delays in refunds. He is forced to depend on his parents' savings to make ends meet.
Union minister Puri, a retired IFS officer, is the BJP candidate against Congress incumbent Gurjeet Singh Aujla. In the previous Lok Sabha polls, the Congress's Amarinder Singh — now chief minister of Punjab — defeated the BJP's Arun Jaitley — now the Union finance minister — by over 1 lakh votes.
"Have you asked yourself why we businessmen are killing time here on a work day? There is simply no work. In the absence of subsidies, garment manufacturing here has moved to Surat. Now I mainly procure from there, and travel to Himachal to sell them. Earlier we provided jobs and material, now we are mainly salesmen," adds Bhatia.
At a street near the Durgiana Temple, tailors narrate the same tale of decline over the last three years. They are promptly interrupted by goldsmith Swaran Lal, a BJP supporter, who has just returned from a road show for Puri. "These are small changes in the economy which cause some difficulty but eventually will make India rich. India is at a much better position in the world due to (PM) Modiji who has taught a lesson to Pakistan like none have done before," he says.
Lal faces a counter from cable TV operator Rakesh Sharma: "Did Indira Gandhi go around beating a drum after 1971? Even your business had shrunk, but you don't have the guts to ask Hardeep Puri all that. Bhakti karna hai bas!"
Sharma's set-top boxes used to cost Rs 70; they cost Rs 130 after GST. He has steadily lost customers to DTH platforms. Punjab's unemployment rate rose from 4.9 per cent in November 2016 — when demonetisation happened — to 7.6 per cent last month, according to the Centre for Monitoring Indian Economy, a thinktank.
The scene repeats itself in several huddles of working men this paper finds in the city. At one such gathering, a BJP voter counters narration of economic woes with Modi's achievements and the Congress's failures.
Textile wholesaler Surender Kumar points out that power tariffs in Punjab — up to Rs 7.33 per unit for domestic consumers — is the highest in north India, crippling an already sinking industry here. He blames the Congress for this and sees Modi as the bulwark against corruption. He is interrupted by his neighbour, a Sikh wholesaler of Phulkari embroidered garments, in Shastri Market, who points out that Nirav Modi and Vijay Mallya went into hiding during this government. He says that although GST is the "enemy No. 1", he is disappointed with the Congress government as his family has not benefited yet from the one-job-per-family promise.
In the last two years, the Congress claims to have created around 7.5 lakh jobs and increased minimum wages. But the Phulkari trader — who has an MBA in finance — says he isn't able to leave the family business as no firm in Amritsar is willing to hire him for more than Rs 9,000 per month. The trader, who favoured AAP in the previous Lok Sabha and Assembly polls, says they are no longer a factor here now.
"I have lost faith in all parties. But now, in addition to this economic crisis, we also have social unrest in the country and those who question these incidents against Dalits and Muslims are called anti-nationals. Don't mention my name in your story as it will only hurt my BJP-voting friends," he says.
Puri, a retired diplomat, also faces the barb of being an outsider.
Dhalwant Singh, a goldsmith, explains: "We gave the Akalis a 10-year term because we had hope that they will do better than the Congress. The area around the Golden Temple got a makeover, but our trade has not grown as fast as inflation. People are not willing to judge the Congress so soon. We voted for them despite their role in 1984 (riots against Sikhs) because we want to move forward. We could have considered the BJP had it fielded a local candidate, but like Jaitley last time, they sent an outsider."
The Congress holds eight of nine Assembly segments here; one is with the Shiromani Akali Dal.
Dhalwant adds: "We are at the border, our sons join the army and we know what the forces do for our safety. Asking votes for attacking Pakistan will not work here unless we see hope that our lives will improve."
At the Partition Museum in the spruced-up part of town near the Golden Temple, senior citizens lounge in the park after dinner. Here too the Congress voter is on the offensive. While BJP voter Saroj complains about power cuts under the Congress regime and praises Modi for making the country safer, Usha Sharma, a grandmother playing with her grandchildren, uses the Indira card to counter. "Can any PM ask for votes in the name of what our army has done? We wait for months for our cooking gas subsidy to be credited to our accounts after we took the Ujjwala scheme. Under Congress, if nothing else, there was at least peace in society," she says.