Bungalows for Jharkhand MLAs soon
At present, the MLAs are staying in the Russian Hostel of HEC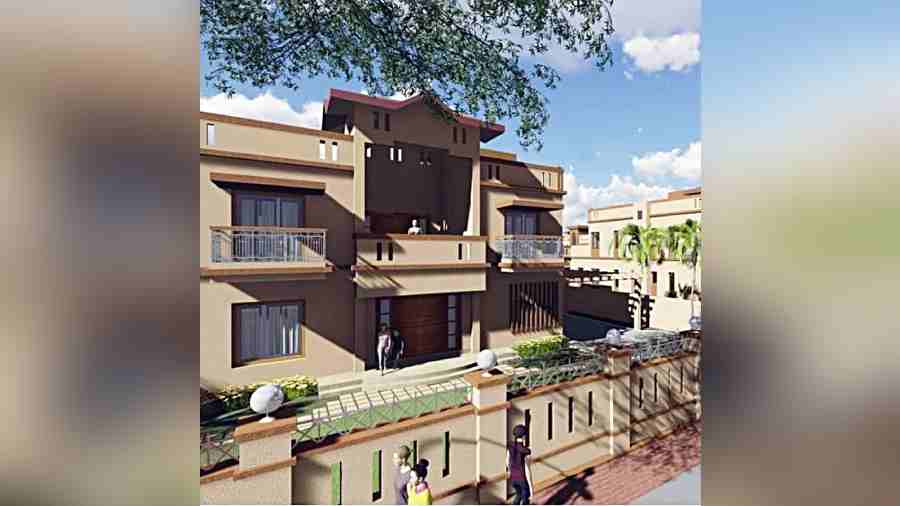 3D models of the duplex bungalows, to be built for the Jharkhand MLAs
---
Jamshedpur
|
Published 22.11.22, 03:08 AM
|
---
For the first time since the creation of Jharkhand, lawmakers of the state can hope to stay in duplex bungalows before the next Assembly elections scheduled in December 2024.
Hyderabad-based agency KMV Projects Ltd on Sunday started the construction work of 70 bungalows after performing Bhumi Puja at HEC core capital area in Ranchi's Dhurwa.
"The ground + one-storied duplex structure will be built at a cost of Rs 216.05 crore on 43.50 acres near the new Assembly building," said a spokesperson of the Jharkhand Urban Infrastructure Development Company, a unit of the state urban development department.
According to the tentative schedule, the bungalows will be built in two years. At present, the MLAs are staying in the Russian Hostel of HEC.
Senior MLAs are also living in HEC bungalows now.
"The proposed 70 duplexes whose construction began on Sunday will have all modern facilities and will be located in the MLAs' housing complex which will also have an auditorium, a clubhouse, an indoor swimming pool, a convention shopping centre, a health centre, children's park, separate barracks for legislators, bodyguards and other security personnel, an underground and an overhead water tank," the spokesperson said.
A lot of tree plantation will also be done for a clean environment and protection of the environment.
For attraction, the provision of flower beds has also been made along with lighting and landscaping of the housing complex. The design of the MLAs duplex bungalow has been done by Delhi-based agency Mass and Void.
"The KMV Projects Ltd has a track record of timely completion of works. Earlier, Jharkhand Urban Planning and Management Institute (Jupmi) building was built by KMV Projects under the Ranchi Smart City project in Dhurwa.
"The same agency has completed 90 per cent of the work on 11 bungalows for cabinet ministers. KMV is also constructing the Transport Nagar in Dublia near Ranchi," added the spokesperson.