Brahmins should be at the helm: Judge
Claim of 'distinct' qualities at Kochi meeting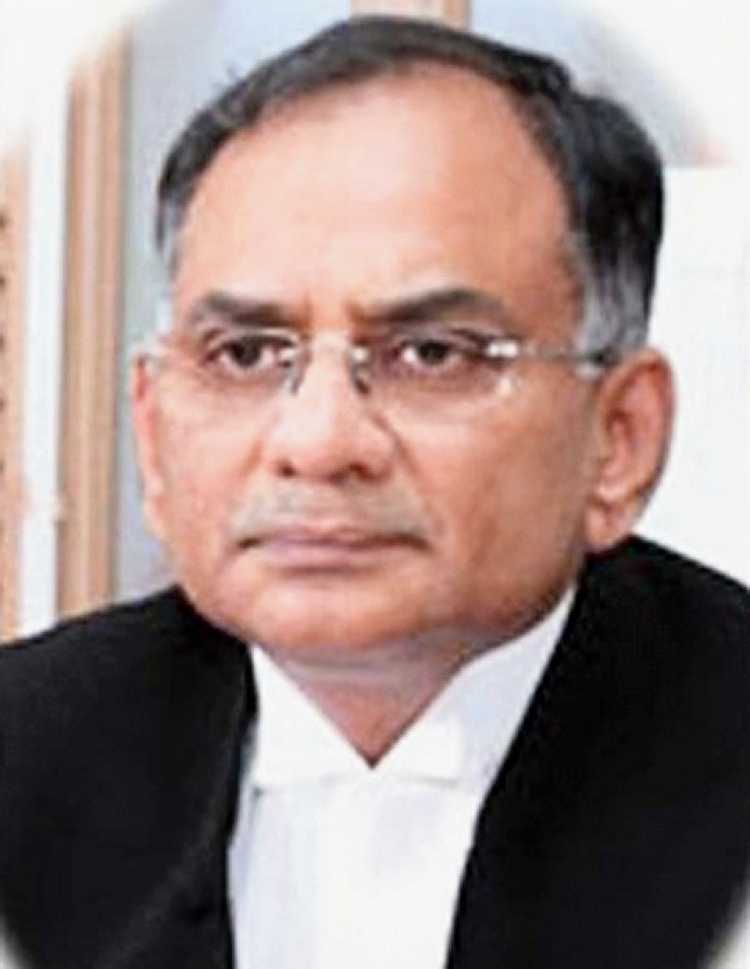 Justice V. Chitambaresh
Source: highcourtofkerala.nic.in
---
Bangalore
|
Published 24.07.19, 09:32 PM
|
---
A Kerala High Court judge has claimed that Brahmins "should always be at the helm of affairs" because of their "certain distinct" qualities but insisted he was not expressing any opinion.
Justice V. Chitambaresh's comments came as the judge addressed a global meet of Tamil Brahmins in Kochi on Friday.
The comments triggered a storm as a video clip of the judge's address went viral on social media on Tuesday.
Rights activist and theatre personality Shabnam Hashmi said the comments were "absolutely shocking", while Congress leader Abhishek Singhvi said he disagreed with the judge's assertion.
Chitambaresh has not responded yet to the controversy but Karimpuzha Raman, an organiser of the meet, said on Wednesday the judge did not mean what he said.
The judge's comments came on the first day of the three-day Tamil Brahmins' Global Meet 2019. "It may be noted that a Brahmin is never communal, he is always considerate, he is an ahimsavadi (proponent of non-violence). He loves people. He is one who liberally donates for any laudable cause. Such a person should always be at the helm of affairs for which this Tamil Brahmins' meet will definitely be a pointer," the judge, himself a Tamil Brahmin from Kerala, said.
Chitambaresh also spoke against caste-base quotas and called for reservations based on economic backwardness. "It is time for you (Brahmins) to deliberate as to whether reservations should be on the basis of community or caste alone," the judge said.
He acknowledged there was 10 per cent reservation for the economically weak but reminded his audience that the "son of a Brahmin cook, even if he falls within the non-creamy layer, will not get any reservation whereas a son of a timber merchant who belongs to other backward communities will get reservation if he is within the non-creamy layer zone".
The judge, however, sought to clarify his comments, realising that he was treading a dangerous zone.
"Occupying a constitutional post, it may not be proper for me to express any opinion. I am not expressing my opinion at all. But I am only kindling your interest or reminding you that there is a platform for you to agitate or to voice your concerns about economic reservation alone and not caste or communal reservation," Chitambaresh, who spoke in English, said.
"I am not expressing any opinion at all. It is for you to deliberate and put forward your views. As Mr Raman (who spoke before him) said, karayunna kuttike paal ullu (Malayalam for 'only a child who cries gets milk') the time has come for us to play the orchestra and not continue to play solo," he said.
He then went on to extol the virtues of a Brahmin. "Who is a Brahmin? A Brahmin is dwijhanmana (twice born), because of poorvajanmasuhridam (the result of noble deeds in the previous birth)," Chitambaresh said.
"He has certain distinct characteristics — clean habits, lofty thinking, sterling character, mostly a vegetarian, a lover of Carnatic music, all good qualities rolled into one is a Brahmin," he said.
"There are innumerable 'agraharams' (Brahmin-only residential areas) in Kerala, which need to be preserved. There is a rich cultural heritage. The 'agraharams' have to be declared heritage zones and we shall not allow any flats to be built in between the houses in agraharams," the judge said, virtually giving his caste away while urging Brahmins to maintain their residential zones.
Kerala High Court's website says the judge is an alumnus of Government Law College, Thiruvananthapuram, and started his practice in 1981.
He served as standing counsel for the Palakkad municipality for over 16 years and was designated a senior advocate in November 2007 before being sworn in as an additional judge of the high court in November 2011. A year later, in December 2012, he became a permanent judge in the court.
Netizens posted their reactions on social media as the clip began circulating on Tuesday.
"Justice V Chitambaresh, sitting Kerala High Court Judge, absolutely shocking. Watch video (video link), Speech is totally unconstitutional," theatre personality Hashmi tweeted.
"I would simple disagree with Lordship and say that all humans are born equal," tweeted Congress leader and lawyer Singhvi.
A person named Arya whose Twitter handle is @thecuriouself said: "Judicial activism is one thing, but a judge praising and encouraging Brahmins to rally against the downtrodden and take away their constitutionally given right is a whole different level of upper caste superiority and bigotry."
Raman, president of the Kerala Brahmana Sabha that organised the meet, defended the judge. "He did not say anything constitutional," Raman told The Telegraph.
About the comment "helm of affairs", he said: "Justice Chitambaresh didn't mean it."
"This whole controversy has been created by a lobby," Raman added but refused to identity the "lobby".