No quick fix on LAC problems
Boundary agreement alone will end incidents with China: Army chief
The Indian and Chinese armies have been locked in a standoff in eastern Ladakh since May last year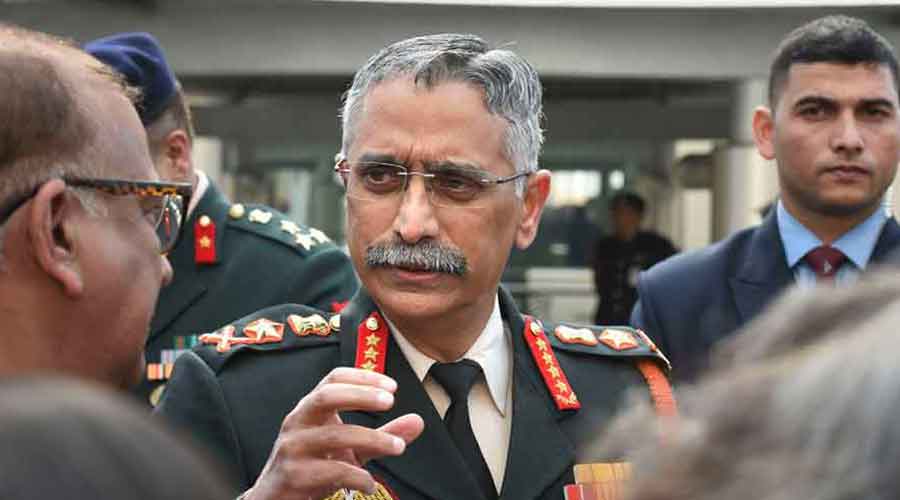 ---
New Delhi
|
Published 01.10.21, 02:25 AM
|
---
Indian Army chief M.M. Naravane on Thursday said that border incidents with China would continue until a long-term solution in the form of a boundary agreement was reached between the two countries.
The Indian and Chinese armies have been locked in a border standoff in eastern Ladakh since May last year. Twenty Indian Army personnel and at least four Chinese soldiers were killed in a clash in the Galwan Valley in June last year.
Last week, China had reasserted that the Galwan Valley incident was the result of Indian forces illegally trespassing on the Line of Actual Control to "encroach on Chinese territory". India rejected Beijing's contention and blamed China's "provocative behaviour" and unilateral attempts to alter the status quo on the LAC for the disruption of bilateral ties.
Speaking at the annual session of the PHD Chamber of Commerce and Industry, the army chief on Thursday said: "We have an outstanding border issue with China. We are well-prepared to meet any misadventure that may occur as we have demonstrated in the past.
"Such kind of incidents will continue to occur till such time a long-term solution is reached, and that is to have a boundary agreement. That should be the thrust of our efforts so that we have lasting peace along our northern (China) border."
On Wednesday, China had accused India of continuing to pursue the "forward policy", seen as the trigger for the 1962 Sino-India War in the still classified Henderson Brooks-Bhagat report, and setting off an "arms race" in the disputed border areas.
"The Indian side has long pursued the 'forward policy' and illegally crossed the LAC to encroach on China's territory, which is the root cause of tension in the China-India border situation," Chinese foreign ministry spokesperson Hua Chunying said in response to a question on India deploying sophisticated weaponry in eastern Ladakh along the LAC.
"China opposes any arms race in the disputed border areas for the purpose of competition over control. We have always been firm in safeguarding national territorial sovereignty and security, and committed to peace and stability in the China-India border areas," Hua added.
Late on Thursday night, India rejected the Chinese foreign ministry spokesperson's remarks and described them as baseless.
"It was the amassing of large number of troops by the Chinese side, their provocative behaviour and unilateral attempts to alter status quo in contravention of all our bilateral agreements that resulted in serious disturbance of peace and tranquillity along the LAC in Eastern Ladakh. China continues to deploy large number of troops and armaments in the border areas.
"It was in response to Chinese actions that our armed forces had to make appropriate counter deployments in these areas to ensure that India's security interests are fully protected. As emphasised by the external affairs minister in his meeting with Chinese foreign minister earlier this month, it is our expectation that the Chinese side will work towards early resolution of the remaining issues along the LAC in Eastern Ladakh while fully abiding by bilateral agreements and protocols," external affairs ministry  spokesperson Arindam Bagchi said.
On June 19 last year, four days after the Galwan Valley clash had killed 20 Indian soldiers, Prime Minister Narendra Modi had said that no one had entered Indian territory or occupied Indian posts, prompting Beijing to immediately claim ownership of all the areas it held.
The Indian and Chinese armies often face off along the non-demarcated and disputed common boundaries. The "Lines of Perception" are the notional boundaries till which the troops of either side patrol.
Referring to the ongoing border standoff with the Chinese army in eastern Ladakh, Naravane said: "The unprecedented developments necessitated large-scale resource mobilisation, orchestration of forces and immediate response."
Both sides have amassed men and machinery at altitudes of 14,000ft and above and have deployed 50,000 troops each along the LAC in Ladakh backed by artillery, tanks and missile systems.
A recent intelligence report has suggested that the Chinese army has been rapidly building infrastructure, including roads, bridges and habitats, for its soldiers near the multiple friction points in Ladakh. Besides, China appears to have built at least 10 new airbases along the LAC in Ladakh, Uttarakhand and Arunachal Pradesh and ramped up infrastructure at its existing airbases close to the Indian frontier, sources said.
India too has stepped up its border infrastructure development programme, including the building of roads, bridges and tunnels, to counter further Chinese transgressions into Indian areas.
There has been "partial" disengagement from the Galwan Valley, Pangong Lake and Gogra by creating a demilitarised "buffer zone" with the Chinese stepping back a few kilometres while still remaining within India-claimed lines.
Military veterans have questioned the government's "concessions" in agreeing to create a buffer zone, saying such areas within India-claimed lines meant territory loss for the Indian Army.
The border standoffs at Hot Springs and the Depsang Plains continue. The Chinese are said to be entrenched 18km inside India-claimed lines at the Depsang Plains.