Blood of troops on faulty ammunition
The army's internal report speaks of 'poor quality' ammunition and mines manufactured by the Ordnance Factory Board in the past six years, which resulted in over 400 accidents from 2014 to 2019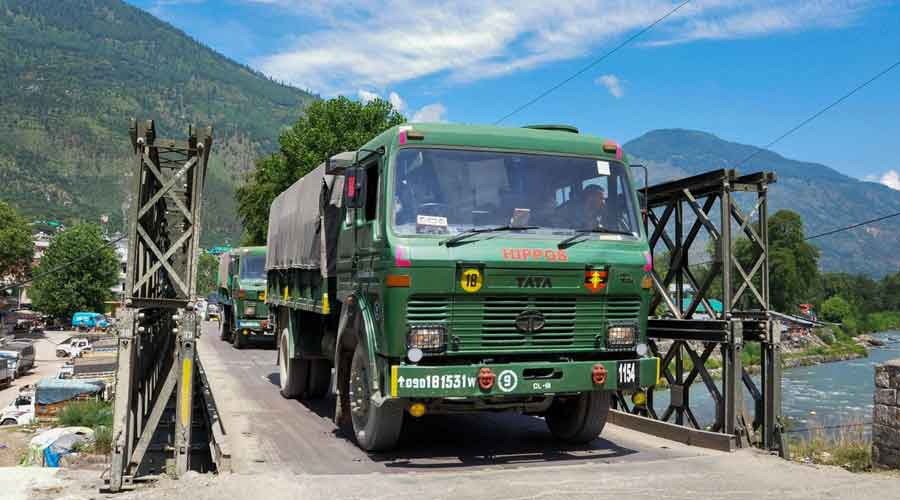 ---
New Delhi
|
Published 30.09.20, 01:28 AM
|
---
Purported shoddy implementation of what has now come to be known as Atmanirbhar defence production has killed Indian soldiers.
The Indian Army has said in an internal report to the defence ministry that Rs 960 crore was spent on "poor quality" ammunition and mines manufactured by the State-owned Ordnance Factory Board (OFB) in the past six years.
This resulted in over 400 accidents in which 27 troopers were killed between 2014 and 2019. As many as 159 were grievously injured and some suffered permanent disabilities and loss of limbs.
A fire in an ammo depot in 2016 appears to be the driving factor behind the rise in casualties.
Citing the deficiencies, the army has thrown its weight behind the government's plan to corporatise the OFB to "wake it up from its slumber" and make it more efficient.
Contacted, OFB public relations officer Uddipan Mukherjee said on Tuesday night: "We are not aware of any such report by the army."
The army's internal report said while calculating the "loss to exchequer due to poor quality production": "Rs 960 crore loss roughly means 100 155mm medium artillery guns could have been bought for this amount."
It added: "Rs 658.58 crore worth of disposed of within shelf life between April 2014 and April 2019. Rs 303.23 crore worth of mines disposed of within shelf life post-Pulgaon accident in May 2016."
As many as 16 persons, including two army officers, were killed in the fire at the Central Ammunition Depot at Pulgaon in Maharashtra while disposing of explosives. The depot houses the largest weapons stockpile in the country. All the ordnance produced in different factories arrives at this facility before being sent to the forward bases.
The faulty ammunition mentioned in the army's report includes 23-mm air defence shells, artillery shells, 125-mm tank rounds and different calibres of bullets used in assault rifles.
The OFB functions under the defence ministry's department of defence production and is one of the oldest State-owned production entities.
"Lack of accountability and poor quality of production result in frequent accidents. This results in injuries and deaths of soldiers. On an average, one accident takes place per week," said the report.
The report said the OFB "is expected to be a national strategic asset".
"The sub-optimal efficiency of this potential strategic asset is one of the major contributing factors to the hollowness threatening the ammunition and armament holdings of the Indian Army," the report said.
It expressed concern that certain countries have refused to accept ammunition and equipment made by the ordnance factory.
"Corporatisation of OFB is likely to wake it from its slumber and transform ordnance factories into a modernised, state-of-the-art facility with flexible and better decision-making in its functioning…," the report added.