BJP's thunder of majority
5 years ago, Modi had cast himself as 'The Challenger' against a tired and discredited UPA II regime and secured 282 seats for BJP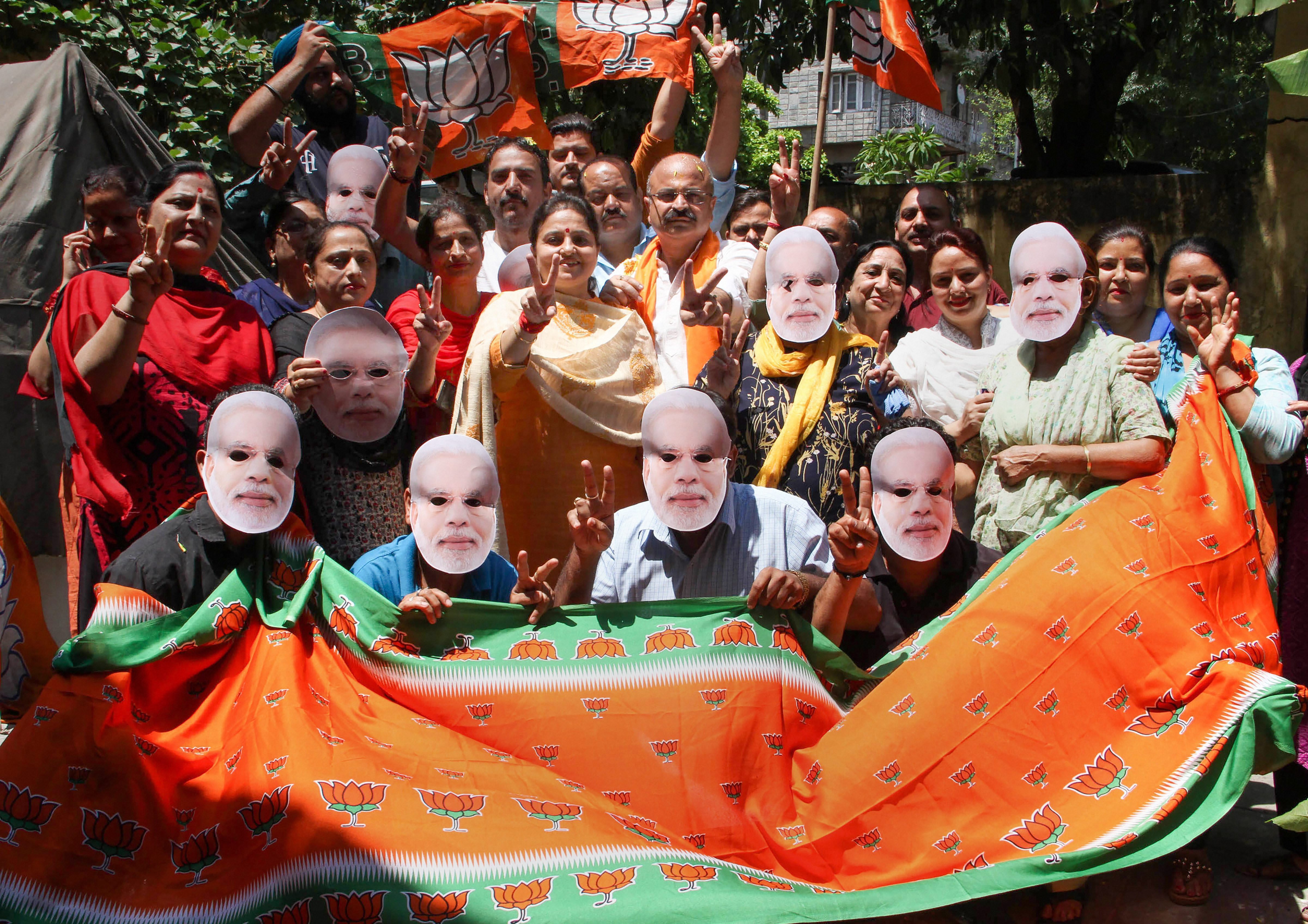 BJP workers with Narendra Modi masks on celebrate the party's win in the Lok Sabha elections in Jammu.
PTI
---
New Delhi
|
Published 23.05.19, 09:32 PM
|
---
Narendrabhai Damodardas Modi, who transformed India's 17th Lok Sabha elections into a virtual referendum on himself and his rule, received a resounding endorsement from the people of this country on Thursday that propelled the Bharatiya Janata Party to a second consecutive term in office with an even bigger mandate than its historic victory of 2014.
Five years ago, Modi had cast himself as "The Challenger" against a tired and discredited UPA II regime and secured 282 seats for the BJP — the first time a party had crossed the halfway mark on its own since 1984. That feat was surpassed manifold on Thursday as Modi, projecting himself as "The Saviour", reaped a pro-incumbency harvest not seen since the days of Jawaharlal Nehru and Indira Gandhi.
The gigantic Modi wave 2.0 — powered by five years of relentless propaganda centred on the Prime Minister's persona, prowess and achievements — rendered individual BJP candidates redundant just as it papered over economic distress, social division and quotidian concerns that normally haunt incumbent governments.
It ended up decimating the Opposition in large swathes of the country — reflected most starkly by Congress president Rahul Gandhi's defeat in the family bastion of Amethi in Uttar Pradesh.
Buoyed by the Assembly election victories in Madhya Pradesh, Rajasthan and Chhattisgarh just six months ago, the Congress was confident of wresting seats in these states where it had been wiped out in 2014. But it was Uttar Pradesh that was expected to be the BJP's Waterloo this time: the coming together of the BSP, SP and the RLD meant a formidable arithmetic that would reduce the BJP's 71-seat tally to less than half, it was commonly believed.
That did not come to pass. Not only did the BJP repeat its spectacular performance in north and west India, it made major inroads into Bengal and Odisha as well. Only a handful of states withstood the Modi tsunami. One of them was Kerala where Rahul Gandhi won handsomely in Wayanad.
If the Congress managed to marginally improve upon its dismal 44-seat tally of 2014, it was largely thanks to the states of Punjab, Tamil Nadu and Kerala. It is not without significance that these three states, because of the nature of their politics and demography, have so far remained relatively immune to the pull of Hindutva, which forms the bedrock of the BJP's ideology.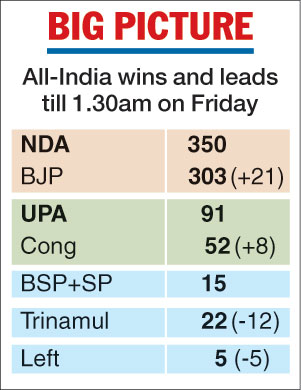 Yet, to view Thursday's mandate as a triumph of Hindutva and communal polarisation would be a misreading of its complexity. While the Rashtriya Swayamsevak Sangh and its innumerable affiliates have worked consistently over decades to fuse Hindutva majoritarianism with nationalism, Modi managed to weave a tapestry with multiple intricately interwoven strands.
A master at manipulating and fashioning a narrative, Modi cast himself as a strong and incorruptible leader whose sole mission in life was to make India strong, prosperous and proud. It is to the credit of his awesome propaganda skills that huge masses of people — across divisions of caste, class and region — believed in both the message and the messenger. If Modi represented hope in 2014, after five years at the helm he became the embodiment of national pride.
National pride is an intangible but powerful sentiment that can often override bread-and-butter issues, and India has witnessed this from time to time — before and after Independence. This time round, the sentiment was palpable. In small towns and villages in different parts of the country, reporters repeatedly heard a common theme: Modi deserved another term because he had made India proud. The Balakot strikes brought the issue to the forefront. But the sentiment ran much deeper: Modi's travels abroad and the ease with which he hugged and joked with world leaders fed into the propaganda that India had at last found respect in the comity of nations, thanks to the persona of the Prime Minister.
Modi's repeated allusion to his humble background also struck a deep chord among many Indians, particularly the youth who saw in him a model for their own aspirations. The "chaiwala" background combined with the "56-inch" macho-man image may have led to countless jokes and memes among those not enamoured of the Modi magic, but it helped him reach out to those who yearned for a "strong leader".
Such was the admiration for Modi's courage and decisiveness (an older generation likened him to Indira Gandhi; the younger felt he had no parallel) that even those who had suffered from the demonetisation and the GST sang his praises.
That the first was a "bold action" aimed at destroying black money and forcing it to come over-ground was a frequently heard comment in the hinterland. As for the GST, even small traders who had suffered because of its ham-handed implementation insisted that after the teething troubles, the new tax regime was more boon than bane.
Another key element of the Modi appeal was his perceived honesty and hard work. Far from denting his image with the "Chowkidar chor hai" campaign, Rahul's attack was dismissed as baseless and immature because the Congress had failed to provide any "smoking gun" evidence of corruption.
That Modi did not have a family to bequeath his wealth or legacy to was another factor contributing to his incorruptible image. In a polity full of parties that have become family firms, an oft-heard reply to the question why they were voting for Modi was "Unke aage peechhe koi nahin hain, sirf desh ke liye kaam karte hain (He has no family; he works for the nation)."
But possibly the biggest factor that contributed to Modi's success was the lack of a credible and cohesive alternative. In a presidential-style contest, Rahul was seen as too inexperienced to offer even a semblance of a challenge. Besides, it was clear that the Congress — even in a best-case scenario — would be nowhere near the halfway mark. The Opposition parties failed to form a strong pre-poll alliance with a common programme and vision that could have challenged the Modi narrative. What they offered was a post-poll coalition with multiple leaders eyeing the top post.
Such an alternative becomes inevitable when there is a strong anti-incumbency sentiment on the ground, and people vote out rather than vote in a government. This happened in 1989 and 1996. It can also happen when there is indifference or fatigue towards an incumbent government — as was the case in 2004.
The Opposition parties went into this election thinking that the BJP's over-the-top hype would meet the same fate as the India Shining campaign that abruptly ended Atal Bihari Vajpayee's reign. They failed to see how much India had changed since then, and how Modi represented — for better and for worse — an angry, aggressive, ambitious and aspirational New India.