BJP ruckus over Rahul 'rape' jibe
Both Houses refused to allow any business as they condemned Rahul and sought an apology from him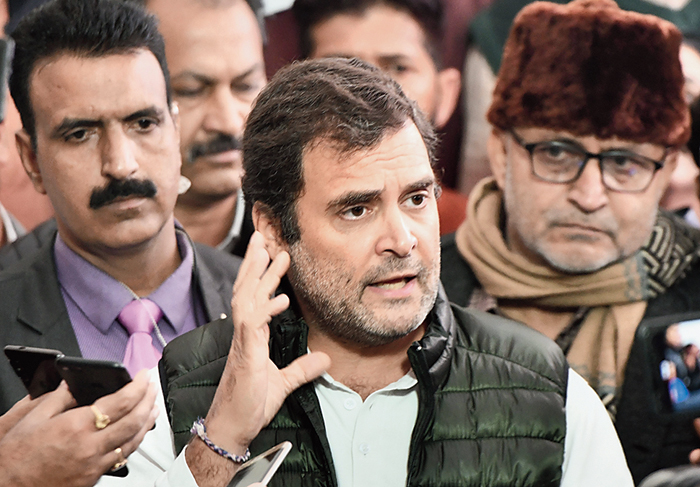 ---
---
Ministers and BJP members on Friday grabbed at a "rape in India" campaign jibe by Rahul Gandhi in Jharkhand, stalling Parliament on the winter session's last day and preventing the Opposition from raising the Northeast violence.
Both Houses witnessed the unusual scene of the government benches, including ministers, refusing to allow any business as they condemned Rahul and sought an apology from him.
Rahul had on Thursday mocked the Narendra Modi government, saying its "Make in India" programme had turned into "rape in India".
Parliamentary affairs minister Pralhad Joshi, his junior Arjun Ram Meghwal and women BJP members, including minister Smriti Irani, led the charge. Defence minister Rajnath Singh joined in, asserting that politicians like Rahul had "no moral right" to be in Parliament.
Rahul, who didn't get a chance to speak in Parliament, told reporters outside that he would not apologise. Instead, he said, the Prime Minister should apologise for allowing the Northeast to burn, destroying the economy and failing to act against the rising crimes against women.
"The main issue today is the manner in which Narendra Modi and Amit Shah have put the entire northeastern region on fire. To divert attention from this issue, Modiji is trying to make an issue out of my statement," he said.
"I would like to make it clear as to what I have said and I'm going to repeat my words for your information. I said, 'Narendra Modiji had said that 'Make in India' would be implemented. We were under the impression that all newspapers would be full of news reports about 'Make in India'. But today… we find news reports about rape incidents spread over all the newspapers. What we see is rape in India."
Earlier in the Rajya Sabha, just as leader of the Opposition Ghulam Nabi Azad rose to raise the Northeast violence, women BJP members, joined by allies from the JDU and the AIADMK, created a din over Rahul's remark and forced an adjournment.
Meghwal raised the subject in the Lok Sabha as it prepared to take up Question Hour after paying homage to the martyrs of the December 2001 Parliament attack.
He said several BJP members had given adjournment notices over Rahul's comment and they should be heard. Despite Congress protests, Speaker Om Birla allowed ministers and BJP members to speak and attack Rahul.
"This is the first time in the nation's history that a leader publicly gives a clarion call that India's women should be raped," Irani, who had defeated Rahul on his home turf of Amethi, said.
"This is the first time in the nation's history that a son of the Gandhi family has said: 'Come to India and rape.'"
BJP member Sanjay Jaiswal demanded action against Rahul. "Mr Speaker, 2,000 years ago Chanakya had said a child born of a foreign lady can never be patriotic — and we can see the example before us," he said.
Neither Sonia Gandhi nor Rahul was present at the time.
Joshi sought to drive a wedge between the Congress and its allies, mentioning women members Supriya Sule (NCP) and Kanimozhi (DMK) by name and seeking their view on Rahul's "derogatory" comment.
When Kanimozhi suggested that all Rahul had meant was that instead of a thriving Make-in-India programme, the country was witnessing its women getting raped, Irani accused her of failing to rise above party lines.
Congress House leader Adhir Chowdhury kept demanding a chance to speak but didn't get one before the Speaker adjourned the House till noon.
When the House reassembled, Rajnath, deputy leader of the House, said: "Make in India was started to transform the country from an importing nation to an exporting nation…. Now people rhyme it with a remark that can't be uttered. Such members don't have the moral right to be a member of the Lok Sabha."
Rahul was present in the House at the time. Congress members rushed to the well to protest Rajnath's remark, prompting another adjournment till 12.15pm.
Later, Rahul hastened to meet the Speaker, appearing eager for a chance to speak. But when the Lok Sabha reassembled, Birla began the process of adjourning the House sine die and the Congress members didn't protest.
Irani later led a BJP team to the Election Commission demanding action against Rahul. At a news conference, Nirmala Sitharaman termed Rahul's comment "horrendous".