BJP polls more than Congress plus AAP
The triangular contest had stirred concern that the division of votes between Congress and AAP would help BJP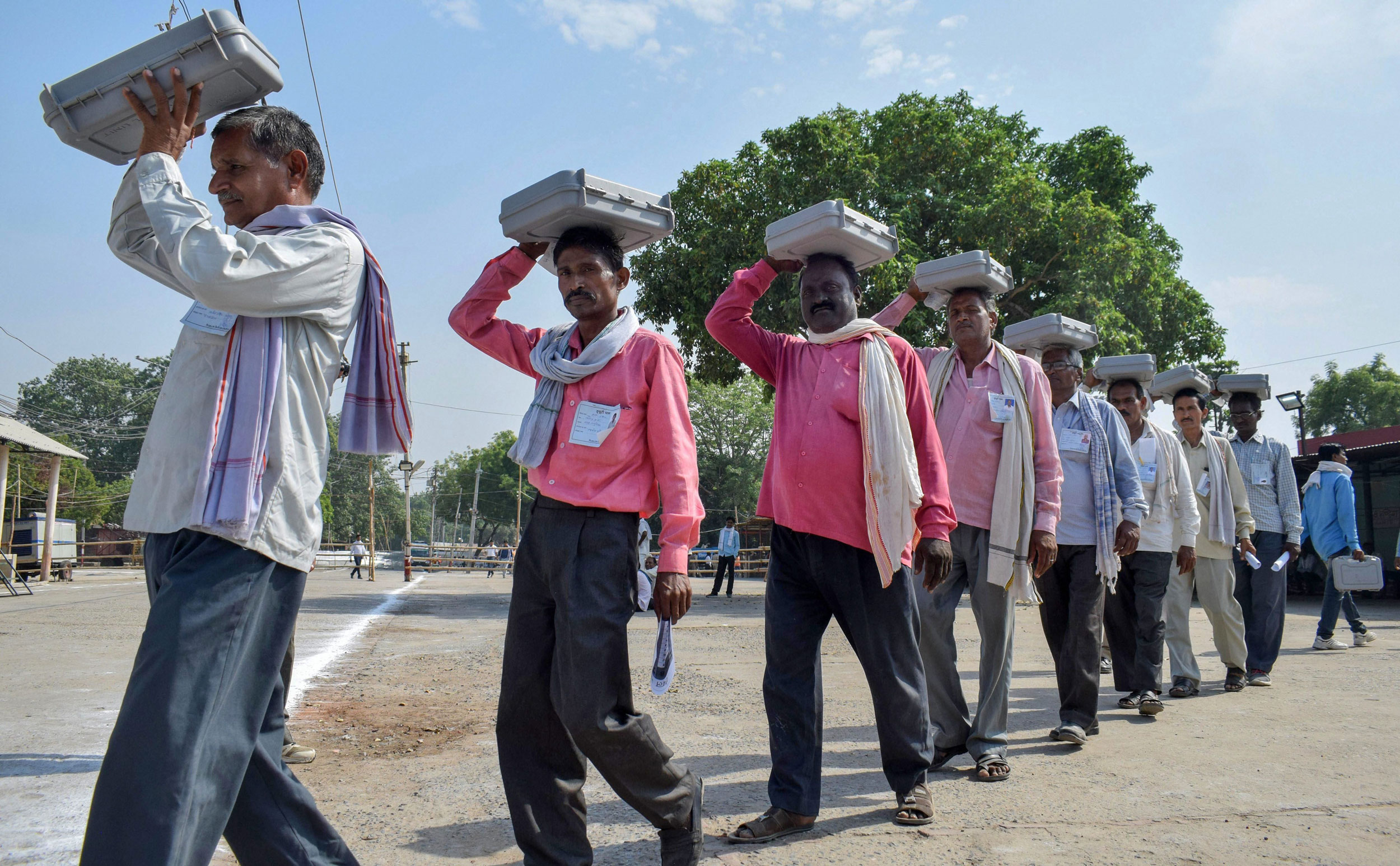 ---
---
The BJP was on Thursday evening poised to bag all the seven seats in Delhi, its vote shares suggesting the party would probably have overcome even a united challenge from the main Opposition groups, the Congress and the Aam Aadmi Party.
In each of the seven constituencies, the BJP candidates had by late afternoon or early evening polled more votes than the Congress and the Aam Aadmi Party combined.
In the weeks before the general election, Congress and AAP leaders had tried unsuccessfully to forge an alliance to stop the BJP, which had won all the seven seats in 2014 too.
The triangular contest had stirred concern that the division of votes between the Congress and the AAP would help the BJP. But the results and trends the Election Commission provided at 5pm on Thursday suggested that an alliance would not have altered the outcome.
In New Delhi constituency, incumbent BJP member Meenakshi Lekhi had by 4pm drawn 54.2 per cent of the votes counted till then, while Congress candidate Ajay Maken had 27 per cent and the AAP's Brijesh Goyal, 16.9 per cent.
In northeast Delhi, BJP candidate Manoj Tiwari had bagged 53.9 per cent while Congress nominee and former Delhi chief minister Sheila Dikshit had 28.8 per cent and AAP candidate Dilip Pandey had 13 per cent.
A hypothetical Congress-AAP alliance could in 2014 have kept the BJP out of at least five of the seven constituencies.
At Chandni Chowk, sitting BJP member and Union science minister Harsh Vardhan had by afternoon drawn about 49.7 per cent of the votes counted, while Congress candidate Jai Prakash Agarwal had 33.1 per cent and the AAP's Pankaj Gupta, 14.3 per cent.
In one of Chandni Chowk's mazy lanes, a baker said: "I voted for the Congress but there is something about Modi that works on the people. He connects with the people."
At several constituencies elsewhere too -– whether facing triangular or bipolar contests -– the BJP had gained significant vote shares by Thursday mid-evening.
In Bhopal, BJP candidate and terror accused Pragya Singh Thakur had polled 866,000 votes, or 61.5 per cent of the vote, leaving Digvijay Singh of the Congress trailing with 500,000 votes, or 35.6 per cent.
At Bihar's Begusarai constituency, Giriraj Singh of the BJP had by 5pm bagged more than 600,000 votes or 56.1 per cent of those counted, leaving first-time contestant Kanhaiya Kumar of the CPI trailing far behind with 236,000 votes, or 22 per cent.In Faridabad, Haryana, BJP candidate Krishan Pal had received 71 per cent of the votes while Congress nominee Avtar Singh Bhadana had polled 19 per cent.
"We have to admit that the BJP had a far stronger campaign than the Opposition," Lal Singh, a medical practitioner in Faridabad, said.
"The BJP's campaign succeeded in getting the voters to view the Narendra Modi government as having achieved much more than it actually had. Unfortunately, the Opposition failed to counter this campaign."